Sustainable Seas: Mark Allison's Yellowtail, Jicama, Thai Red Chili, Lime & Mint Salad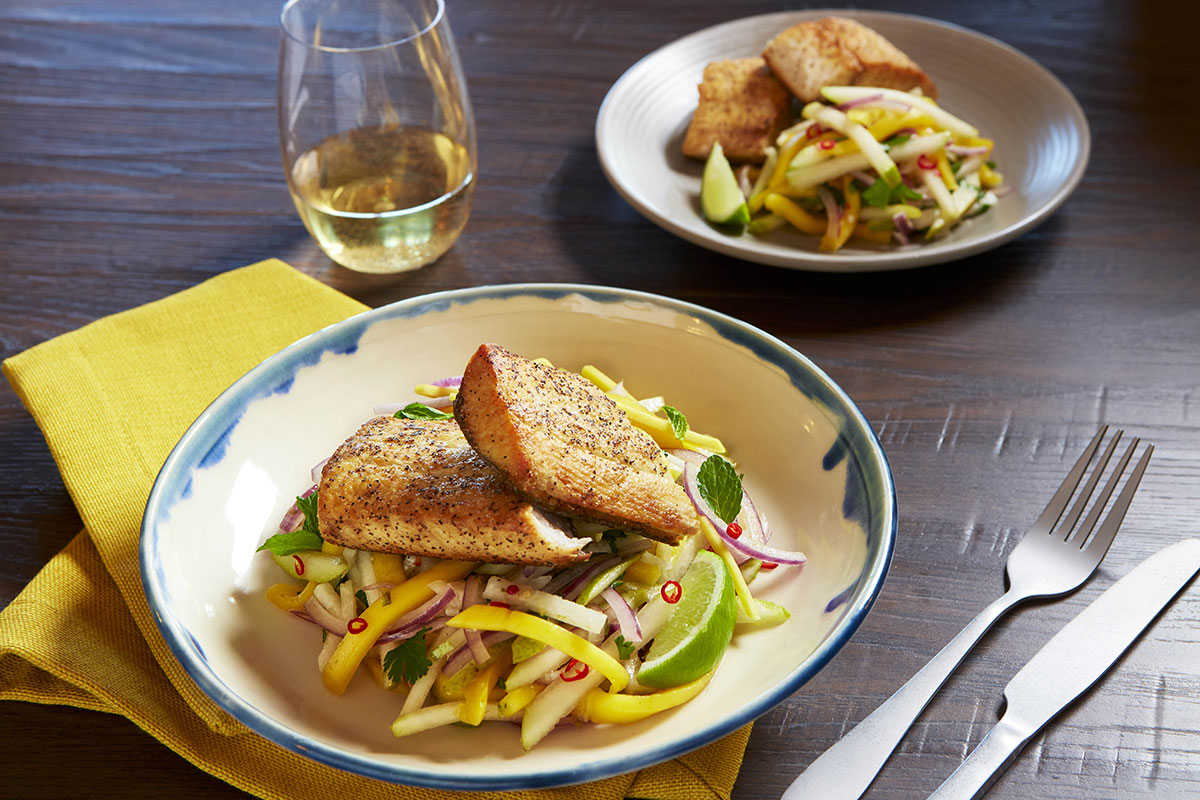 Chef Mark William Allison is a native of England who has worked in the culinary arts around the world for over forty years. From authoring multiple books to appearing on the Cooking Channel's Cooking School Confidential, Allison is an influential leader in the industry. According to him, the four most important criteria of great food are taste, nutritional value, ease of preparation, and—most importantly as we explore Earth Optimism × Folklife—sustainability.
There is no protecting our Earth without protecting our oceans. The ocean is one of the world's most biodiverse environments and is integral to filtering atmospheric carbon and maintaining the health of our planet's climate. While fish are one of the healthiest sources of animal-based protein, many commercial fishing ventures do more to harm than help this amazing natural resource.
As the executive chef at Forever Oceans, Allison believes that healthy seafood and healthy oceans do not need to be mutually exclusive, but rather can and must go hand in hand. Their sustainable aquaculture practices provide clean, healthy fish in support of clean, healthy oceans. Raised in enclosures ten miles off-shore in unpolluted waters, their yellowtail are fed in fast-flowing waters that naturally disperse any contaminants. The result is a fish that is safe to eat raw but buttery and soft enough that it remains just as delicious when cooked.
Allison developed the following recipe to be a simple, bright meal that celebrates the natural flavor of the yellowtail accompanied by a fresh salad that is the perfect combination of sweet and salty with the slightest hint of spice. This low-effort meal can be a quick lunch or weekday dinner that is perfect for these hot summer days!
Join us at the 2022 Folklife Festival as Allison presents this recipe along with others from Forever Oceans that celebrate their sashimi-grade sustainably sourced fish: yellowtail with fresh salsa and crudo di pesce (fish tartare). He will demonstrate these recipes and talk all about this wonderful fish on Saturday, July 2, at 2 p.m.
Ingredients
Yellowtail
4 6-ounce portions of yellowtail filet
Sea salt
Freshly ground black pepper
2 tablespoons olive oil
Salad
1 large ripe mango, peeled, pitted, and cut into thin matchsticks
1 small to medium jicama, peeled and cut into quarter-inch-thick rounds then into matchsticks
1/4 red onion, peeled and thinly sliced
1 small to medium Thai red chili, deseeded and flesh minced
Juice of 1 lime
Pinch of sea salt
1 tablespoon extra-virgin olive oil
1 tablespoon local honey
1 pear, cored and cut into matchsticks
1 tablespoon fresh mint, chopped
1 tablespoon fresh cilantro, chopped
Preparation
Take all the salad ingredients aside from the mint and cilantro and place them in a large salad bowl. Toss the salad lightly and cover with plastic wrap. Set to chill in the refrigerator for at least an hour to infuse ingredients.
Lightly season the yellowtail with salt and pepper. Heat oil in a medium size frying pan over medium-high heat. Place the seasoned yellowtail skin side down in the pan. Cook for 2-3 minutes, turn it over, and finish cooking for 2-3 minutes or until cooked to your liking.
Set aside the cooked yellowtail. Remove salad from fridge and uncover. Add in the mint and cilantro and toss one last time for an even coating. Add the pan-fried yellowtail, garnish with a wedge of lime, and enjoy!
Kathryn Casey is the 2022 Folklife Festival foodways assistant and a graduate student of cultural studies and folklore at George Mason University. Her love of food comes from a long family tradition of wonderful home cooks as well as a decade's experience working in food service.