A Dash of Deliciousness: How Susan Belsinger Leads an Herbal Life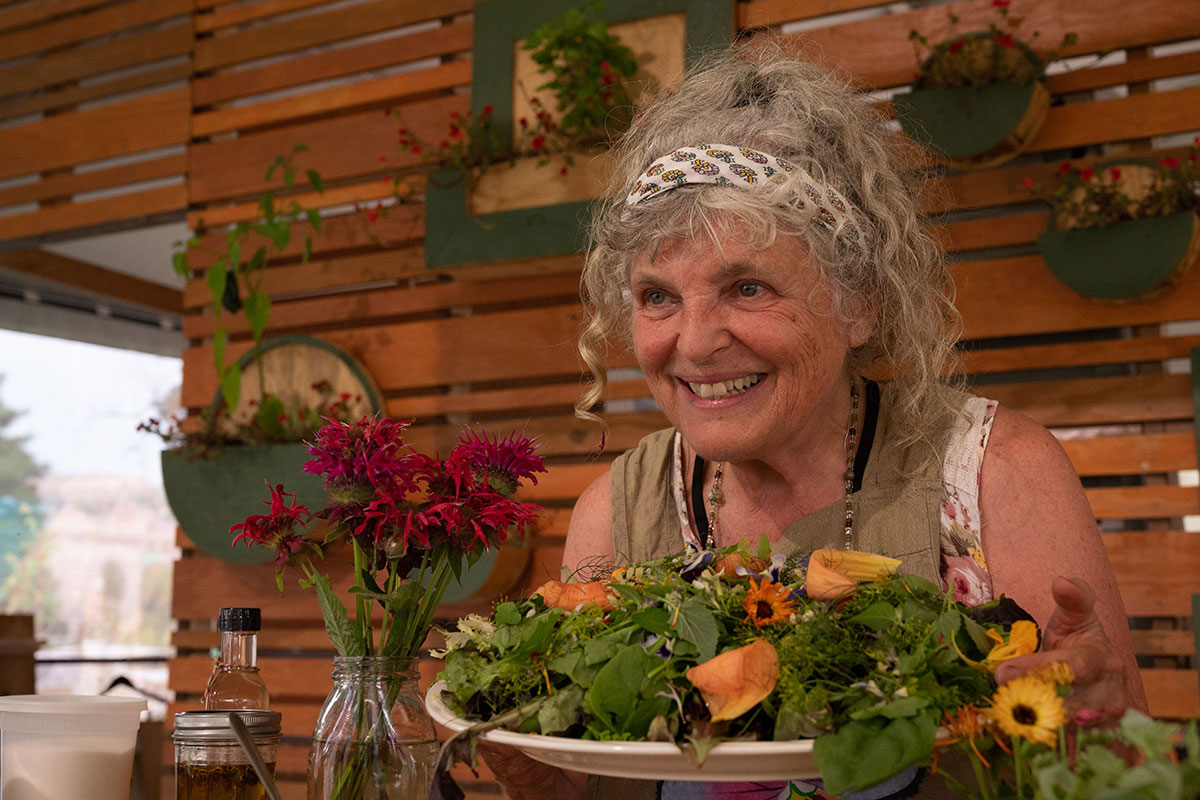 When I first met Susan Belsinger, she stood among native Ozark plants as she organized oils and vinegars, wearing overalls, a floral shirt, and a straw hat she would later rub with rose geranium essential oil to demonstrate how to keep gnats away. At times, I forgot the folding chair I sat on and the Smithsonian Folklife Festival visitors surrounding me. I forgot the cars passing behind the trees.
As she gave us a glimpse into her herbal life, I imagined myself seated in Belsinger's garden, well beyond the grass of the National Mall. As if they too were listening to the "Garden Comforts" workshop, birds hopped through the plants, tilting their heads as they scanned the surrounding greenery of the Teaching Garden.
"We definitely brought the Ozarks here, in the garden and all the people in the community," Belsinger told me later as we sat at the red checkered table next to the Herbalism tent. There, she and her colleagues introduced visitors to the life-improving potential of plants. Across from us stood the Teaching Garden, containing many plants brought from Belsinger's own garden. Where the physical plant could not be grown, printed photos took their place.
When I asked Belsinger about her photography experience, she got lost in her love for herbs. "They're beautiful, and they're sensual," she said. "You smell them. You taste them. They're beautiful to look at." Only then did she reveal that many of the photographs in the Teaching Garden were taken by her.
Belsinger lives in Maryland but has been visiting the Arkansas Ozarks since the 1990s. In a narrative session about the year-long process of creating the Teaching Garden, fellow herbalist Sasha Daucus described Belsinger as the team's "diplomat and connector." The more I attended Belsinger's sessions and asked her about tinctures and shrubs, the more I agreed. Not only did her explanations draw connections between the garden and the kitchen, revealing the benefits of an herbal life, but between the Ozarks, Washington, D.C., and beyond.
"It really began when I went to Europe," Belsinger said. She traveled to Italy where she lived on a biodynamic farm whose sustainable and holistic methods produced huge bay trees and hedges of rosemary and sage. "We didn't have grocery stores there like we have here where you can get things year-round. So, it made me really realize the merits of eating with the seasons."
Belsinger returned to the United States with a different understanding of food and a desire to educate Americans about herbs. In the late 1970s, she and Carolyn Dille, who she had met in Italy, signed a contract with Gourmet magazine to publish a monthly calendar of herbs.
"It was totally fortuitous and beginners' luck," Belsinger mused. However, the project soon evolved into the book Cooking with Herbs, published in the early 1980s. From there, Belsinger dug deeper, experimenting with more recipes and exploring herbal medicine and aromatherapy.
Today, recipe development continues to be her central interest; most of the books she has authored are cookbooks, including her most recent, The Perfect Bite: Focus on Flavor. In this book, she coined the term "flavor therapy"—highlighting the connection she wants to facilitate between herbs and humans.
"There are foods that lift you up. There are foods that make you want to go to sleep. There are foods that make you happy, and which you would take to a party. There are foods that are comfort foods. I use herbs to do that to my food, to make you feel different ways."
For a simple example, Belsinger described a bedtime milk she makes with lemon balm and a little maple syrup. Lemon balm is an adaptogen, meaning that it relieves stress and anxiety and can help you relax.
"I am searching for flavor all the time, and I want flavor that's deliciousness," she said. "Plus, I'm eating the herbs for health too, for their medicinal virtues, but also because they've got vitamins and minerals, and they have mood-altering effects."
Belsinger has spent decades mastering this art and science, developing her sense of smell and taste, cooking until cookbooks and experimental potential were read by her mind's eye. But for newcomers to the "herbal life," she encourages people to take advantage of a variety of resources: Google, your local library, or an herbalism class.
"Don't start too big," she said, whether you're growing herbs in your garden or in pots indoors. "Go with things that you like or know already. If you eat basil and you like it, then try growing basil."
For a beginner, bringing herbs to the table may call for a cookbook, but Belsinger also suggests exploration beyond the recipe. "You can make a basic potato salad, and then you might add basil and tomatoes, or you might like thyme, and you'll add to it. That's the experimentation one needs to do."
That's Belsinger's whole philosophy of herbalism: "It's all about creativity and fun, finding what you like. And then, once you do it, you'll be hooked."
I started with Belsinger's simple yet delectably hydrating mint water recipe: mint leaves stripped from the stem, roughly chopped, and strained into chilled water. This provides a crisp sweetness that is both cooling and invigorating.
As a fast-growing plant, mint encapsulates the zeal for exploring an herbal life that an educator like Belsinger shares. What started out as a summer beverage quickly turned into a desire to grow my own mint and plot flavor experiments. Perhaps next time, I'll try adding strawberries to my mint water.
Delaney Marrs is a writing intern at the Center of Folklife and Cultural Heritage and a student at Kenyon College, where she is studying art history and English. Her mint plant is currently thriving.