Soundscapes of the UAE: How Sound Challenges Stereotypes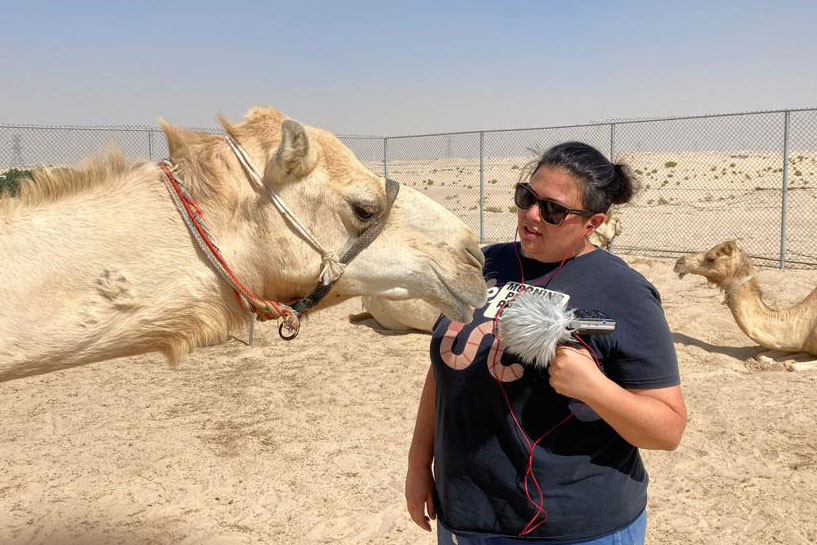 At the Folklife Festival, many visitors were drawn to a curious, curved set of benches under the trees, expecting a brief respite from the sun. They found themselves submerged in a sonic environment that took them far away from Washington, D.C.'s National Mall, as outdoor speakers, inconspicuously attached to wooden beams above, showered them with sounds from the United Arab Emirates. One audience member admitted, "I didn't know what I ran into, but I sat there and enjoyed it for a long time."
This is the first original sound installation created for the Smithsonian Folklife Festival.
The installation, Living Landscapes, Living Memories, is a soundscape created by artist Diana Chester and her team—Safeya Al Blooshi, Mohamed Al Jneibi, Mansour Al Heera, and other students from NYU Abu Dhabi—to present the sounds of the UAE. While there is ongoing debate on the definition of the word "soundscape," the term, generally seen as popularized by R. Murray Schafer, describes the totality of an acoustic environment. Like a landscape, it contains natural and cultural, improvised and composed elements.
The installation's title, in tune with the Festival's UAE program theme, indicates the team's two concentrations. Living Landscapes consists of field recordings from different geographical locations in the UAE, including Mina Port, Dubai Creek, Al Ain Oasis, Liwa Desert, Saadiyat Island, Khor Kwair Village, and many more. Living Memories is a mix of interviews.
"I would ask people to tell me a story about something in their life that relates to the UAE or record them telling me a memory of one of their favorite things in the country," Chester explained. After more than a hundred interviews, completed with the assistance of team members, she melded the sounds into eight one-hour loops.
By meticulously arranging the speakers, each projecting sound in a different direction, Chester created a rich, multidimensional, sonic environment. The spatialized audio is so deep with cultural and environmental inferences that it creates a deceptive effect. When chanting was played through the speakers, curious audiences spun their heads around looking for live musicians; when sounds of seagulls at the fish market cycled through, visitors instinctively ducked.
Chester, currently a faculty member at the University of Sydney, has lived in the UAE for more than six years. She refers to herself as an ethnographer who uses sound as a medium to express cultural and religious traditions. Much of Chester's work focuses on Islamic culture, but her motivation is multifaceted.
"There's a personal bend, a political bend, and a creative bend," she said.
Although Chester was raised Jewish, she discovered later in life her family's Islamic heritage.
"My father's family is part of an ethnic minority group that emigrated from Mongolia in the 1300s to Eastern Europe, and then to the United States in the 1800s. He married outside of the community. But I would have been raised Muslim if I were to be born a generation earlier."
Chester was nineteen when 9/11 happened. Since then, she has seen societies grow increasingly Islamophobic. She hopes to come up with her own ways to challenge biases.
After moving to the UAE for work, she became enamored by adhan, the Muslim call to prayer that is broadcast five times a day. The sound resonates in every corner of the city, from the mosques to the streets. "It has become a huge part of my daily sonic experience," she said. Chester started creating sound art based on adhan, including multiple installations focused on sensor-based interactivity.
But why sound?
"A photographer uses their camera as a way of seeing the world," Chester replied enthusiastically. "The audio recorder is my tool for hearing and understanding the world."
According to studies, humans are visual creatures who rely more on eyesight than hearing. "We can get a glimpse of something and make swift judgments and decisions," Chester said. But while sound is omnipresent, and almost impossible for most people to ignore completely, the ears of most remain numb, untrained.
Chester offered a fun pedagogical exercise: "I ask the students to observe a space for a few minutes. Most of them can't recall what the space sounded like, but they can describe vividly what it looked like."
One team member, Al Blooshi, a recent graduate of music from NYU Abu Dhabi, is fascinated by the ever-present quality of sound. "Sound is something that transcends what we hear," she said. "Sounds are essentially vibrations that pass through us and bounce off surfaces, and even if we can't hear them, they are still present. Other living things might be affected by them, whether they are animals or plants." For Al Blooshi, sound is a cross-sensory experience. "The visual, we see through the eyes, but sounds—that's something we can feel."
Opening up our auditory senses brings new possibilities of experience.
"Many images regarding Muslim culture—" Chester started, pausing for the appropriate word to come, "are weaponized to some extent." Certain visual characters appear repeatedly, reducing humans to mere symbols and conveying an often unsubstantiated, unilateral representation of a group. Careful listening can break down those stereotypes.
Living Memories captured the diversity of identities in the UAE, encompassing many languages, including Urdu, Arabic, Levantine Arabic, English, Hindi, and more. Chester curated and categorized the interviews based on the topics that emerged, but each voice represents a different perspective. "There's a section where an Emirati man, an Indian woman, and a Sri Lankan woman spoke about female prayer spaces, and they have really different experiences."
There are also stories that are universal and evoke empathy. Among the interviewees, one woman, originally from Jordan, who spent thirty years living in the UAE, recalled her intense craving for McDonald's. When she was pregnant and living in Abu Dhabi, the country's first McDonald's opened in Dubai, and she decided to travel there without hesitation. At that time, the road between Abu Dhabi and Dubai, which is now a highway, was a tiny road with speed bumps and camel crossings. It was a rough journey, longer than expected, but she remembered the food to be wonderful.
"It was a random but very relatable and universal story," Chester said. "There's nothing in it to do with being in the UAE, being of a certain religion, or speaking a certain language. It just has to do with being pregnant and craving a certain food, which fifty percent of the population can relate to."
Because the team chose to present multiple perspectives within the soundscape, they revealed a universality relatable to audiences across cultures. "The purpose of juxtaposing contrasts and commonalities is so people bring their own imaginations and expectations, and then hear something completely different," Chester explained. "Several voices blend and blow open what you might have previously assumed."
Beyond capturing sound from various sites in the UAE, from urban to rural and ocean to desert, Living Landscapes also serves as an archive and a gateway to the past. Al Jneibi, an urban planner and architect, told the Festival audience that the installation also incorporated sounds from places that have disappeared.
"I learned more about my country as I was recording and listening to the people and landscapes," he added. In Abu Dhabi, they recorded inside the Assiri Mosque. "That was precious, since it was rare to find Indian-style mosques." The mosque has been replaced by a traffic circle. However, the echoes of long-gone chants are preserved in audio recordings. As landscapes undergo constant renovations, sound recordings act like time capsules.
Another team member, Mansour Al Heera, a filmmaker and archivist, recorded sounds of his household and his mom cooking meals. Both the marvelous and the mundane are captured in the soundscape, presenting the diversity of Emirati lives.
To create a soundscape is never simply a matter of recording. Sound artists, through their selections, arrangements, and designs, are the medium between disordered sounds and a synthesized whole. Al Blooshi shared one of her favorite experiences, planning a narrative of the Hindu community in Dubai. She referred to the process as a soundwalk, another term and concept traced back to R. Murray Schafer and composer Hildegard Westerkamp.
"I walked through the old Dubai town, from the streets to the temple," Al Blooshi described. The raw recordings were messy. The artist had to select the most representative elements and arrange them into something that captured the community's spirit, including languages and music. "It is through me walking through the city that I allow the audience to listen to the community."
During the Festival, Chester also held a workshop, teaching visitors the techniques of recording their own soundscape. "To develop your ability to listen carefully, the first step is to learn how to record," she told the audience. During the session, Chester introduced "deep listening," a method first coined by the groundbreaking composer Pauline Oliveros to "heighten and expand consciousness of sound in as many dimensions of awareness and attentional dynamics as humanly possible."
After multiple meditation practices, workshop participants expressed that they have begun to notice a difference. Their ears became more acute to micro-movements; they were more focused on human voices; sounds became more spatialized in their heads.
"One of the unique things about sound is that there's so much about selectivity in what we hear and how we perceive sounds through a cultural lens," Al Blooshi explained. "But on the other hand, perceiving sound is also in our basic human instinct."
For Chester, listening, from a cultural and sensory standpoint, is crucial to understanding people and our situated spaces. "A big part of the soundscape is about challenging people's thinking and breaking down the barriers of misunderstanding."
Instead of preaching, the team provides a sensory alternative, using sound to bring the living culture of the Emirates to the National Mall for all to feel.
Yuer Liu is a writing intern at the Smithsonian Center for Folklife and Cultural Heritage, an aspiring anthropologist, a traditional Asian puppetry performer, and an undergraduate at Stanford University. Her research interests include material culture, sound art, and multi-species ethnography.