Shahnameh for Kids: Arsia Rozegar Illuminates Iranian Culture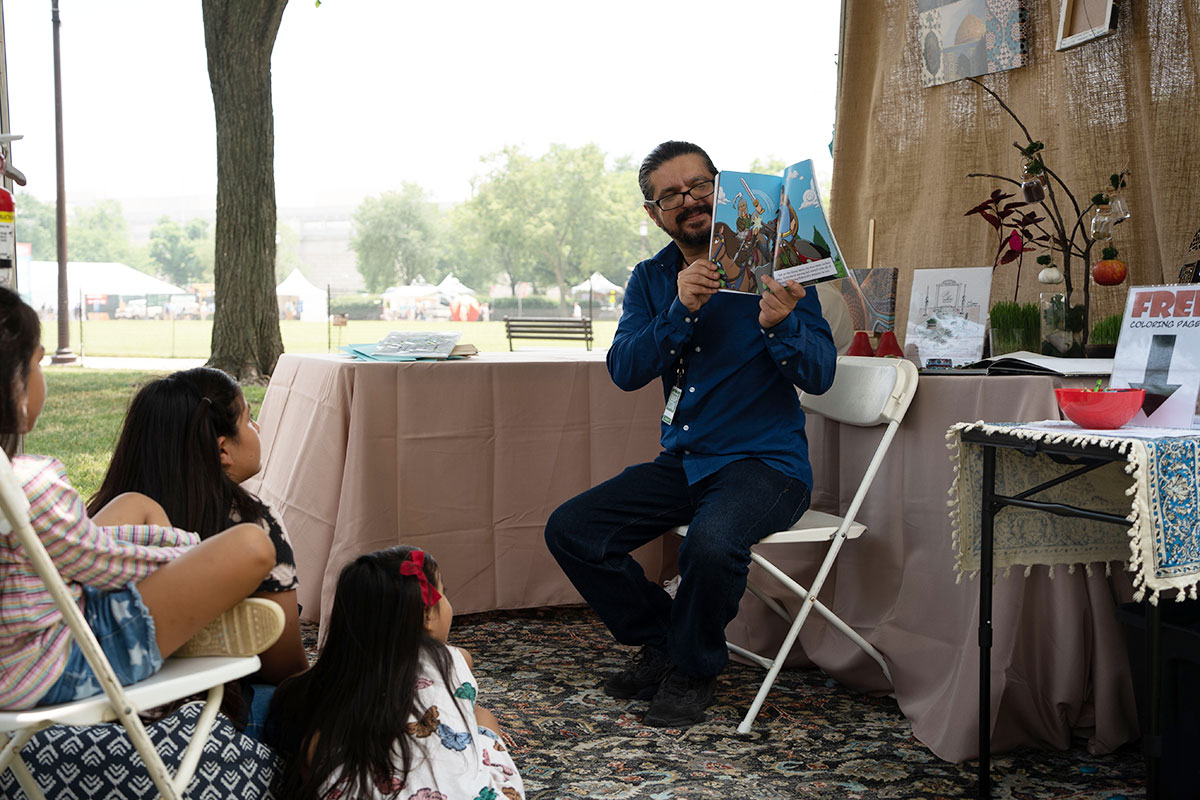 Braving the heat of the sunny July afternoon, visitors to the 2023 Smithsonian Folklife Festival gathered in the shade of the Nowruz tent, named for the Persian New Year, to listen to a story first told in ancient times in what is now Iran. Sure, audiences thousands of years ago would have no plastic folding chairs, the English language Arsia Rozegar spoke in would not yet exist, and they would have considered the glossy pages of the book he read from a marvel not just for their colorful illustrations but for the very engineering it took to make.
But the story remains important, centuries later: The Story of Zal & Simorgh from the Shahnameh.
Rozegar began with a brief introduction to the Shahnameh, the over 1,000-year-old compilation of famous histories, myths, and legends. In Persian, shah translates to "king" and nameh to "book," "text," or "letter." While often translated to "Book of Kings," Shahnameh can also mean "King of Books"—a title this epic poem earns with over 50,000 rhyming couplets that have emerged through centuries as a vital part of Iranian culture.
"The Shahnameh collects all the classic tales, the myths and legends of ancient Iran from a long time ago in the mythic period," Rozegar, an Iranian American writer, comic artist, and teacher based in th D.C. area, explained to his audience. According to him, these tales span from the beginning of civilization all the way to the Arab conquest in the seventh century. The author, Abolqasem Ferdowsi, spent thirty-three years collecting these stories between 977 and 1010 CE. In the face of Arab conquests and the new dominance of Arabic language and culture, these tales helped preserve both the Persian language and identity. Ferdowsi has been called the Iranian equivalent of the Greek poet Homer, his masterpiece manifesting in monuments, referenced in literature, and kept in Iranian homes to this day.
"In our household, we always have a Shahnameh book on our Nowruz haft-seen," Rozegar said, pointing to the ceremonial table behind him, spread with various, intentionally chosen items. During Nowruz, on the spring equinox, families or households place together seven or more symbolic objects beginning with the Persian letter س (seen) to guide one into a good new year. Objects can include garlic (symbol of medicine and health), candles (light), coins (wealth and prosperity), and a book that is special to the host—often the Qur'an (spirituality), or, in Rozegar's case, Persian poetry, such as the Shahnameh (tradition and wisdom).
Rozegar is a first-generation Iranian American who previously worked as a colorist on Marvel comic books such as The Incredible Hulk and Iron Man. However, he felt that there was something missing in those stories and others available to children.
"There really wasn't anything that properly represented my culture and our stories and our people."
Through his children's book series Shahnameh for Kids, he is working to change that.
"At some point I realized, why not make books that properly represented our culture for little Arsia like me?" he said. "But not only for first-generation Iranians—non-Iranians can also learn about our amazing tales and our amazing stories."
The title is deceptive: this version of the Shahnameh, written by Rozegar and fully illustrated by Mike Amante, is made for any age group. This was clear in the all-ages Folklife Festival audience that circled around to listen to his reading. Children squeezed onto a bench in the first row, while their parents, an elderly couple, and even a dog were drawn in by the narration.
In The Story of Zal & Simorgh, Zal, son of the nobleman Saum, is born with white skin and white hair during a time when there is no understanding of albinism. Saum abandons Zal at Mount Damavand, the tallest mountain in Iran, where he is adopted by a bird of Persian mythology—the Simorgh.
The illustration shows a swaddled and crying Zal when he is discovered by Simorgh, her wings spread in a rainbow array, with wide eyes and tilted head, surprised and concerned.
Thus begins what appears to be an unlikely family of two. With love and care, the winged Simurgh raises the white-haired Zal into the man who is later able to meet with the father who abandoned him without bitterness.
At the end of the reading, Rozegar shared what makes this story so impactful: "It teaches me—personally, at least—not to judge people by their appearance. It also teaches unconditional love and caring… [and] forgiveness."
However, "It's not the end of Zal's tale," he emphasized. With over 50,000 couplets in the Shahnameh, Rozegar has many a tale to share with "anybody from any background" who can enjoy this Iranian treasure.
The Shahnameh once helped preserve the Persian identity in the face of Arab conquerors. Now, Rozegar, writing first for "little Arsia," continues to transform and share these stories to emphasize an Iranian identity that holds strong beyond his ancestral homeland.
Delaney Marrs is a writing intern at the Center for Folklife and Cultural Heritage and a student at Kenyon College, where she is studying art history and English. She first read the story of Zal & Simorgh while writing a paper about the Simorgh's importance to Persianate societies today and wishes she had been introduced to Shahnameh for Kids' celebration of Iranian identity sooner.
The Nowruz tent at the 2023 Folklife Festival was presented by the Iranian-American Community Center.