It's Official: Saturday Is
D.C. Circus Day!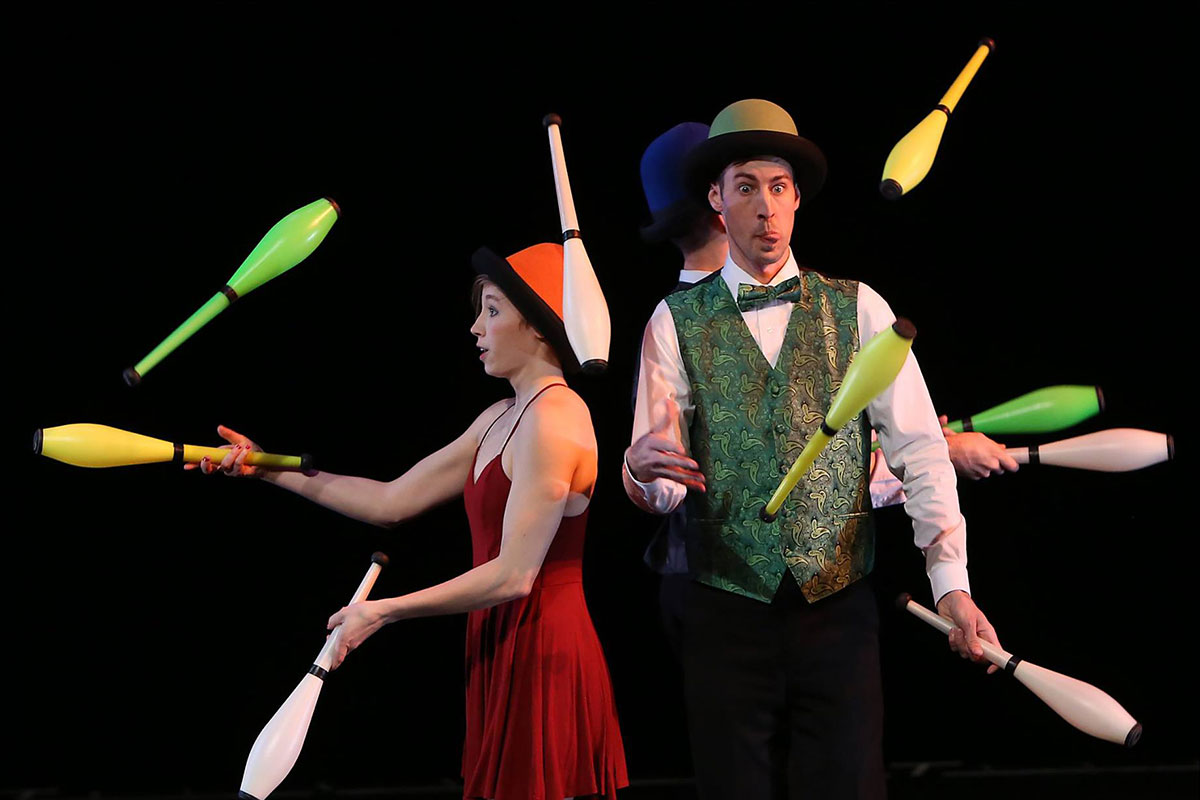 On July 1, the Folklife Festival will celebrate D.C. Circus Day, officially designated by the District of Columbia and Mayor Muriel Bowser. While the Circus Arts program showcases performers from all over the world, and it is crucial to acknowledge the unique backgrounds of these performers, it is also important to recognize the heritage of circus that thrives in our own backyard.
For one day only, D.C. artists will exhibit both traditional and modern styles of circus, displaying the diversity and creativity of the local community. With performances that feature all five of the circus arts' basic disciplines— acrobatics, aerials, clowning, equilibristics, and object manipulation—you can see the incredible talent that flourishes in the District.
Visit the Ralph Rinzler Stage to see aerial rope and juggling from Streetlight Circus, a suite of aerial dance pieces from UpSpring Studio, a comedy unicycle act from Michael Rosman, an Irish step dance-themed straps act from Elizabeth Finn, aerial hammock from Rebecca Freund, an all-female partner acrobatics performance from Trapeze School New York–Washington, D.C., aerial pole from Sydney Ignacio, a chair-balancing act from University of Maryland's Gymkana, and the clowns of Happenstance Theater.
Circus photographers Dawn Rogala, Jim Cole, Rich Riggins, and Dani Pierce-Steuber will lead walkabouts around the Festival at 11:45 a.m. and 1 p.m. to share tips about how to set up and catch that perfect circus picture. This duo is lucky enough to frequently spend time with and photograph circus performers. Find them at the start of the tour at the base of the Flying Trapeze; Rogala will be carrying a white parasol.
Later, visit the Big Top for evening performances that include aerial acts by Sydney Ignacio, Rebecca Freund, and Gwynne Flanagan, and you'll learn how to "believe in laughter" with Clowns Without Borders. Although D.C. Circus Day is a one-day event, these performances are sure to leave audiences in awe of the incredible talent showcased by our local circus community.
Gallery
Dana Karash, Mandy Keithan, and Mike Paszkiewicz performing at the White House.

Photo courtesy of Marissa Walker

Clowns Without Borders

Photo courtesy of Dody DiSanto

Ann Behrends and Sara Duell performing for the 2007 Anacostia River Festival.

Photo courtesy of the artists

Gwynne Flanagan

Photo by Siggi Ragnar

Rebecca Freund in the Mental Head Circus

Photo by Lee Tonks

Kiersten Van Houten, Lessie Skiba, and Rebecca Hantman performing acro trio for Sweet Spot Aerial Productions.

Photo by Rich Riggins Photography

Alana Cole-Faber from UpSpring Studio

Photo by Xander Faber
Ralph Rinzler Stage
11 a.m. — D.C. Circus Showcase
Clown Alley
11 a.m. — Clowns Without Borders
Circus Heritage
12 p.m. — D.C. Circus Meet and Greet
1:45 p.m. — Clowns Without Borders
4 p.m. — Acrobat Ted Talk
4:30 p.m. — Object Manipulation Skill Share
Circus Stories
2: 45 p.m. — The Audacity of Circus
3:30 p.m. — Circus Exhibition
4 p.m. — Connecting D.C. to the Circus WorldSkill Share Silks: A-Frame A
Arts and Industries Building
See beyond the performance and stop by an "ambient performance" where performers formally practice their art by improvising on the aerial equipment. You can observe practice throughout the day by a variety of talented performers.
2 p.m. — Charlotte Byram
2:30 and 4:30 p.m. — John Cohen
3 p.m. and 5 p.m. — Elizabeth Finn
3 p.m. — Ground Art Showcase
See a variety of performances including an extended excerpt of Happenstance Theater's Impossible, a trio of acrobats, and a balancing juggling act. This will be wrapped up with a finale by Mandy Kethan in which she and her acrobatic group perform a simultaneously silly and impressive hand-to-hand balancing act.
Big Top
6:30 p.m. — D.C. Circus Preshow
An outdoor pop-up juggling performance from Streetlight Circus will invite visitors inside the Big Top for a glimpse of Washington, D.C.'s circus elite prior to the evening's main event. The preshow will feature aerial pole from Sydney Ignacio, aerial hammock by Rebecca Freund, various aerial acts from Gwynne Flanagan, and the stylings of the amazing Clowns Without Borders.
Marissa Walker is the coordinator for D.C. Circus Day and herself a circus artist.