Hopa! Rituals and Symbols of an Armenian Wedding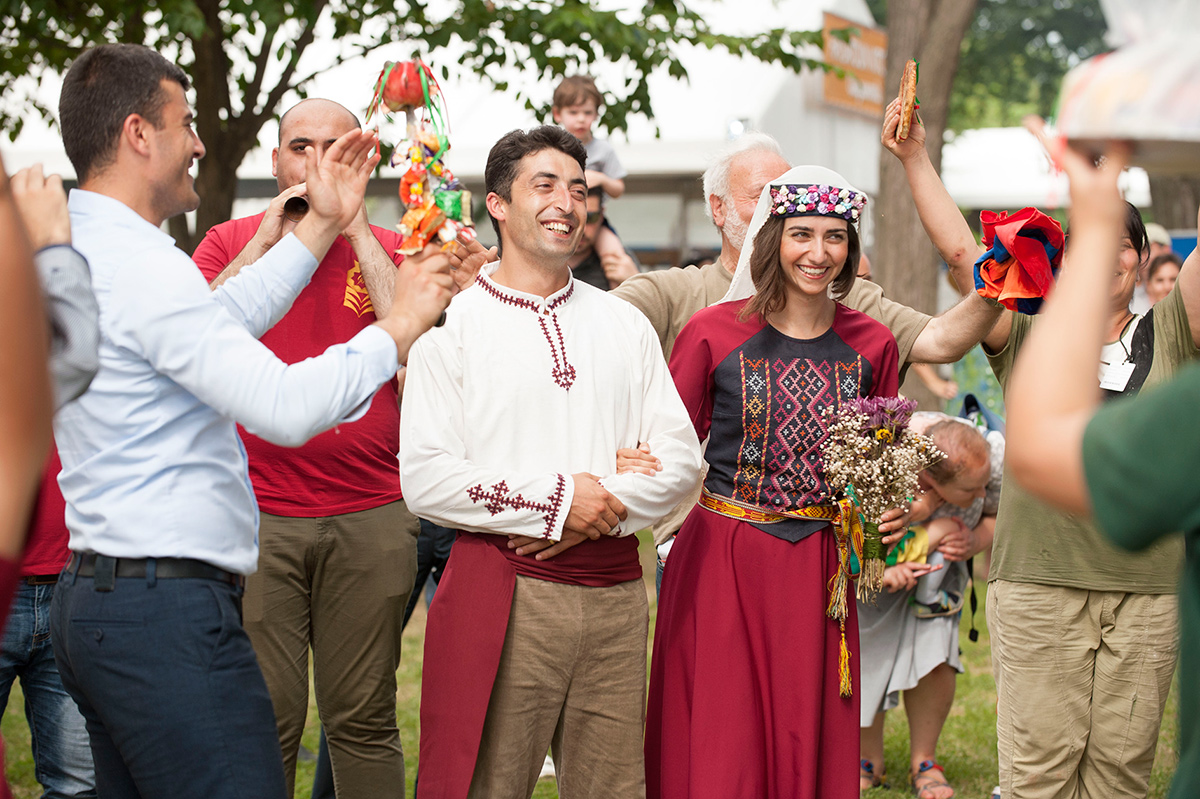 Imagine you just got married, and a few months later you had the opportunity to relive your celebration three more times with a different crowd of guests. One real wedding followed by three recreations.
This was the case for newlyweds Mariam Hovhannisyan and Stepan Toroyan, who were married in Armenia a year before flying out to Washington, D.C., to participate in the 2018 Folklife Festival. Both members of Yerevan-based dance troupe Menq, they played the role of bride and groom in this festive recreation of a traditional Armenian wedding, known as a harsanig. The hour-long celebration combined a mélange of rituals accompanied by music, dance, and a narration that revealed a world of symbolism.
The piercing sounds of the zurna (woodwind instrument) and kopal (large, double-headed drum) provided an insistent invitation for Folklife Festival community to come together and celebrate. Accompanied by these euphoric tunes, participants performed several folk dances with choreographic variations as they wove in and out of crowds, at times encircling the bride and groom.
A couple of dance highlights included the shabash and yarkhushta. During shabash, guests typically throw money to the bride and groom, wishing them wealth and prosperity. They don't get to keep the money, though—it is swept up later and given to the musicians. The yarkhushta, the masculine militant "clap dance," also drew a lot of attention. Men face each other in pairs and rapidly approach one another resembling leaping goats. This produced an irresistible adrenaline rush, for both dancers and spectators.
As the public observed these dances and other rituals, program curator Levon Abrahamian reminded them that each region in Armenia has its own wedding ceremony style. Despite the slight variations, much of the symbolism remains the same. Here are a few other rituals and symbols that were part of the recreated ceremony:
Lavash flatbread: The mother-in-law places lavash on the shoulders of the bride and groom as a sign of prosperity and abundance.
Breaking plates: The bride and groom break plates before entering their new home as a way to cast off any evil. According to tradition, whoever breaks the plate first assumes authority in the house!
Honey and walnuts: As they enter the groom's house, the mother-in-law gives the bride and groom a spoonful of honey and walnuts, wishing them a sweet life.
Flourished apple: Known in Armenian as tzaghkatz khndzor, the groomsman holds a knife with an apple at the top (seen in video) filled with dimes and quarters, which were traditionally real gold and silver coins. The rest of the sword is draped with red and green ribbon (red for the bride, and green for the groom) as well as other candies, signifying the start of a sweet life for the new couple.
Wedding gata: This sweet Armenian pastry is given to young, unmarried girls as a symbol of prosperity and blessing.
Khorovatz: Participants sway khorovatz, or grilled meat on a stick, in the air as they dance their way through the crowds.
Toastmaster: An Armenian wedding is not complete without the toastmaster tradition. Both the godfather and mother-in-law express beautiful words of appreciation for the bride and groom, followed by poetry and song (in the video, notice the red and green ribbon on the toasting glasses).
Bride's dowry: The bride's family presents various items to the groom's family, including a cover for the bed, a tablecloth, a blanket for the baby, and a silk rug (considered the dowry's masterpiece!). All these pieces, handmade by the bride (or in our case, by other Festival participants), are symbols of her patience and reveal the strength of her eyesight, because it takes a lot of effort and hard work to create these works of art.
Gallery
1 / 6

The bride and groom each get a spoonful of honey for a sweet life.

Photo by Sonya Pencheva, Ralph Rinzler Folklife Archives

2 / 6

Stepan Toroyan attempts to break a plate, a tradition to cast off evil.

Photo by Sonya Pencheva, Ralph Rinzler Folklife Archives

3 / 6

The wedding guests dance with handful of khorovats, or skewered barbecued meats.

Photo by Sonya Pencheva, Ralph Rinzler Folklife Archives

4 / 6

Program presenter Grace Bardakjian and stone carver Bogdan Hovhannisyan offer toasts to the newlyweds.

Photo by Anne Saul, Ralph Rinzler Folklife Archives

5 / 6

Festival visitors join in the celebratory dances.

Photo by Sonya Pencheva, Ralph Rinzler Folklife Archives

6 / 6

Men dance the spirited yarkhushta before the bride and groom.

Photo by Sonya Pencheva, Ralph Rinzler Folklife Archives
Click on the photo above to view full slideshow
The real beauty of this harsanig ceremony on the National Mall was how the community of Armenian compatriots came together in a collective spirit to share this tradition with visitors, inspiring intercultural dialogue and curiosity among spectators. The stone carvers, carpet weavers, needle workers, and lavash bakers, among others, expressed such joy and enthusiasm as they immersed themselves in their roles during the ceremony. As a spectator, you would have thought they were two real families celebrating a real wedding.
In reality, however, most of the wedding festivity roles were spontaneous and improvised. The only information they received in advance was that a session on traditional Armenian weddings would take place. The rest was left to their own memory and traditional knowledge.
Micaela A. Nerguizian is a production consultant in the performing arts and intern at the Smithsonian Center for Folklife and Cultural Heritage. She is completing her graduate degree at the Middlebury Institute of International Studies, with a focus on cultural diplomacy and international education. As an Argentine of Armenian descent who has attended several Armenian weddings, she has never experienced a ceremony quite like this one.