Remembering Cajun Musician D.L. Menard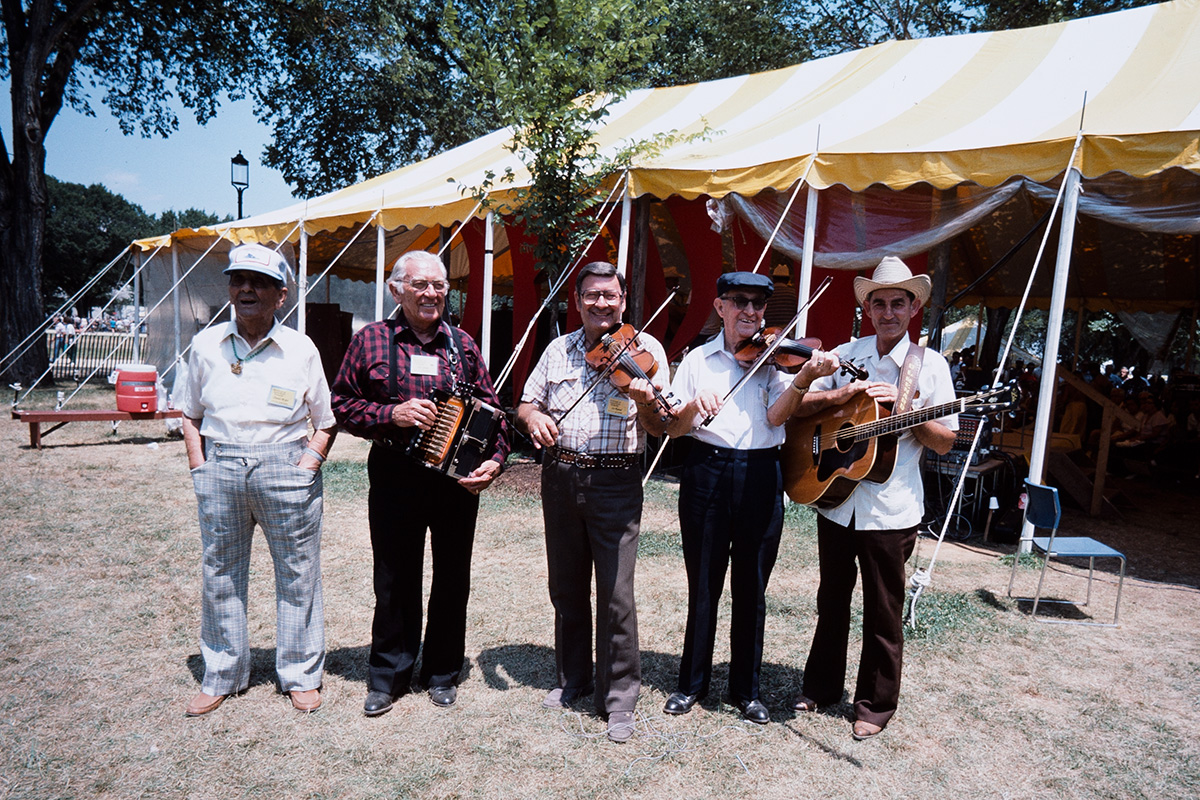 "La Porte d'en Arrière" (The Back Door)
D.L. Menard, Dewey Balfa, Tony Balfa, Austin Pitre, James Pitre, and Dick Richard
at the 1976 Folklife Festival
Here at Folklife Festival headquarters, we are saddened to hear of the passing of guitarist and singer D.L. Menard. Raised in Erath, Louisiana, just over a hundred miles west of New Orleans, he fell in love with Cajun music and began learning guitar when he was sixteen. After suffering from a long illness, he passed away on July 27 in Erath at the age of eighty-five.
Menard performed twice at the Folklife Festival, in 1976 for the bicentennial celebration and in 1985 for the Louisiana program. He recorded classic Cajun tunes with fiddler Dewey Balfa and accordionist Marc Savoy on the Arhoolie Records album Under the Green Oak Tree, now part of the Smithsonian Folkways Recordings catalog. He claimed he wrote his hit song, "La Porte d'en Arrière" (The Back Door), in less than an hour, modeling it off "Honky Tonk Blues" by his musical icon Hank Williams.
"The story just came to me all at once, but I was working in a service station at the time," Menard told the National Endowment for the Arts. "I had to fix flats and pump gas and serve the people, so I was only able to get to the song between jobs. Every little chance I had, I would get my notepad and write down what I could."
In 1994, the NEA honored him with a National Heritage Fellowship, acknowledging his work in preserving and passing on the traditional Cajun music of his region. "La Porte d'en Arrière" and other songs by Menard have become standards in the Cajun repertoire, covered countless times over the last five decades. Another NEA National Heritage Fellow and Cajun music master, Michael Doucet of BeauSoleil, included four of Menard's recordings on a playlist for the 50th anniversary of the Folklife Festival.
A multifaceted man, Menard also had a passion for furniture making. He was famous for crafting beautiful ash wood rocking chairs, often collaborating with his wife Louella who wove the caned seat bottoms. Even after the D.L. Menard Chair Factory burned down in 1993, he continued building and presenting his wares at festivals.
Menard's legacy of music and craft will live on in our archives and the instruments and homes of his Cajun community.
Elisa Hough is the editor for the Center for Folklife and Cultural Heritage. Pete Reiniger and Jeff Place contributed to this article.