Easter Recipe: Massa Sovada, Portuguese Sweet Buns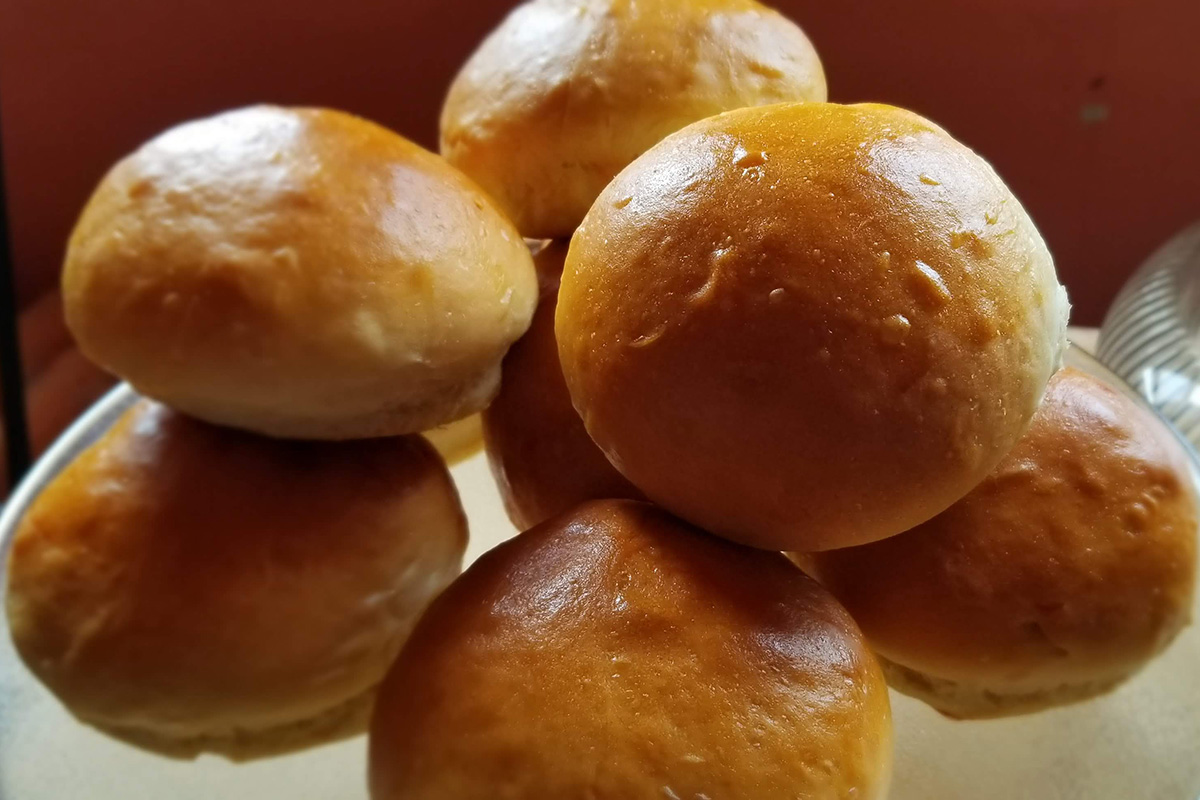 My favorite part of working with the diverse chefs who come through the Folklife Festival's demonstration kitchen has been watching them cook. I could have exchanged countless emails and texts with them prior to the Festival, made sure I bought the right fish or flour, read through the recipe five times, but until I watch them work for the first time, I might not have any idea why the recipe is a certain way. It's a delicious exchange of cultures, and I've been lucky enough to form many new bonds that reach across language and cultural barriers.
Flipping through the Smithsonian Folklife Cookbook has also been a complete joy (sadly now out of print), as I read about past participants from programs long before I was born. I've been wondering how my foodways coordinator predecessors did things—like dig a five-by-three-foot pit on the National Mall. This recipe entry felt particularly relevant for the weekend's holiday and our new homebound lifestyle.
"Massa sovada is a traditional Portuguese bread. It is made for many special occasions, including Easter Sunday (with Easter eggs on top) and the times we honor the Holy Ghost as well as other religious celebrations. My family always looks forward to my special bread during Easter week. I make small buns as well as larger breads with Easter eggs hidden inside or baked on top. But sweet bread is a treat anytime."
Mary Silva, Gustine, California. Smithsonian Folklife Festival 1975, Regional America: California Heartland
In this time of crisis, there's been reports of flour and yeast shortages across the country as we panic-buy for cooking projects to stave off boredom and stretch our time between grocery trips. Luckily, as a former professional baker and a trained hoarder, I didn't have to fight in the grocery store for flour and yeast. And while I did have the five pounds of flour that Mary Silva originally calls for, I do not have the stomach nor freezer space for that much bread.
I've adjusted the recipe down to one-sixth of the original. It yielded ten decent sized buns, just shy of burger bun size. I also reduced the kneading and baking time. Proofing time will depend on how warm your location is; I kept the dough on the stovetop as I cooked the rest of my dinner. I also added an egg wash for a nice shiny bun.
Massa Sovada
Recipe by Mary Silva, adapted by Kathy Phung
Ingredients
3/4 teaspoon dry yeast
1/3 cup (2.66 ounces) warm water
3 cups and 1 tablespoon (14.5 ounces) flour
1 egg
1/3 cup (2.8 ounces) sugar
1 pinch of salt
4 teaspoons (0.66 ounce) butter
2/3 cup (5.33 ounces) milk
1 egg yolk for wash
Water as needed
Preparation
Dissolve the yeast in warm water in a large bowl and let sit for 5 minutes. Mix in 1/4 cup (1.2 ounces) flour to make a batter. Set aside for 30 minutes.
In another bowl, beat the egg. Add sugar and salt.
In another bowl, melt butter. Add milk. Combine egg and milk mixtures, then add to batter.
Stir remaining flour into wet ingredients. Mix and knead very well until the dough is smooth, about 8 to 10 minutes. Dough should be soft, but not too soft. Place dough in an oiled bowl, cover with plastic wrap, and let rise in a warm place for about 2 hours, or until it doubles in size.
Punch dough down and portion into 10 even pieces, about 3 ounces each. Tuck the dough into the bottom, and, using the palm of your hand, roll into a smooth bun. Place on a buttered baking sheet, cover with plastic wrap, and let rise again for 2 hours or until double.
Brush the top of the buns with an egg wash made of the beaten yolk and a splash of water.
Bake at 325° F for 20 minutes or until golden.
Kathy Phung is the foodways coordinator for the Smithsonian Folklife Festival and the demonstration kitchen manager at the National Museum of American History. Armed with a degree in anthropology and baking and pastry arts, she has worked in various food enterprises in the D.C. area as an oompa loompa, pastry cook, and butcher.