An Introduction to Ramadan and How It Changes in 2020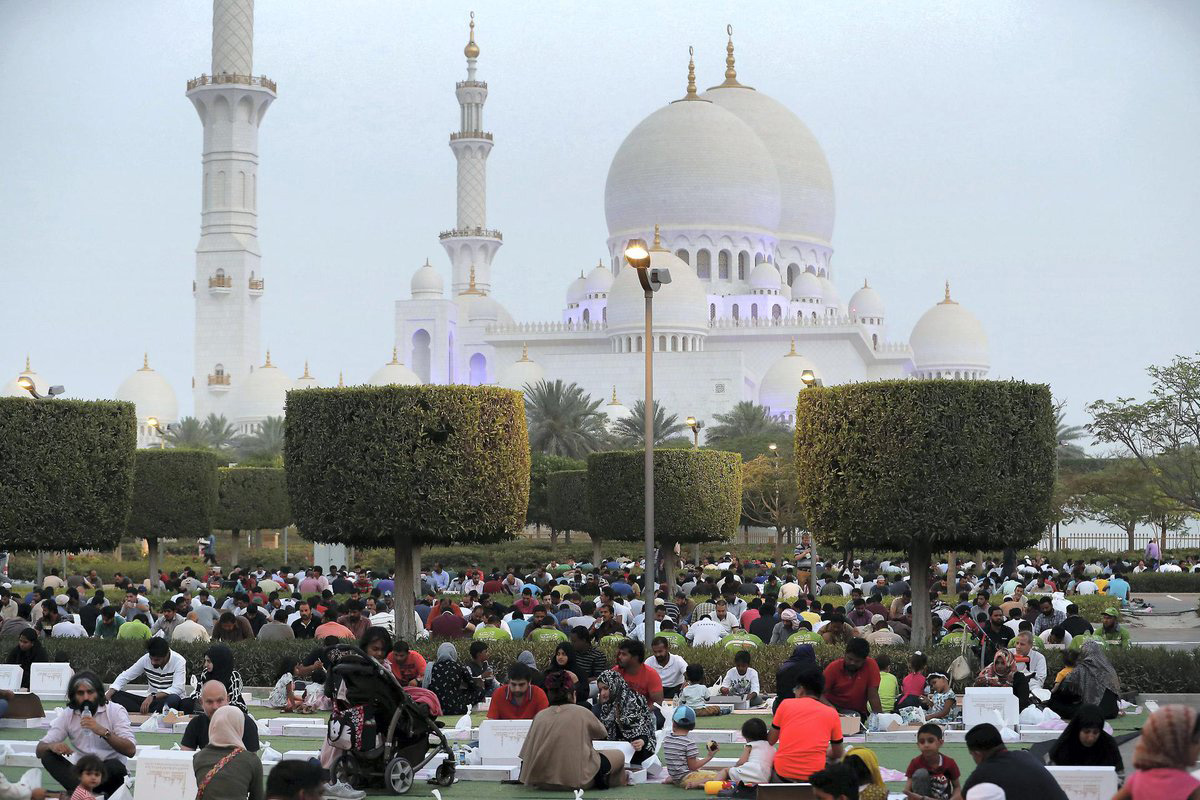 In the coming weeks, the United Arab Emirates program team will be exploring Ramadan. Marked by fasting and special devotions, Ramadan is the ninth month of the Islamic year and commemorates the time when the prophet Mohammed began to receive the revelations of the Qur'an, Islam's sacred text.
What is different about Ramadan in 2020, and what remains essential? Both religion and traditions call for socializing and solidarity during this holy month. But this year, in light of COVID-19, Muslims will experience Ramadan in new ways. In many places, gatherings are restricted. Many people are worried, separated from their loved ones, or in need. With Festival participants and friends, we will learn about how Muslims are connecting with one another now.
During Ramadan—a word stemming from the Arabic root referring to heat and dryness—Muslims who are able will fast from first light until sundown, abstaining from food and drink in order to practice self-discipline, promote contemplation, and grow closer to God. It is a time of reflection and spiritual rejuvenation. It is also a festive and social time, as families and friends break their fasts together with special evening meals called iftar. Some also participate in nighttime prayers at mosques. Finally, Ramadan is a time of generosity, as Muslims are called to give to others, which often takes the form of sharing food. Many mosques, organizations, and individuals offer free community meals and other acts of charity.
It is traditional to break the fast with dates and water, reflecting the prophet Mohammed's custom and the foodways of the Arabian Peninsula. Apart from dates, the cuisine of Ramadan is as diverse as the global community of Muslims. In the UAE, iftar favorites include a refreshing drink of Vimto, a nostalgic fruit soda, and nourishing dishes like harees, a savory porridge. The month concludes with Eid al-Fitr, three days of celebration, greetings, and feasting, especially with sweet foods.
Observing the fast (sawm) during Ramadan is one of the five pillars of Islam, or fundamental acts of worship. The others are the declaration of faith in one god (shahada), the practice of five daily prayers (salat), charity (zakat), and pilgrimage to the city of Mecca for those who are able (hajj).
In 2020, Ramadan will begin on April 24 and last thirty days. Muslims follow a calendar based on lunar cycles, so holidays shift their positions relative to the Gregorian calendar each year, meaning Ramadan can fall during the shortest days of winter or the longest days of summer. Although the appearance of the new moon can be calculated astronomically, tradition calls for visual observation of the slim crescent moon (hilal) to declare the start of the new month. Moon sighting remains a part of Ramadan preparation today. For this reason, the beginning of Ramadan may differ by a day depending on the region.
Although Islam is a single religion, with 1.8 billion followers on six continents, it encompasses a multitude of cultural and artistic traditions.
Are you, your family, and friends marking special occasions differently during this time, while staying at home? We would love to hear from you about new ways that you are communing despite physical distance. Comment below!
Further Resources for Families and Students
Rebecca Fenton is the program co-curator for United Arab Emirates: Living Landscape | Living Memory at the Smithsonian Folklife Festival.