Power of Three: Armenian History and Harmonies from Zulal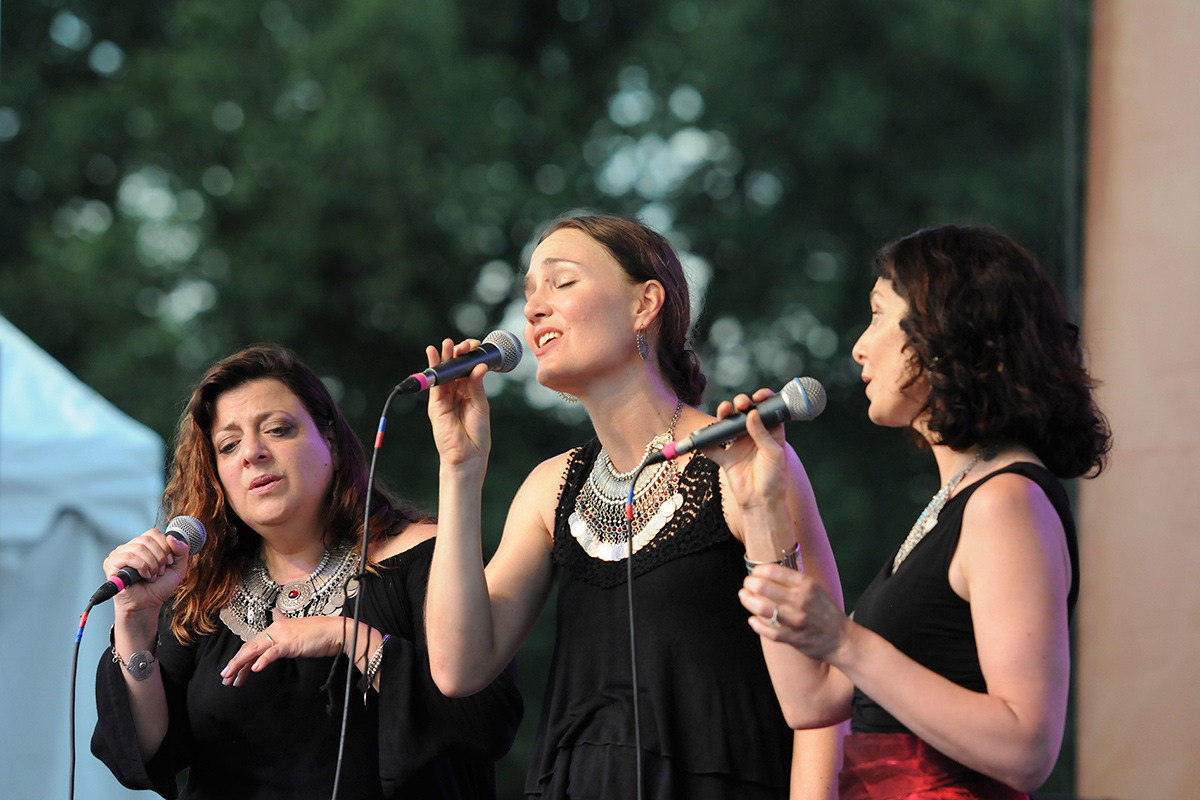 Creative people often talk about a "rule of three." Stories have a beginning, middle, and end. Painters divide a canvas into thirds. A chord has at least three notes. Something in the human brain is drawn to groups of three, perhaps for reasons of simplicity, symmetry, or stability.
Teni Apelian, Anaïs Tekerian, and Yeraz Markanian make up the New York-based a cappella trio Zulal, and they arrange traditional Armenian folk songs for three-part vocal harmony. Zulal means "clear water," and the trio's arrangements embody that image. The folk melodies are simple and the group's harmonies are crisp, yet fluid. They explore the ancient roots of Armenian folk music through research and performance, finding the stories and musical motifs that are at once Armenian and universal.
In addition to vocalizing and arranging, much of their work in Zulal is historical research. They often dive deep into primary sources to find songs and, in the process, struggle with dialects of Armenian unfamiliar to them.
"These songs came from people without instruments," Markarian says. "They came from someone working in the field who sang to pass the time, or a woman who sings a song to lull her baby to sleep."
At times, they have turned to the work of well-known Armenian musicologist, priest, and historian Komitas (1869–1935), who did extensive research in the nineteenth century, gathering folksongs throughout the region.
Folksongs were sung by ordinary people about ordinary life, and because of that they have a timeless and placeless quality. They explore themes of love and loss, hardship and joy. Tekerian, Markarian, and Apelian gravitate toward songs likely written by women that center on the lives of women, including songs about motherhood, traditional women's work (like making lavash in a hot tonir oven), and love from a woman's perspective.
"So many traditional songs are from the perspective of women," Markarian says. "At least, we are drawn to those songs."
The trio leans into their Armenian roots through their song choices, and the singing connects them to their ancestral culture in a powerful way.
"Those melodies with their particular intervals are engrained in you when you grow up in [Armenian] culture," Tekerian says.
"And there is a haunting spirituality to the music," Markarian continues. "We almost lost it all in the genocide!"
Many Armenians were forced to leave their ancestral homeland in 1915. In the process, Armenian culture became endangered and was preserved only because Armenians carried on and adapted throughout the diaspora. Music was a way for Armenian culture to travel and stay alive, and a century later it became a way for Armenians like Tekerian, Markarian, and Apelian to look into the past.
"Art is important for the survival of culture, and therefore humanity," Tekerian says. "And that is especially true of music—that's what you can carry when you have nothing material to save."
The trio agrees that the pain of loss is now engrained in their music. Other folk music traditions have done the same. American slave songs, for example, are infused with the pain and injustice of slavery, making the music haunting but beautiful and true. A similar emotional pull is very present in Zulal's music.
"Every song has a certain message or meaning that has resonated with us," Markarian explains. "If we aren't moved by a song, we won't pick it."
A philosophy like this ensures that all of Zulal's performances are backed by powerful emotions, connecting audiences from all over the world to Armenia through universal sentiment.
"Music is part of the fabric of emotion," Apelian explains. "Music is a space that transcends language for many cultures. It is above and beyond us."
The folk music of a region is often treated as a signifier of a specific culture, yet the themes of these songs are meaningful to anyone who hears them.
Dle yaman (alas),
The sun has touched Mount Masis,
Oh dle yaman (alas),
I am yearning for my love,
Yaman, yaman, yar
The old Armenian song "Dle Yaman" is an example of this. Although the song makes reference to locations that are specifically Armenian, such as the sacred Mount Masis, the feelings of yearning, love, and loss are universally relatable.
Like many groups of three, Zulal represents balance: ancient Armenia with contemporary Armenia, simple vocal groupings with complex harmonies, and—perhaps most importantly—the balance of art and universal, emotional experience.
Abigail Hendrix is a video production intern at the Smithsonian Folklife Festival and a graduate of the University of Washington with a B.A. in medical anthropology and global health.