Podcasting in Armenia: A Tour of the Areni-1 Wine Cave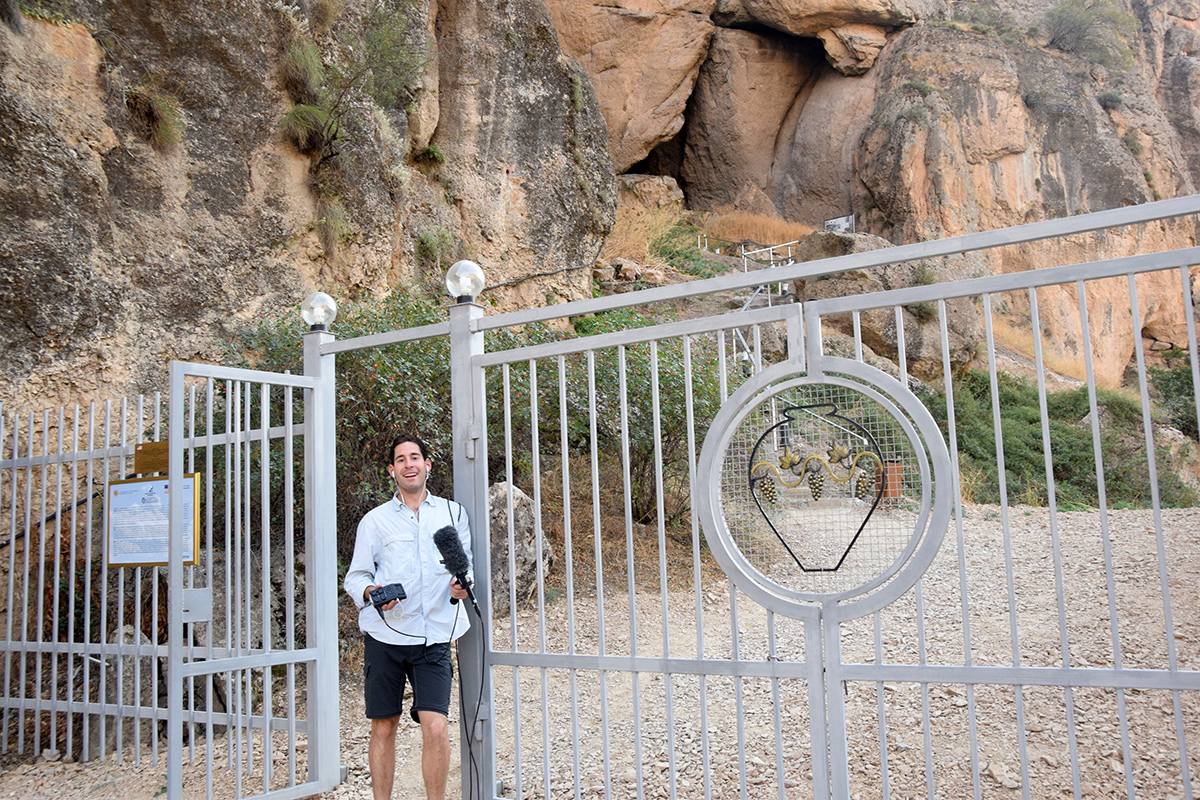 I'm no wine snob.
Sure, I love a glass after a long day of work. And, yeah, I can throw a few words around like "full-bodied" and "dry," although I don't really understand what they mean. But when I was invited to visit Armenia to report a story for the Smithsonian's Sidedoor podcast on wine cultural heritage, I said cheers and booked my ticket.
If you're like me, you don't know a whole lot about Armenian history and culture. France, China, Mexico—while I haven't visited all these places, a sort of mental image pops into my head when I imagine the experience. But Armenia? A blank and mysterious canvas.
Some of the most amazing Smithsonian research happens abroad. As the host of Sidedoor, I was asked by the Smithsonian's Center for Folklife and Cultural Heritage and the Office of International Relations to report a story from the field. The work of both of these offices revolves, in part, around preserving and sharing stories from diverse, far-flung cultures—in this case, for the 2018 Smithsonian Folklife Festival. Their jobs are inspiring, and I had always wanted to experience it firsthand.
Here's what I learned before the trip: in 2007, the oldest known evidence of winemaking was discovered in the Areni-1 cave complex. It's this very site in southern Armenia that has had a major impact on how archeologists understand humanity's earliest civilizations. While in country, I was to receive a site tour from the scientist who discovered the centuries-old artifacts and interview him about the impact the excavation has had.
Flash forward.
After two layovers, I landed in Yerevan around 4 a.m. The cab driver spoke little English, and I sleepily held up the address of my hotel. He stared at my cellphone screen, nodded, and accelerated forward. I pressed my nose against the window of the car, anxious to grab my first glimpse of the capital city. We zoomed down a highway and turned off onto a quiet, winding road. Two-story buildings in various shades of cream, light pink, and gray flanked either side of the cab. We continued driving on a narrow cobblestone street until we pulled in front of the hotel.
As I grabbed my bag and walked into the lobby, I took a deep breath. I had arrived. My time is Armenia would be pretty brief—just over forty-eight hours, but my colleagues had set up quite the itinerary for me.
I could attempt to write some poetic entry about the life-changing experience I had in Armenia, but I would rather show you.
Gallery
My first morning in Armenia, I snapped this on my iPhone. There was an open-air market outside the hotel with all kinds of artwork, crafts, food, and rugs.

Photo by Tony Cohn

I accidently fell in love with this rug. It's currently in my apartment's living room. Deciding where to lay it was more fun than fitting it into my suitcase.

Photo by Tony Cohn

En route to the Areni-1 cave, we stopped at Old Bridge Winery. Here I'm standing with the vineyard's owner just outside a large patch of grape-bearing vines.

Photo by Nune Hayrapetyan

I got a full grape-to-wine breakdown, which includes grapes being hand-picked.

Photo by Tony Cohn

Only the ripest and most delicious (that's the technical term, right?) grapes get used for winemaking.

Photo by Nune Hayrapetyan

There's a reason it's called Old Bridge Winery. In this shot I'm standing with the owner of the vineyard at the namesake bridge. He's telling me that Marco Polo once crossed this very passage.

Photo by Nune Hayrapetyan

Here's Armenia program curator Halle Butvin jumping with happiness on said bridge. We only had to try seven times to get this shot.

Photo courtesy of Halle Butvin

We're almost at the Areni-1 cave! I interviewed Halle Butvin a few miles from the site in a car (which have weirdly good acoustics for interviews). If you look closely, you can see my hand sticking out of window with my microphone.

Photo by Halle Butvin

This is just a few steps inside the Areni-1 cave, with a silhouette of the Armenian flag.

Photo by Nune Hayrapetyan

We're inside! In front of us is the winemaking remains from thousands of years ago. I'm interviewing Boris Gaspariyan, the archeologist who led the team responsible for the discovery.

Photo by Nune Hayrapetyan

A close-up shot of the winemaking evidence. The archeologists discovered that the individuals in the cave were using large clay vats that were buried underground to ferment grapes.

Photo by Nune Hayrapetyan

After our marathon days of interviews and driving around the country, there was also amazing nourishment waiting for us. I learned firsthand about feasting culture in Armenia, which includes putting as much food on the table as would fit!

Photo by Nune Hayrapetyan
Click on the image above to view full photo gallery
I'll do you a favor and cut to the chase: I fell in love with Armenia. The people are incredibly kind, the scenery ever-changing, the food carb-olicious and fresh, and the weather sunny and mild. The wine is as good as any I've ever tasted, with a history that can't be beat (but it can be drunk!).
And good news! Now that you've seen some of my Armenian adventures, you can hear them too by listening to this week's episode of Sidedoor.
And even better news—you don't have to fly seventeen hours to experience Armenian culture. This year's Folklife Festival will highlight all kinds of stories and, yes, wine from the country here in Washington, D.C.
Tony Cohn is the host of Sidedoor, the Smithsonian's podcast, and a marketing specialist at the Smithsonian's Office of Public Affairs.