Palestinian Recipe: Ka'ak al-Quds كعك القدس (Sesame Ring Bread)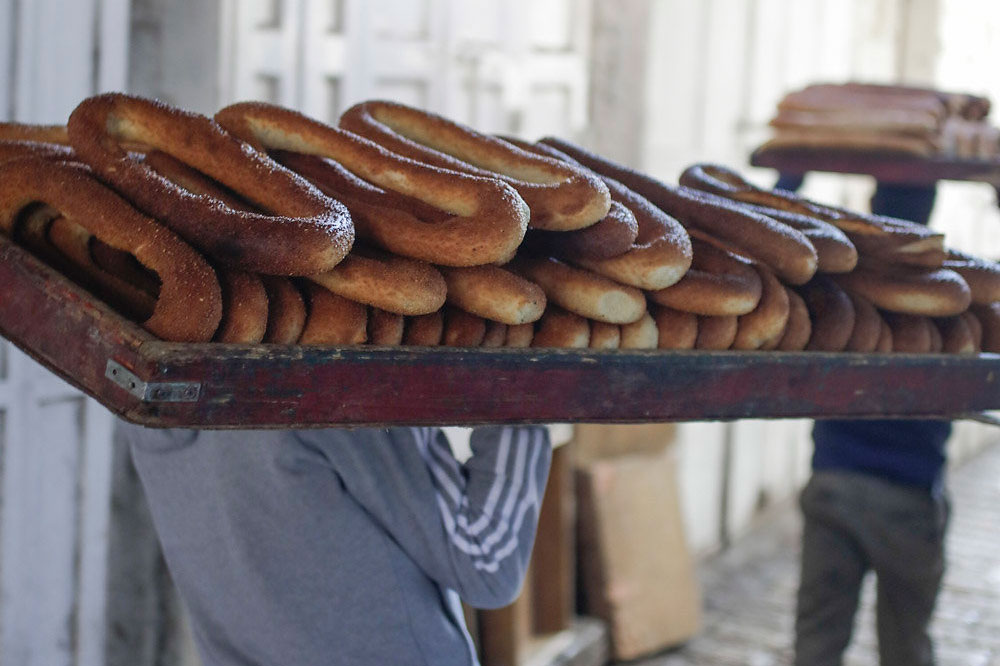 Join us on Saturday, June 26, at 2 p.m. for Languages of Home and Diaspora: Nourishing Palestine in Food and Verse, a conversation between writer and cookbook author Reem Kassis and poet Zeina Azzam. The event is part of the 2021 Folklife Festival's Beyond the Mall: Making Matters weekend.
It may be a myth, or it may be fact, but all Palestinians agree that the oblong, sesame-studded ka'ak breads made in Jerusalem taste better than those made anywhere else in the country. We even call them "Jerusalem" ka'ak. Perhaps it's the old traditional wood-fired ovens, or the aura of Old City where they are baked, or their ubiquitous presence in the daily life of Jerusalemites. The men push their ka'ak-laden wooden carts through the streets shouting "kaaaaaaa'aaaaaak" and everyone, from schoolchildren to workers to store owners—even tourists—gathers round for these delicious and filling breads. No, this recipe will not taste the same as the ones sold on the streets, but they are a delicious and fantastic placeholder until one finally visits the Old City.
Serve warm with some za'atar, or white cheese and vegetables, and sweet tea. Freeze any leftovers for up to one month and reheat in oven before serving.
Preparation time: 30 minutes plus 85 minutes resting
Cooking time: 15-20 minutes
Makes 6 ka'ak bread
Ingredients
For the pastry
4 ½ cups (1 lb 2 oz/500 g) all-purpose (plain) or white bread flour
2 tablespoons sugar
2 teaspoons salt
1 ½ cups (12 fl oz/350 ml) whole (full-fat) milk, warm
1 tablespoon active dry (fast-action) yeast
1 teaspoon baking powder
Olive oil
For the sesame coating
1 cup (5 oz/150 g) hulled sesame seeds
1-2 tablespoons grape molasses (alternatively, date molasses or honey)
Preparation
Put all the dough ingredients except the olive oil into the bowl of a freestanding mixer fitted with the dough hook. Mix on medium speed until the dough comes together in a soft and pliable ball.
Alternatively, mix in a large bowl and knead by hand until smooth and pliable. If the mixture appears too stiff, add a little milk and continue to knead. You are looking for a soft, elastic but robust dough. Rub with oil, cover the bowl with a damp dish towel or plastic wrap (clingfilm), and set aside to rise until doubled in size, about 1 hour.
Meanwhile, prepare the sesame coating. In a large shallow bowl, combine the sesame seeds and grape molasses with 1 tablespoon of water. Mix, adding more water as necessary, until you have a wet mixture that is neither too sticky and thick that it clumps up, nor too thin. You just want to be able to coat the dough in the seeds and have them stick.
Once the dough has risen, gently punch down to release the air bubbles. Divide into 6 equal-sized portions and place on a lightly floured work surface. Roll and stretch each piece into a log about 8-12 inches/20-30 cm long, then attach the ends together to form a circle. Set aside to rest for 15 minutes.
Preheat the oven to 450° F/230° C/Gas Mark 8. Take each dough ring, dip it in the sesame mixture, and gently roll and stretch the ring until you have a long oval shape, similar to a stretched out "0". Repeat with each ring, then set aside on a baking sheet to rest a final time, about 10 minutes.
Place the baking sheet or sheets into the oven and bake for 15-20 minutes, or until a deep golden color and cooked through. Set aside on a wire rack to cool.
Reem Kassis is a Palestinian writer whose work focuses on the intersection of food with culture, history, and politics. She is the author of the bestselling and award-winning cookbooks The Palestinian Table (2017) and The Arabesque Table (2021).