Our Mothers: Ofelia Esparza and Sylvia Stephens's Traditions of Devotion and Obligation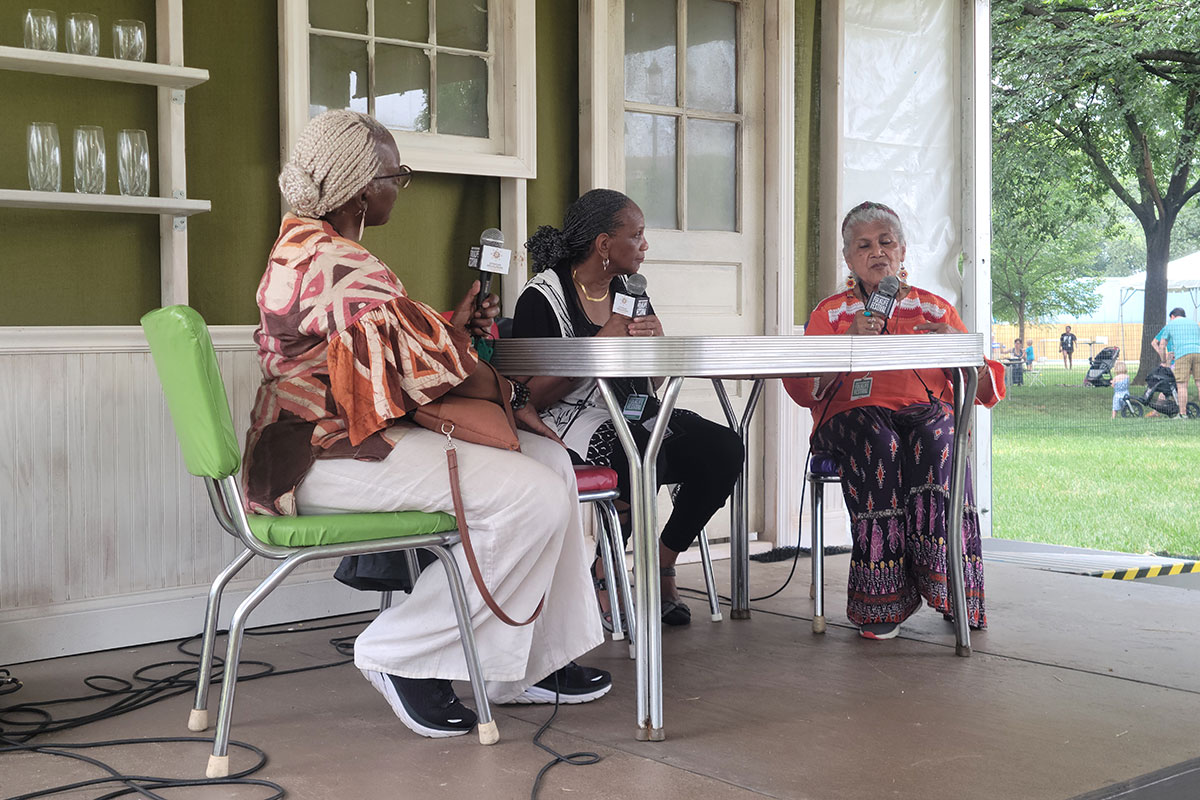 Before meeting around the Kitchen Table, Ofelia Esparza and Sylvia Stephens had never crossed paths. The two come from opposite sides of the United States and practice very different craft traditions. When they did, however, it was clear the artists share one important thread: a legacy of spiritual devotion.
The artists came together for a narrative session called "Our Mothers" at the 2023 Smithsonian Folklife Festival to discuss how their beliefs inform their respective artistic traditions and how, in the act of creating, they commemorate the people who came before them.
Esparza, a 2018 NEA National Heritage Fellow and former school teacher, is a sixth-generation Mexican American altarista—or altar maker—hailing from East Los Angeles. She learned to create the colorful tiered Day of the Dead ofrendas (altars) from her mother, who she fondly describes as a "warrior woman," and grew up with a host of other Indigenous Mexican traditions her mother brought with her from her homeland. For forty years, Esparza has shared this craft, traditionally only practiced in the home, with the larger artistic world, creating ofrendas for exhibits in places like the Los Angeles County Museum of Natural History, teaching workshops, and even serving as a cultural consultant for the 2017 Disney movie Coco.
Although Stephens, now of Hyattsville, Maryland, also comes from a long line of artists, she did not pick up her family's generations-old quilting tradition until age fifty. Her mother, Mozell Benson, a highly regarded African American quilter from Alabama, exposed Stephens to artistic work through sewing. When she was a child, Stephens first learned to hem flour sacks, and she eventually graduated to making her own clothes. Unaware of her mother's prestige until she was awarded an NEA National Heritage Fellowship in 2001, Stephens then realized she wanted the quilting tradition in her family to continue. Since her mother died in 2012, she has carried on the family tradition. Though learning to quilt in her mother's style and living up to her legacy proved challenging, Stephens said her mother helped her find "freedom" from expectations and, instead, find the fun in creative expression.
"My mother always told me, they don't have to be perfect," she said from the Kitchen Table. "If you like it, someone else will like it too."
The two artists also discussed the spiritual aspects of their traditions. Stephens finds the spiritual connection in synchronicities, getting many of her ideas in dreams. At an exhibition, she was impressed with the whip-stitched circles in a quilt, but she did not know how to replicate them.
"That night, I dreamt how to make a circle and it was almost perfect," she recalled. In the same night, she made "circle, after circle, after circle" with no plan for the fifty-plus quilt blocks she created. She described staying up late enough to hear the birds sing in the morning, fitting the blocks together to form a quilt and struggling to think of a name for the piece. As she sat in the preacher's chair in her room, she thought of the phrase "holy, holy, holy." She felt it represented the Holy Trinity, and she searched through her Bible to find the words "Holy, holy, holy is the Lord." As a play on this phrase and the whip-stitched circles, Stephens thought of the pun "Holey, Holey, Holey!"
"That's it! That's the name of this quilt," she thought.
For Esparza, the spiritual connection is complicated by the history of Spanish colonization in Mexico. She explained that Catholic practices "dovetailed" into Indigenous traditions; for example, worship of Indigenous deities shifted to devotion to Catholic saints. However, Esparza said that Indigenous spirituality lives on through certain art traditions, such as the ofrendas.
Beauty is not the only purpose of this art, she stressed. The yellow and orange marigolds placed on the altars, for example, not only add a colorful, vibrant element, but they are also a part of a deeply sacred celebration of her ancestors—the scent leading them back to the people who have carried on the traditions they created and sustained.
"The aesthetics are important, but so is the spiritual significance," she said. "The ofrendas incorporate ancient symbols as an expression of gratitude, an expression of love, for the people who taught you."
There is also something sacred about bringing these traditions to the public. Esparza said that making ofrendas for public viewing is a way to connect to other cultures and serves as a "bridge between the living and the dead."
These examples of sacred artworks are instruments of beauty and spirituality, and they serve as avenues to continue the legacies of their mothers. The practices are "not just a devotion, but an obligation," Esparza explained. Through creating and teaching the traditions they learned from their mothers, both Esparza and Stephens hope their descendants will carry on their cultural heritage as well as the stories of their ancestors.
Inspiring others to learn their own families' traditions, or create new ones, Stephens left the audience with the message: "Just remember, we are all creators of something."
Bana Ghezai is a writing intern at the Center for Folklife and Cultural Heritage and an undergraduate at St. Mary's College of Maryland, where she is studying English.