A Native Puppet Theater Tells the Story of the Osage Homelands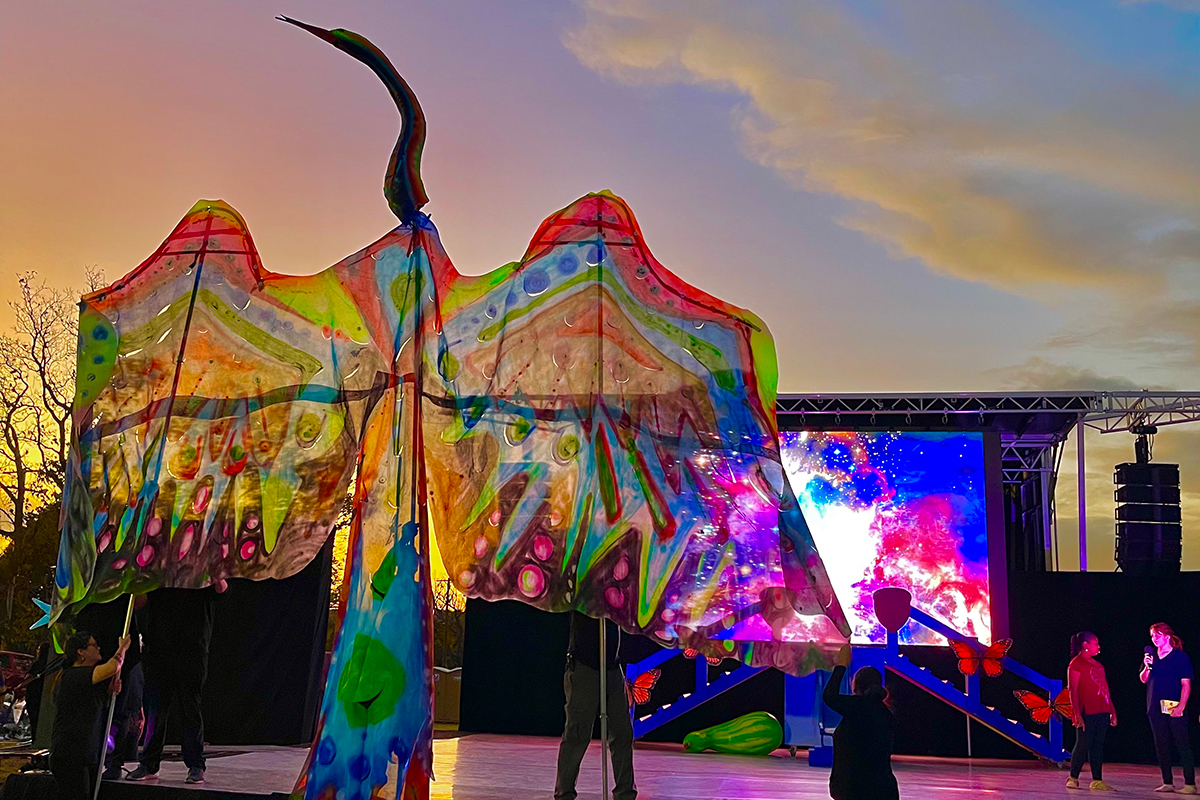 The Ozarks region in Missouri is the ancestral homeland of the Osage people, or the Wah.Zha.Zhe as we call ourselves. We lived in the area for approximately 1,400 years before treaty removal by the U.S. government, which began around 1825. All that remains are the physical impressions our Osage ancestors left on the Missouri landscape, such as mound and village sites, trail systems, rock art, and, most importantly, burial sites. Today, our Osage people call Oklahoma home, but through the adversity of displacement, we continue to be spiritually and culturally rooted in our homeland.
An Osage elder described our time in Missouri as a time of Osage purity, a free-enterprise system based on living in balance with nature and ourselves. It was a time when the Osage people lived in absolute freedom—and it would be the last.
In the Wah.Zha.Zhe Puppet Theatre, we reimagine this freedom and coexistence with the natural world. We highlight oral stories and histories through theater and larger-than-life characters to maintain our Osage identity and stories.  
We formed the group in the spring of 2022 for the Osage Nations' Sesquicentennial Celebration in Pawhuska, Oklahoma, celebrating 150 years of the established Osage Reservation. Stage director Russell Tallchief, playwright Candice Byrd-Boney, and myself as artistic director led the community of Osage artists and puppeteers in a unique collaborative performance.
To visually communicate our Osage worldview and values, we conceptualized our stories by designing impressive characters who act as catalysts in our narratives. To make our vision a reality, we collaborated with puppet designer Christopher Lutter-Gardella of Big Animal Productions, based in Minneapolis. Chris's extensive knowledge of community arts and large-scale puppet design, plus his earth-conscious ethos, made him the perfect fit to work with our Indigenous community. He humbly guided our group in creating performable artwork from upcycled materials while deepening our understanding of our ecological footprint.
With the support of the Osage Nation Museum, we invited our Osage community to a two-week puppet-building workshop that aligned with our histories and oral stories. Several generations of Osage people, including a group of language immersion students from Daposka Ahnkodapi Elementary, volunteered their time to help create the giant puppets.
Meaningful conversations emerged as we worked side by side, cutting, sewing, gluing, and applying layers of papier-mâché. We philosophized about our stories, seeking understanding about who we are and where we came from. You could hear our Osage language being spoken frequently throughout the workshop by the young and old alike. It was a unique and beautiful experience.
As the performance date approached, the core group carefully crafted our narrative, putting the final touches on the script, which would become Sky E.ko and Her Ni.ka.she (Sky Grandma and Her People). It was important we use the Osage language frequently, mainly for names and places. We read a selection of Osage resources, such as transcripts of interviews with elders, history, and the ethnographic work of Francis La Flesche, to craft our narrative. Altogether, the works inspired our vision for the puppets and laid the groundwork for our story.
Once the papier-mâché layers dried, we called Osage painters to help us characterize the puppets. Artists including Erica Moore Cozad, Jessica Moore Harjo, and Yatika Fields contributed their time and skills to the project. The puppets were brought to life with a unique aesthetic that blends traditional Osage influences with each artist's distinctive style. With a collaborative spirit that fueled each other's creativity, the artists crafted a visual experience that sets the Wah.Zha.Zhe Puppet Theatre apart.
Osage musician Nokosee Fields composed an original score that overlaid sounds of nature with violin chords that lent an ethereal tone to the performance. Buffalo Nickel Creative, an Osage-owned media company, provided additional background imagery.
At the end of our creative process, we completed a large-scale elk, eagle, swan, wolf, waterbird, and eight two-person buffalo puppets. Each was a featured character in the show. Performance time was upon us, so we called upon the Osage language immersion students and community to recruit puppeteers and actors. After an intense week of touchups and rehearsals, it was showtime.  
Our first performance on October 21, 2022, was magical. As the sun set over the Osage Nation's rolling hills, orange, pink, and blue hues brushed across the clouds, complementing our puppets and our story. It became clear to all in attendance that the Creator blessed us with the appropriate background to present our version of the Osage cosmological story and worldview.
Sky E.ko and Her Ni.ka.she, told in English and Osage, is the story of a young Osage girl who struggles to find her way without her recently deceased grandmother. As her grandmother makes her way home to the heavens, she appears to her granddaughter for the last time. Comforting her granddaughter, Sky E.ko explains where home is by showing her the many places Osage people have lived, from our creation in the skies to our present-day home on Earth.
Wa.kon.da, the Creator, first gave life to the Osage people as spiritual beings who came down from the stars. This act was performed through a series of events and celestial-themed props. The spirit beings ask the Sun, the Moon, the Morning Star, and the Evening Star for assistance in finding their way to Earth.
On the set, a mound-shaped structure resembling the blue sky is attached to a slide at the back of the center stage. The spirit beings, played by children, slide down to represent the descension from the heavenly bodies onto Earth. Leading the beings through the sky is the immature Golden Eagle, which we crafted as a three-pole puppet. Once on Earth, they take human form and received further help from water spirits and the Great Elk.
According to the Puma Clan, the Great Elk is the principal figure in the Earth's creation. He threw himself onto the ground, and his body became the hills, mountaintops, rivers, streams, and ridges. Plants and grasses grew from the Great Elk's hair left on the ground. The Great Elk and the Four Winds breathed life onto Earth, so we call him Mon.zhon.ga.xe, Earth Maker.
While finding our way on Earth, our leadership studied the cosmos and the cyclical changes in the environment. They recognized the natural order found within the duality of earth and sky, which founded our Osage worldview. This division and other natural observations of the universe informed our social organizations and clan identities. Even our villages were organized to mirror our cosmology of earth and sky. This way of life provided order and balance, which we still honor and follow today.
Sky E.ko then recounts our lifeways with the buffalo. Stampeding onto the stage, the two-person buffalo puppets graze the plains. Sky E.ko talks about our ancient ancestors who built the mounds around St. Louis, grounding our worldview. She then describes a special place during our time in Missouri.
The Place of Many Swans, or Marais des Cygnes River, is a revered site for Osage people that provides many elements and symbols for our lifeways. Representing this site is a large swan puppet, built by Chris to fit over an Osage performer Elizabeth Moore's wheelchair. As Sky E.ko tells the story of the Place of Many Swans, the swan gracefully glides across the smooth waters. This was represented by four long rows of royal blue chiffon, stretched across the stage to form the flowing river.
The play culminates with the tribe's final movement into Oklahoma. Sky E.ko recites a traditional oral story about a giant wolf scouting out our current homeland. For the grand finale, we present the largest puppet of them all. A giant waterbird rises to symbolize our Osage Native American Church and spiritual identity. This represents a place where our Osage people can be closer to Wa.kon.da, the Creator, and our ancestors.
Our people have a saying: Wash.kon. "Do your best." The Wah.Zha.Zhe Puppet Theatre was created with this concept in mind, showcasing a community-based approach to artistic creation that closely aligns with our communal traditions. We engaged over a hundred people in the project, including thirty performers. Our unique approach, puppets, and stories honor our complex history and ideology and present a method for contemporary Osage to discover and create meaningful narratives of their own.
In the future, we will strive to create more plays and large-scale puppets to keep the memory of our oral stories and histories alive. We uncover other stories to write about and new characters to develop each time we gather. Ultimately, we seek to use our community-based model to work with other tribal communities and help them make their stories come to life.
Welana Fields Queton (Osage, Mvskoke, Cherokee) is a museum professional and creator of the Wah.Zha.Zhe Puppet Theatre. She loves her Native culture, art, kitschy things, and Kewpie dolls.