Orchid-gami: An Earth Optimism Activity
Fold your own 3D model of a native Showy Lady's Slipper orchid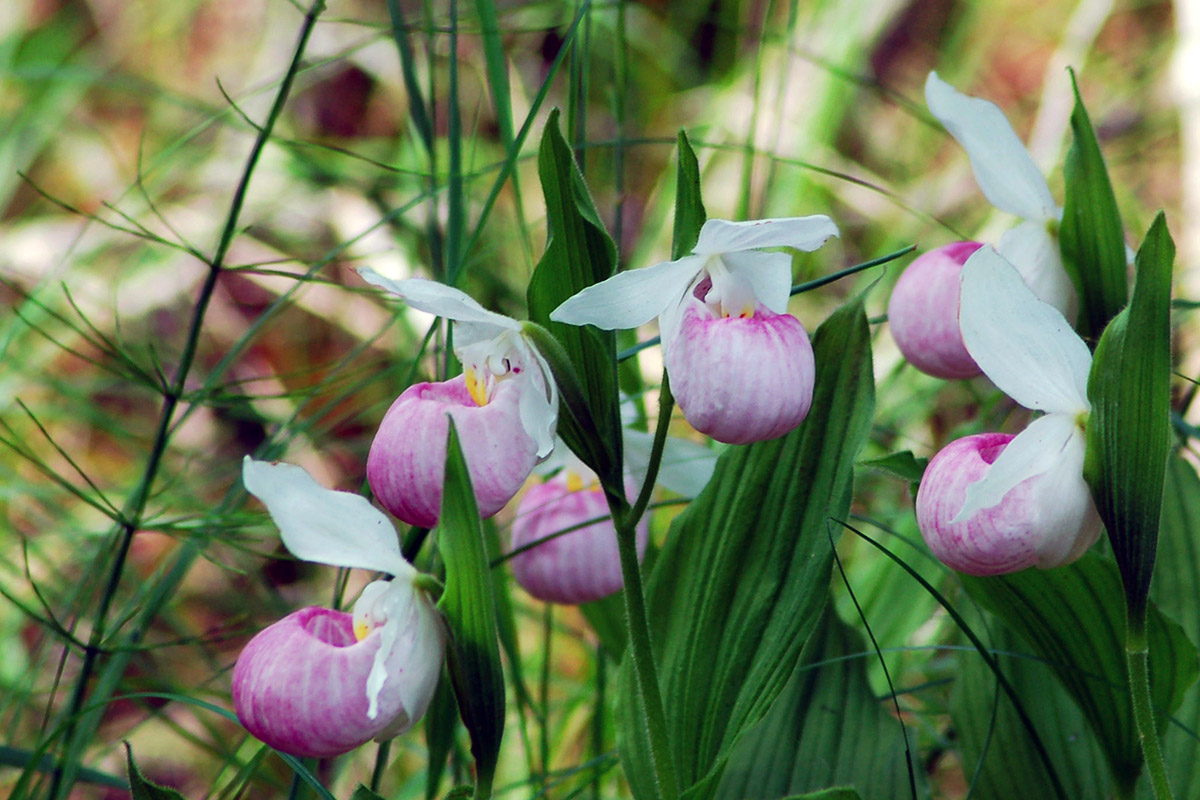 Orchids are the most diverse family of flowering plants on earth, but more than half of the 200 species native to the United States and Canada are threatened or endangered. What makes these brilliant blooms so vulnerable? Orchids need a healthy ecosystem to grow and reproduce. They are sensitive to changes in nutrients, light, and water. Orchids also require certain fungi in the soil in order to survive.
Because of the close relationship between orchids and fungi, even if ecosystem changes don't harm the orchid directly, orchids won't survive if environmental changes damage their fungi. This complex interaction means that even small changes can have big impacts on orchids.
To research and conserve native orchids in the United States and Canada, the North American Orchid Conservation Center (NAOCC) collaborates with more than twenty organizations, including the Smithsonian Environmental Research Center in Edgewater, Maryland, and the U.S. Botanic Garden in Washington, D.C.
Want to learn more about the many varieties of North American orchids? NAOCC has developed a fun learning resource called orchid-gami, a series of twenty-eight templates to fold into three-dimensional paper models. On the NAOCC website, you can download and print individual templates or order the complete set. Try it at home or at the 2022 Smithsonian Folklife Festival, when NAOCC brings orchid-gami to our Earth Optimism × Folklife: Inspiring Conservation Communities program's People-Powered Science family activity area.
One of the easiest models to fold is the Showy Lady's Slipper. This stunning orchid reflects its Latin name, Cypripedium reginae, since reginae means "queen." The tallest of our native orchids, it can be found widely throughout eastern and central North America in wetlands, swamps, and around riverbanks. It is slow growing and can take up to fifteen years to produce its first bloom. But once it gets going, a single plant can have over 200 flowering stems! White-tailed deer love to munch it, and its habitat is shrinking. Poor water quality and other pollution can also affect the plants. So it needs your help to survive for future generations to enjoy.
Instructions for Folding Your Own Show Lady's Slipper
Before you start, see these helpful instructions for printing and assembling orchid-gami models, though for this model you don't need glue. There are also illustrations of how to fold and assemble on each template page.
Download and print the template in color on light cardstock.
Cut parts A, B, and C on the black lines. Be sure to cut all the solid black lines, even those in the middle of the model to form all slots. Small sharp scissors work best, especially for the slots. Be sure to help or supervise young kids with this part!
On each piece, fold along all dotted lines.
Assemble Part A, the stem and lower petal, by joining the slots at the back. You may wish to add a small piece of tape to secure the joint.
Assemble Part B, the central petal or labellum. This is the fussiest folding! The tabs that hold this part of the model together are small and will benefit from adding a piece of tape to keep them in place in the slots.
Attach A and B by inserting the tab in the middle of B to the slot in A as the illustration on the template shows.
Slightly bend Part C and match the slots on both sides to the slots at the top of Part A. Curl the curvy parts of B to each side (around the back) of C as in this photo to keep the labellum in the proper place. Cutting the slots in C creates a narrow space on the template which is easily torn; keep some tape on hand for a quick repair if necessary.
Your beautiful Showy Lady's Slipper is done! Enjoy, and look for native orchids in your area. The NAOCC has assembled a helpful list of guides and other resources to help your search. Try more orchid-gami models this summer at the Folklife Festival in Washington, D.C., June 22–27 and June 30–July 4.
Betty Belanus is a curator and education specialist at the Center for Folklife and Cultural Heritage and part of the curatorial team for the Earth Optimism × Folklife program. She loves art projects and recruited interns Shanna Campbell and Esme Krohn to try orchid-gami as well. Additional research provided by Alison Cawood, director of public engagement at the Smithsonian Environmental Research Center.