Navigating Secrets and the Senses in Benin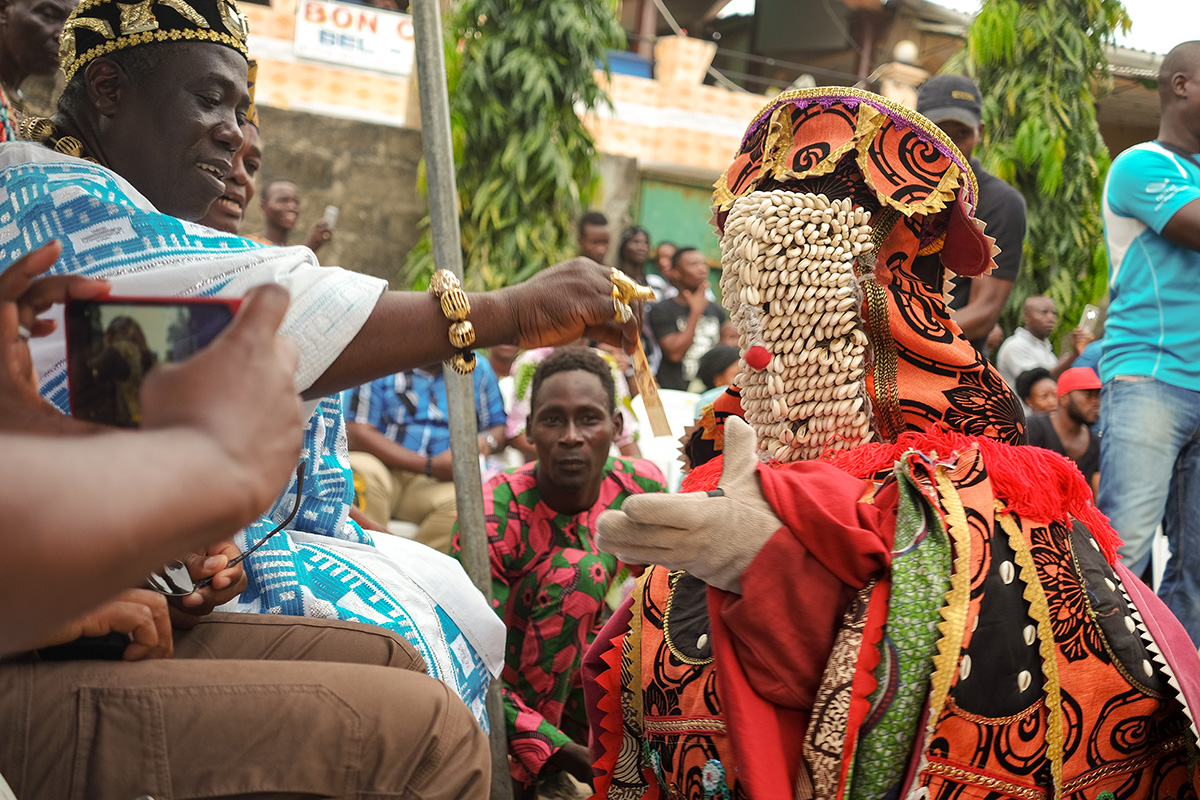 Mɛɖée nɔ mɔ dò na ӑ. Mɛɖée nɔ mɔ dò na agbeta awoyo aji.
"Nobody understands the depths. Nobody can see the bottom of the ocean."
—Vodun song recorded by Robert Baker
Across coastal West Africa and much of the African diaspora, many communities are linked by a heritage of Vodun, as both a spiritual practice and a multifaceted set of cultural expressions. Learning about this kind of tradition-based knowledge is complex, open-ended, and never finished. In fact, the Vodun song lyric above warns worshippers that they should not expect to attain a complete understanding of their religion.
In a 2020 Smithsonian Folklife Festival program about the West African nation of Benin, we will bring out distinctive ways of knowing, tradition-based practices of spirituality, music, arts, and daily experience and their interwoven bodies of knowledge. As the curator, I want to share a glimpse of the process so far and some personal reflections on the research. (I shared lots more photos from recent field visits on our Instagram!)
Beginning Our Research
When we first began work on the Benin Festival program, we imagined it as part of the Social Power of Music suite of 2019 events, underlining how Benin's music traditions are a medium of community in many areas of life. Now we have moved the program to 2020, when the Folklife Festival will explore cultural knowledge and the environment. (We want to acknowledge here the flexibility and support of our Benin partners in this transition.) As we turn our thinking toward those themes, we have found that much of the work already underway remains relevant because music and other artistic practices in Benin are inextricably tied to other domains and bodies of knowledge. We now have the opportunity to frame Benin's creative traditions in a new and perhaps more expansive way.
In January, I visited Benin for the second time, accompanied for part of the trip by Festival director Sabrina Lynn Motley. The trip started off with a bang at the annual vodun festival in Ouidah, a city near the Gulf of Guinea coast. In recent years, towns all over the country have created their own offshoot festivals. Since its founding in 1992 in Ouidah, this festival's growth reflects in some ways the changing status of Vodun in Benin. Once a suppressed, suspect religion, Vodun is increasingly recognized as a unique heritage with an international profile.
Throughout the visit, we continued our consultations with Beninois experts as we refined the program narratives, a process that began last October with our partners, Benin's National Agency for Heritage and Tourism. Themes that emerged in those sessions included creativity and the senses, the dynamism of tradition, and the ways that social and religious traditions connect people to community—one that stretches over time and across continents.
We met with a range of cultural figures from artists and authors to priests and kings. It's always a special experience to meet with artisans in their workplaces, and to see how their work fits into their lives and communities. We sampled numerous styles of music, dance, and masquerade, and we enjoyed both private and public performances. I especially loved meeting young documentarians like Adewole Falade and Yanick Folly, who are using their talents to document and share Benin's cultural and environmental heritage.
We traveled from our home base in Cotonou to the capital city of Porto-Novo; the town of Kétou, renowned for its masquerades; and the historic city of Ouidah and nearby villages. For introductions, translation, and all kinds of assistance, we relied on the generous help of local experts and culture professionals, including Victoire Adegbidi, Gabin Djimasse, Charlene Atondeh, Charlie Adoussou, and Fortuné Agossa.
Vodun, a Deep Well
In our planning, we decided that Vodun will be one of the major elements of the Folklife Festival program. As researchers and curators, a key part of our work in Benin is navigating the dynamics of secrecy and revelation surrounding many cultural traditions with a spiritual foundation in Vodun. Many bodies of knowledge, encompassing everything from herbal medicine to language to dance, are restricted to Vodun initiates, who acquire them through years of study and sacrifice. At the same time, sacred traditions are everywhere in Benin, with their songs and rhythms, foods and clothing styles, and deep connections to history all interwoven in contemporary culture, even in cosmopolitan cities.
Spectacular cultural traditions are abundant, even if some come with spiritual restrictions that present special challenges for Festival planning. Performances that have their roots in ritual are often secret, not in the sense of being hidden or covert—the grass masquerades called Zangbeto have unmissable public performances—but having progressive levels of knowledge or activities that are only for initiates to know. The Zangbeto's energetic manifestations in town are only the most visible aspect of their work. Some traditions, like Egungun ancestral masquerades, are so potent that they don't travel; they can't be exported and performed on demand. The challenge for us is how to incorporate these traditions in such a way that whatever portion we can share on the National Mall feels full and engaging, while respecting the limits and obligations of participants. Already I possess some knowledge that I cannot share here.
To approach these traditions with respect and nuance, we continually seek input from a range of knowledgeable, sometimes conflicting, viewpoints in Benin. What can we show our audiences, and what stays out of the public eye? Can the performance be adapted to a Festival schedule? These discussions guide our selections and shape our eventual presentations in ways both concrete and profound. Often such conversations also lead to creative solutions, like using multimedia pieces to include egungun performance, and to convey some of the experiential qualities of performance that would be difficult to recreate in D.C.
Learning with All the Senses
Benin is a fascinating place to visit. There is always something interesting to see, hear, or taste. We hope to explore the cultural dimensions of sensory experience through Festival programming, because Benin's ways of knowing are richly embodied, interweaving the domains of music and history, cuisine and religion, medicine and art with all the senses.
All the reading and consultation in the world couldn't have prepared me for how it felt to be in a temple, grove, or home courtyard, to smell the perfume, taste the sacrificial food, to hear and feel the rhythms of sacred dance. My trip was punctuated by several firsts: I stripped down and wore a traditional pagne or wrapper in order to enter shrines in a purified state. I consulted with diviners and carried out the spiritual solutions they prescribed. I began the first steps of initiation for a vodun deity and attended an eightieth anniversary party for a large temple. I walked in sacred groves of trees and washed with ritual water.
As a researcher who uses participant-observation as a method, I consider myself generally game to try anything—even as I acknowledge that I will always have an observer's distance and an outsider's limited perception. But these experiences stretched me and have shaped my thinking about the Festival program in ways that I'm still figuring out.
Continuing Our Work
While the first phase of research has largely focused on southern Benin and its Vodun heritage, we also want to incorporate the central and northern regions with their distinctive cultural landscapes. After our next trip, which will include visiting these areas and meeting with community experts, we should have a more refined sense of the elements of the program. We will also recruit and train Beninois researchers, who will help us identify additional potential participants and gather information to contextualize their activities at the Festival.
And importantly, we will continue our conversations about how to ensure that the Festival has a longer life in Benin than its ten days in Washington, D.C. How can the work of the Festival contribute to important conversations and developing projects there?
Rebecca Fenton is the curator for the Benin program of the 2020 Folklife Festival.