The Mysterious Powers of American Ginseng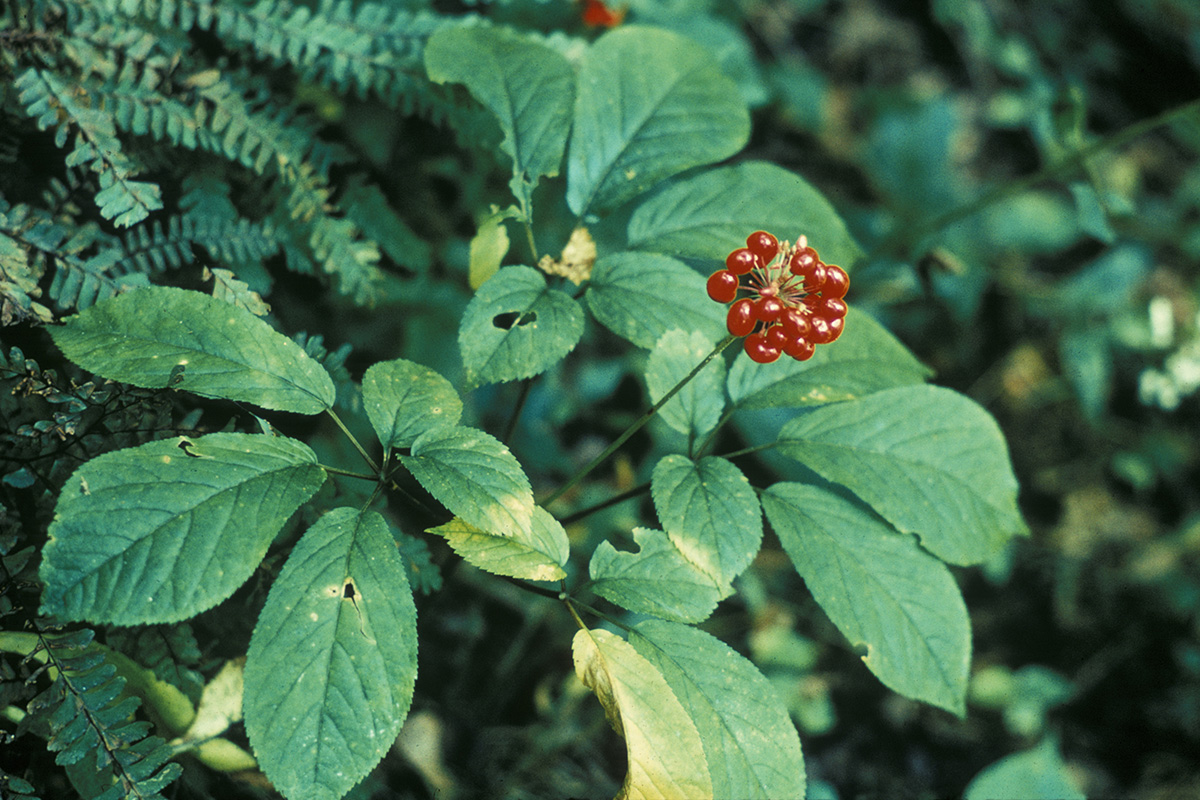 Editor's note: The fascinating history of American ginseng and the many people involved in its current cultivation, harvest, trade, medicinal use, and conservation are the subject of a proposed program for the 2020 Smithsonian Folklife Festival. Watch for more articles shedding light on this native plant in the coming months.
*****
"In passing through the mountains, I met a number of persons
and pack horses going over the mountain with ginseng."
—George Washington, 1784
Was the United States founded on ginseng money? Quite possibly.
American ginseng (Panax quinquefolius) is a plant native to the deciduous forests of North America whose root is a treasured medicinal in East Asia. The harvest and trade of American ginseng has been a booming business for centuries. Even today its dried roots can fetch as much as $600 a pound. Without income provided from the ginseng harvest, the early history of the United States may not have turned out the same way.
The history of American ginseng use and trade stretches back much further than the Declaration of Independence. Long before North America was colonized, various Native American peoples used ginseng in medicine. Ojibwe Midewiwin, spiritual leaders skilled in medicine, used the root for digestive troubles and pain relief. Muscogee people used a poultice of the root to staunch bleeding and a tea to treat respiratory conditions and fevers. The Meskwaki people of the Great Lakes region have used it as both an aphrodisiac and as a panacea, a "universal remedy for children and adults," Daniel Moerman writes in Native American Medicinal Plants.
Many other native groups incorporated ginseng into their medicinal traditions after learning of its value and use in Asia. For more than 5,000 years, Asian ginseng (Panax ginseng) has been one of the most important herbs in the traditional medicine of China. There it is also used as a panacea, known as a life-prolonging cure-all for everything from impotence and fatigue to diabetes and cancer.
The connection between Asian and American ginseng was first discovered though the work of two French Jesuits. Father Jartoux worked in China and published a text on medicinal plants which included Asian ginseng (Panax ginseng). Upon reading that text, Father Lafitau realized that the environment where ginseng grew in China was remarkably similar to that of the area of Canada where he was based. He began searching for a related species, and in 1716 he found a specimen with the help of Mohawk people from the Caughnawaga area.
Father Lafitau wrote of his finding:
After spending three months looking for the ginseng, by accident I found it. It was ripe, and the color of the fruit attracted my attention. I pulled it up, and with joy took it to an Indian I had engaged to help me hunt for it. She recognized it at once as one of the plants the Indians used.
In the early days of the North American colonies, ginseng digging went hand in hand with the fur trade, as Native Americans and colonial hunters used every resource available. While the plant is now in varying states of endangerment across the Appalachian region, it existed in a much wider range in the early colonial period. Naturalist L.W. Dudgeon claimed, "It was found in abundance in Vermont at the time of the settlement of that State and the parties who dug it sold it for about 34 cents per pound."
Following U.S. independence, ginseng continued to hold enormous value, playing an integral part in one of the most monumental events in American international trade. It was collected throughout the eastern half of North America and eventually sold to dealers on the East Coast, often based in New York City. With the funding of several prominent gentlemen of the day—chief among them Robert Morris, a signatory of the Declaration of Independence—the first international trade vessel to sail under the U.S. flag left from New York Harbor in 1784.
Its destination was China, and its cargo was over thirty tons of American ginseng.
An Eastern Medicine in the West
Since the eighteenth century, the wild "hunting," cultivation, and sale of American ginseng root has been a booming industry in the United States, with nearly all product exported to China and other East Asian nations. Only a small portion of American ginseng stays in the United States, where it has never gained the same popularity.
In Appalachia, ginseng hunters and growers have their own medical opinions. In an issue of Foxfire Magazine, a biannual publication documenting Southern Appalachian culture, Wallace Moore shares his favorite use of ginseng:
I'll tell you one thing. You can be in the woods and take a stomach ache or the hungry old colic, and you can just chew up some of the fine roots and swallow the juice of it and it won't be five or ten minutes [before] your stomach'll be just as easy as you please. I've had that to happen different times.
Western medicine remains largely suspicious of American ginseng's health benefits. It only appeared briefly on the U.S. pharmacopoeia from 1840 to 1870 as a mild stimulant and digestion aid. More recently, researchers have tested American ginseng as a cancer treatment, especially its potential application in conjunction with chemotherapy to increase effectiveness and aid in remission.
However, most of ginseng's use in the United States continues to be through traditional herbal practices. In Western herbal tradition, ginseng has been incorporated much more recently and less extensively. There are, however, a great number of people in the United States who practice traditional Chinese medicine, who are familiar with ginseng's use and powers whether or not they use it themselves.
As traditional Chinese medicine has gained popularity in the United States, many of its practitioners are not of Chinese decent. Elizabeth Girard is one of them: with an MS in acupuncture and Chinese medicine from Pacific College of Oriental Medicine in San Diego, California, she now operates a clinic in Northampton, Massachusetts. She explained that American ginseng is considered to be in the category of "nourishing yin," meaning it is cooling and moistening. Asian ginseng has the dry and warming qualities of "tonifying yang." For this reason, Girard uses American ginseng in cases where there is excess heat or dryness in the body, such as when a patient suffers from a chronic dry cough or when patients in remission from cancer treatments still feel the effects of chemotherapy and radiation.
In these cases, Girard prescribes American ginseng in complex herbal formulas, which come ready-made in patent pill form. In fact, she rarely stocks pure American ginseng—for two main reasons:
"In Chinese medicine, we never prescribe just one herb," she explains. The different components in these formulas strengthen and balance the effects of each other. Blending herbs also makes it possible to find medicine more specifically suited to the needs of an individual.
Also, "It's pricey!" Girard adds. "I have Asian ginseng that I'll add to things, but with American ginseng, at this point, it's easier to get people to take patent pill forms."
Despite the higher price, Girard very rarely chooses to use other herbs when she believes American ginseng is called for.
"It's just the best herb for your immune system, for really generating fluids in the lungs," she says. "It's also really calming. So there's some cases that you just don't want to substitute. You can, but it just doesn't work as well."
When patients have had chronic conditions where it was the best option, she claims, "It was worth it to them. You just charge them a little bit more, and they understand that. I don't ever shy away from it if it's a case that they really need that herb."
The story of American ginseng tends to be told about the United States harvesting and supplying it to Asia, but the whole story is much more complex. People have many different understandings of the medicinal value of American ginseng, but its monetary value may keep us from fully understanding and benefiting from its powers.
Astrid Stephenson interned at the Center for Folklife and Cultural Heritage in the fall of 2018, working on programming for the 2020 Smithsonian Folklife Festival. She is an anthropology major at Smith College in Massachusetts.