Arto Tunçboyaciyan's Music Without Borders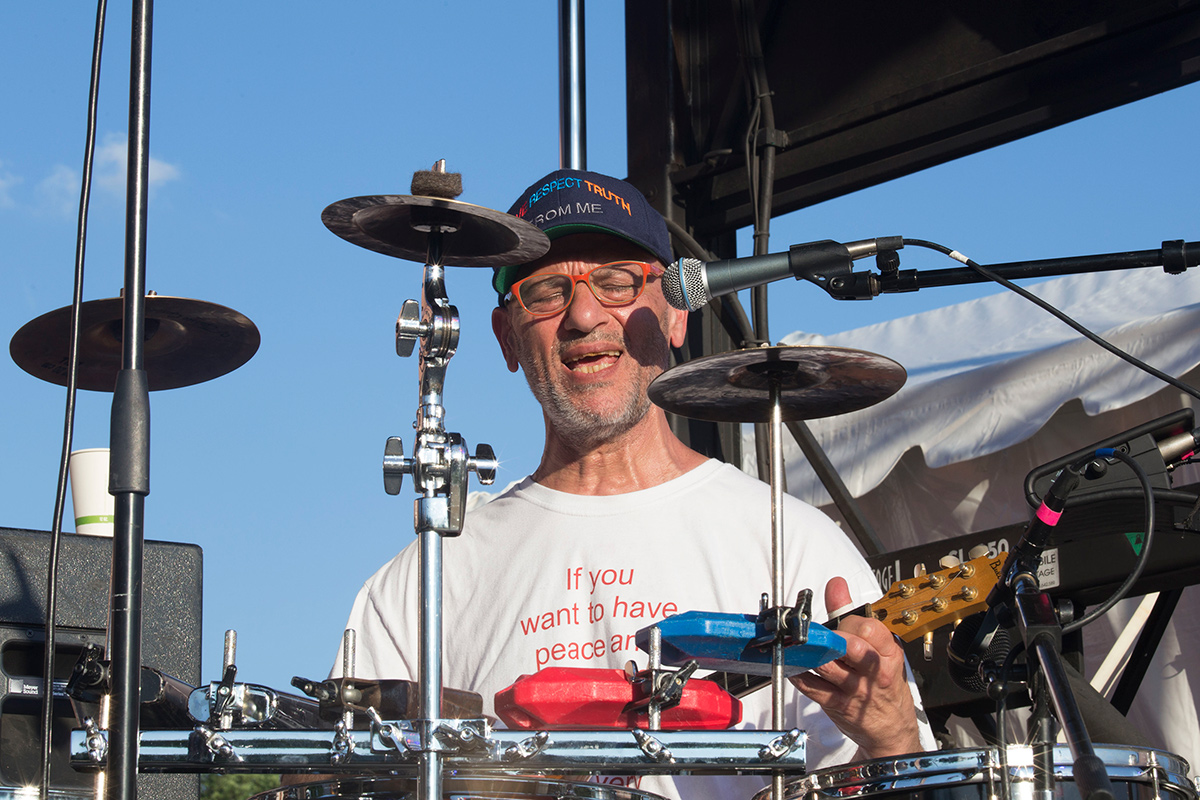 Arto Tunçboyaciyan with PANALÎ at the 2018 Smithsonian Folklife Festival
The first thing I noticed when I met Turkish-born Armenian musician Arto Tunçboyaciyan was his T-shirt. It read "PLEASE DO NOT DISTURB. I'M IN RECORDING." When I asked what that meant, he responded, "I am constantly recording." He gestured to the sky, the trees, and the music coming from the nearby tents. Then he pointed to his head. "This is my hard drive."
To many, Tunçboyaciyan is best known for his creative and inventive ways of making music.
"I didn't grow up with traditional instruments," he said. "So I played what I could find."
Tunçboyaciyan has been performing as part of the Armenia program at the Folklife Festival, demonstrating his own unique style of drumming on a set of snare drums, perhaps a reference to his time in the Turkish Army band. He primarily uses his hands, rather than sticks, to tap out improvised rhythms. He makes ethereal sounds using bells, cymbals, and microphone feedback. At the Festival's opening ceremony, he performed with tambourine, a glass bottle, and his own voice.
"Anything can be music," he said, as he rustled his pants and stomped his feet for demonstration.
His vocals are just as inventive as his drumming: Tunçboyaciyan sings many of his songs in his own invented language. He sees this as a way of finding common ground with his audience.
"Music has no borders. It doesn't belong to anybody," he explained. "I am speaking my mind, not a formal language. Language is not the foundation for humanity."
Arto Tunçboyaciyan at the 2018 Festival Opening Ceremony
As a performer who feels equally part of both Armenia and Turkey, it is important to him that his music transcends culture.
Our discussion rapidly moved from music to his personal life. His face contorted from laughter to sadness as he lamented the state of the world—the destruction of the planet, extreme wealth juxtaposed with extreme poverty, and the greed he sees every day.
"People become slaves to their own creativity," he told me. "People make something, but then they just want money."
His music, by contrast, is all about sharing the wealth of creativity with his audience. He encourages them to join him and sing along, helping him make his music. He believes that creativity and learning should be a universal, democratic process.
Finally, we asked Tunçboyaciyan for his advice. How can people, especially younger generations, continue to be creative and expressive in a world enslaved by corporate creativity?
"The best homeland security is your honesty and your attitude," he said. But, to clarify, "I am not a teacher. Do not follow me. But if you walk, I will be next to you."
Abigail Hendrix is a video production intern at the Smithsonian Folklife Festival and a graduate of the University of Washington with a B.A. in medical anthropology and global health. Kaylie Connors and Jackson Harvey assisted with this interview. David Walker recorded and mastered the audio.