Music Parties in the Missouri Ozarks: Continuity and Change in a Traditional Community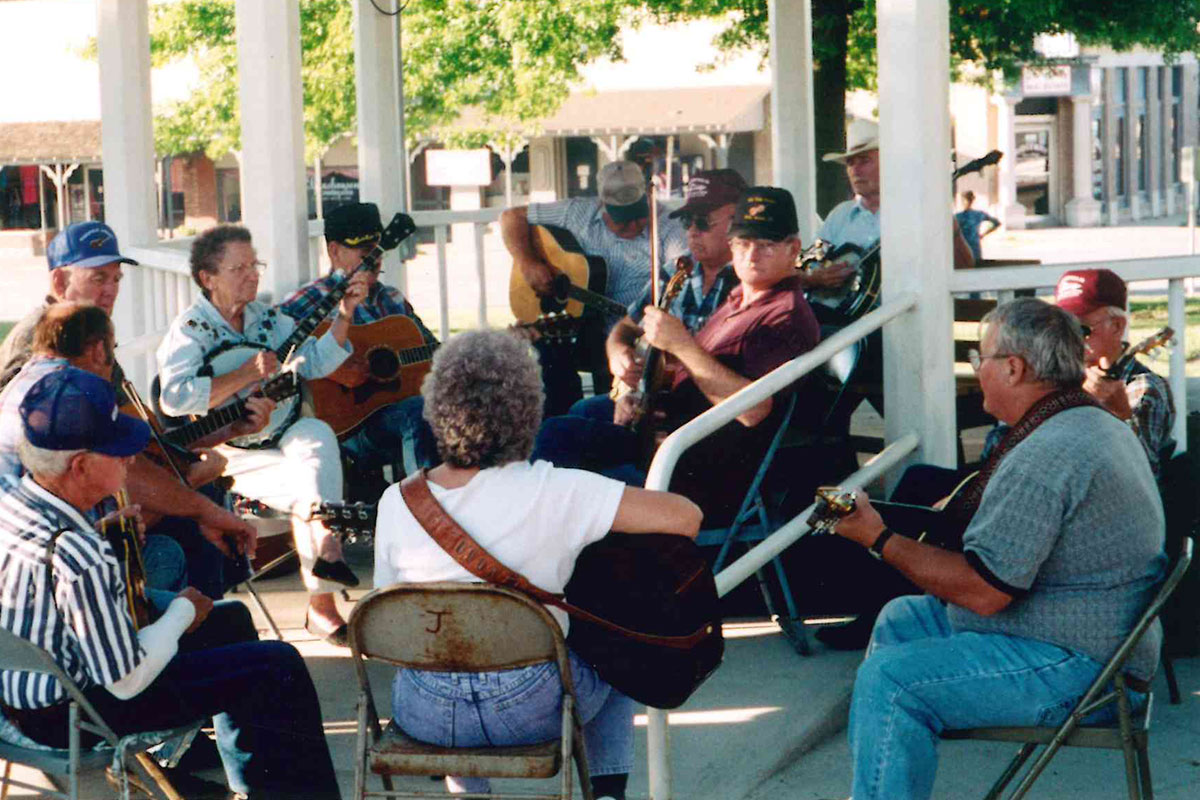 The Ozarks region is home to a particular brand of house entertainment, one that unites social, recreational, and artistic aspects, most commonly known as a "music party." Also called a house party, picking party, or jam session, the music party lies somewhere in a continuum ranging from a neighbor's visit to a large, relatively formal event like a paid public square dance or local festival, picnic, or pie supper.
According to some, the term "music party" was once synonymous with "house dance." Some Ozarkers agree that "music parties" were once essentially dances, while others say that house dances or "playparties" and listening—or even singing—parties existed side by side. Some have told me that before the Second World War, these events were invitation-only affairs, while others have said that they have always been open to anyone in the community who got news of them. Both are likely to have been true.
In any case, small gatherings that brought relatives and neighbors together for an evening of socializing and entertainment, structured primarily around music and dancing, have been documented in the Ozarks since the early nineteenth century.The primarily Scots-Irish immigrants and their descendants who ultimately carried this tradition to the Ozarks until recently still had their counterparts in the Irish céilí, cuaird, or hooley. Seán Corcoran, documenting the traditions of Derrygonnelly in West Fermanagh, Ireland, described a céilí as "a night-visit to a neighbour's house 'to kill the time along' with chat or card-playing, stories, songs and occasionally, music and dancing."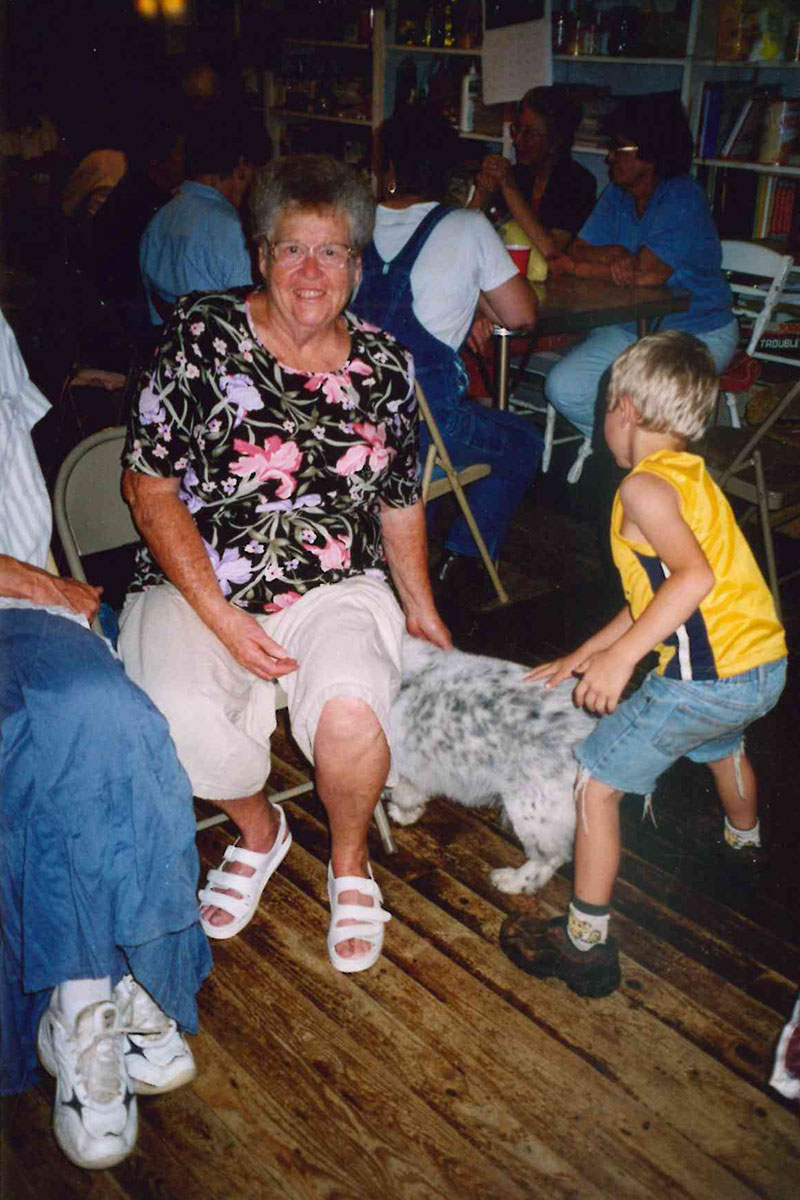 Speaking of the dances near McClurg, Missouri, in the early twentieth century, Ailene Adams remarked, "Back then people didn't have [much] furniture, and they didn't have their houses crowded up. They'd scoot everything back against the wall, and they'd spread down a quilt for the little kids to lay down on, and they'd play music and dance."
"They'd just move the furniture outside," Jimmy Gage, a fiddler from near Lebanon, Missouri, remembered. "Some of them would dance all night. They'd be dancing when it come time to milk in the morning."
There seems to be general agreement that although exceptional musicians—and indeed, instruments themselves—were rare before World War II, "a lot of people could play a little bit of music," according to Adams. Often only two or three musicians played at a time, taking turns so that everyone got a chance to dance.
Money was sometimes involved in these occasions, but usually only enough to pay musicians a very modest amount or to recompense the host for their hospitality—in the 1930s, for example, charging perhaps a dime a set.
"We had a lady down here in the community here that used to laugh and say every time she needed a new kitchen rug, they'd have a square dance," Adams recalled. "Before they'd have the dance, she'd pass around a hat and take up a collection, make 'em buy her a new kitchen linoleum."
Word of dances and music parties was often spread on visits to town, since even as late as the early 1950s, both electricity and telephones were scarce. By that time, house dances seem to have begun decreasing in the Ozarks. But according to Gene Conley of Mansfield, Missouri, even then one could reasonably expect to find one somewhere on a weekend in his community.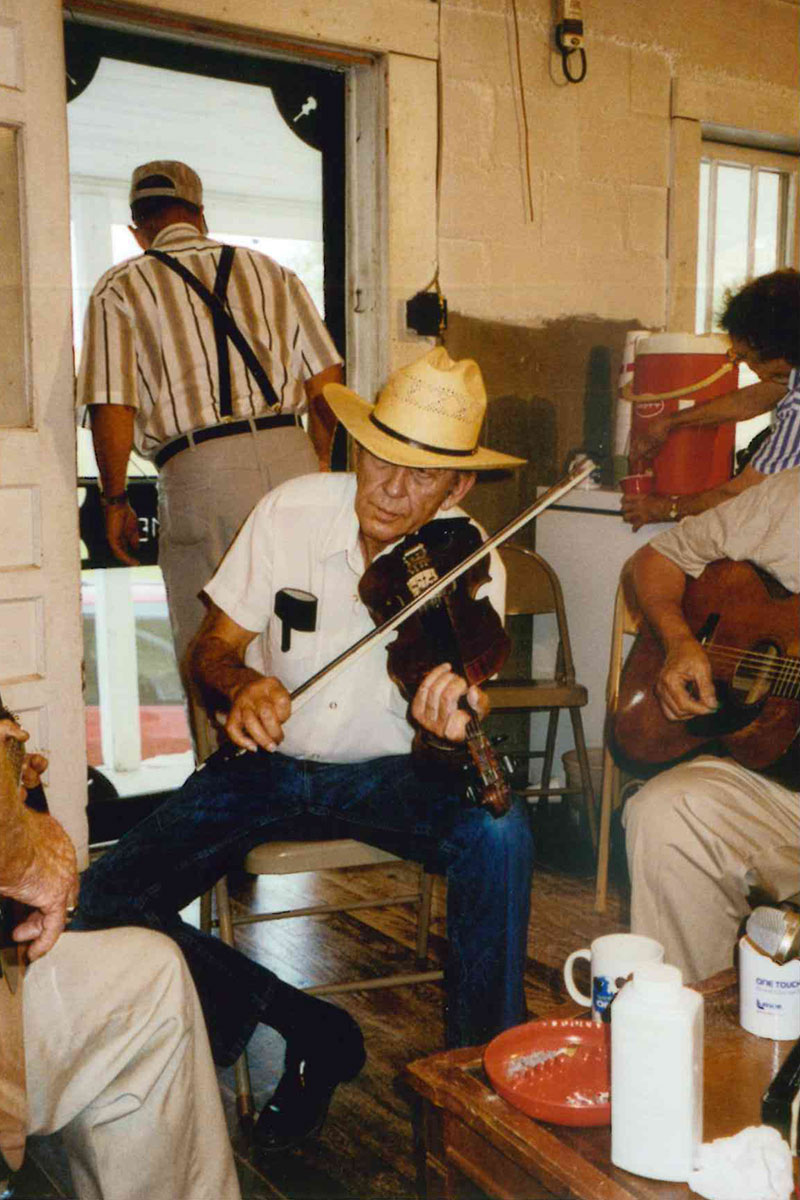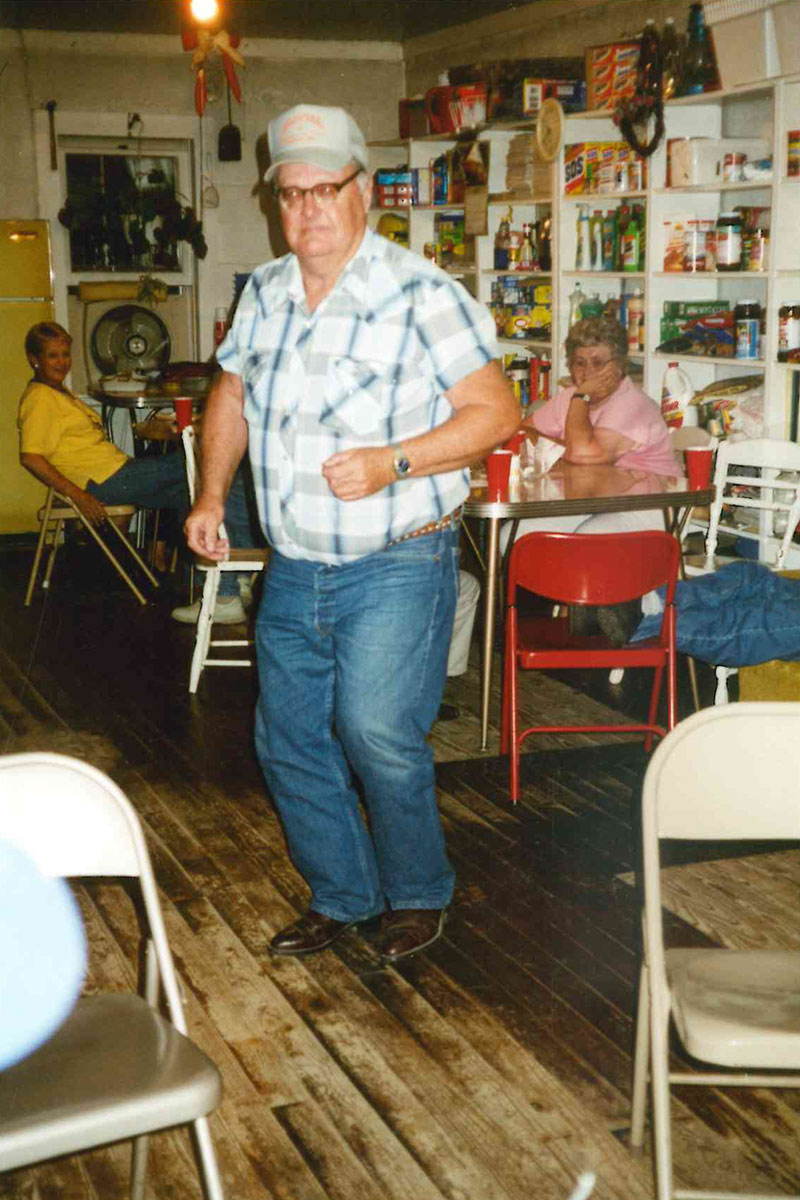 The late Art Galbraith, a noted fiddler from Springfield, Missouri, implied that the decline in house dances was in large part due to the disapproval with which dancing was viewed by certain churches and religious sects in the area—chiefly Baptist and Methodist. I am inclined to believe that the popularity of new and larger venues, including community centers, skating rinks, and public halls, along with improvements in transportation, played as much if not more of a role in this decline, marking not so much an actual decrease in dancing as a change of context from private houses to public facilities.
Although they have dwindled more recently, a number of music parties were held regularly for many years in the Missouri Ozarks, chiefly in Springfield and the area south and southeast of the city, in towns like Mansfield and Ozark. One of the most popular and visible of these parties, still held every Monday night in McClurg, Missouri, was begun in 1985 by Ailene and Lester Adams—who, for many years, operated the hamlet's general store and post office—in a conscious effort to revive the tradition locally.
This party, which has had an attendance as low as three and as large as forty-three, has attracted visitors from as far away as Washington, California, and even England—a fact that distinguishes it from its counterparts in the earlier part of the century, when attendees would have consisted entirely of family or neighbors. But the core of regular participants—which includes musicians, card players, listeners, and occasionally dancers and storytellers—live in the general area, and some have known each other in various contexts for many years.
An implicit etiquette ensures that all musicians present will be given a chance to start a tune, sing a song, play a solo, or otherwise demonstrate their musical skill, although until recently the most established fiddlers were often the lynchpins of the party and started the majority of tunes. Although there is not quite enough room for squares, those who wish to "jig dance"—that is, perform a freeform solo dance (more commonly known in the Appalachians as clogging, flat-footing, or buck dancing, and analogous to traditional Irish sean-nós, or old-style, dancing) are welcome to do so whenever the mood strikes them.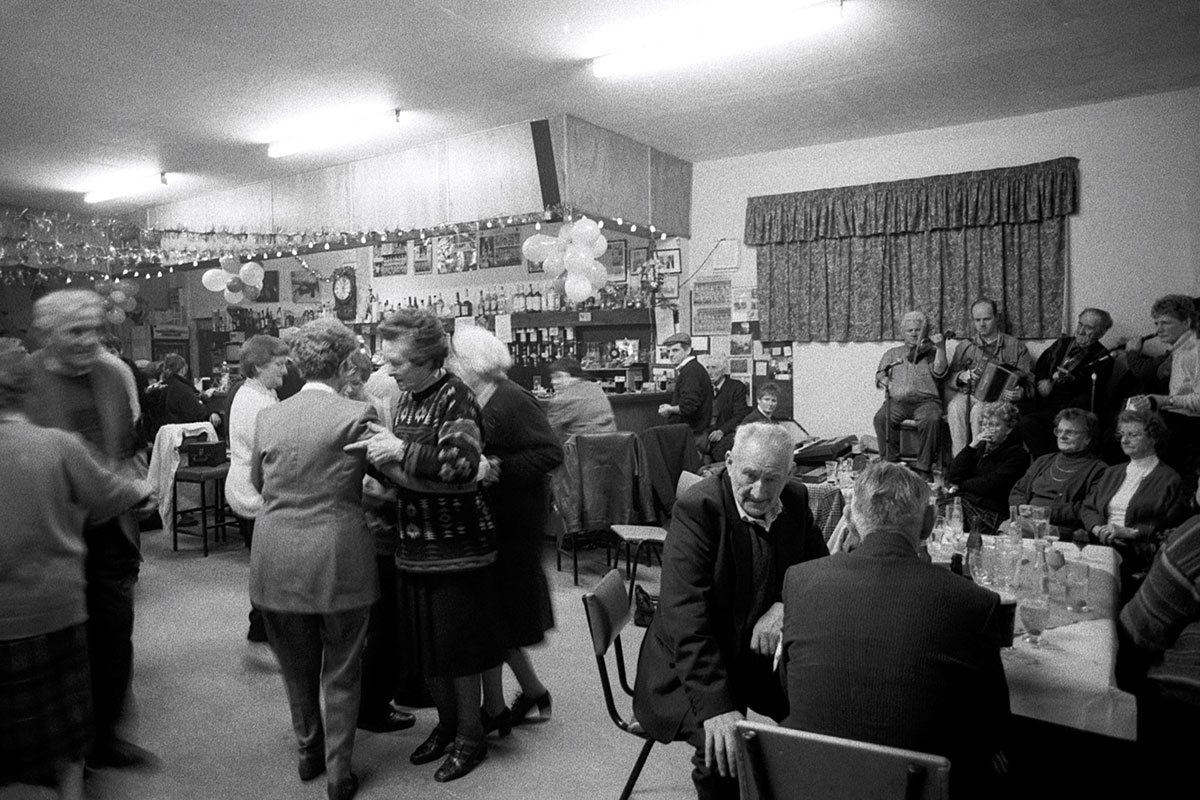 Providing a medium not only for artistic self-expression but also for simple entertainment and socializing, these occasions create, as folklorist Henry Glassie has put it, "a locus for art and force for social cohesion," which unite "pleasure and social purpose" with "aesthetic and ethical values," the "entertaining" and the "good." They are occasions when neighbors reaffirm "the relations that make them more than people who chance to live near one another." In my experience, Ozark music parties accomplish all of these ends, generating positive feeling, friendship, pleasure, and even exhilaration in the sharing of company, musical and verbal performance, food, and general "good times" through the medium of what Ailene Adams simply called "fellowship."
While I would agree with Glassie that one of the main goals of such gatherings is the achievement of social harmony, such local social events can also reflect life in the community in negative ways. Certainly community life in the Ozarks was and still is not uniformly harmonious. Individual tensions and even animosities often exist between those who live in relatively close contact with one another, and in the Ozarks such tensions once resulted not infrequently—and usually with the help of grain alcohol—in violence.
To prevent such occurrences, many of those who host latter-day music parties have prohibited the use of alcohol. Certainly, overt violence is practically nonexistent at contemporary music parties in the Ozarks, where personal differences are generally left at the door or are defused through music, dancing, teasing, and social interaction. People who attend the parties now generally come with the intention of getting along, having a good time, and enjoying the arts of music, dance, and conversation. The late Ava fiddler Bob Holt commented that the McClurg parties were comparable to those he remembered from his youth in the 1940s and '50s, "only better!"
This kind of change in the social rules that govern such events demonstrates that traditions are not passively reenacted but are subject to the conscious innovation and transformation of those who practice them. Creating pleasure, goodwill, or even a sense of community requires work, and in this respect the music partyas a metaphor for life is appropriate: the participants not only abide by the implicit etiquette of give-and-take which characterizes such events, but they must contribute to it in some substantial way, whether through performing, cooking, cleaning, making conversation, or merely being a responsive audience, in order to ensure that it will indeed be not only entertaining but good.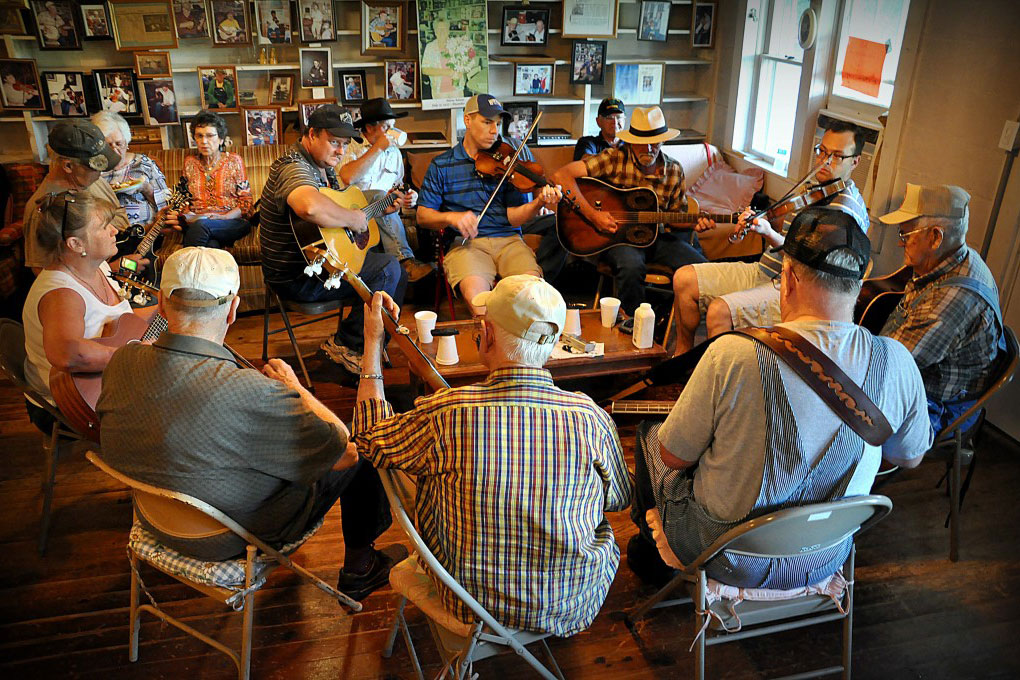 Since Ailene and Lester Adams died in the early 2000s, subsequent owners of the property—most recently, Tom Peters, dean of library services at Missouri State University and co-curator of the 2023 Smithsonian Folklife Festival's Ozarks program—have kept the music nights going, albeit sometimes in an attenuated fashion, especially during the height of the pandemic.
"I don't know if I want to say it's going away, but it's changing," says fiddler and music party lynchpin David Scrivner on the future of Ozarks music parties, alluding to the increasing age of most musicians and attendees. "It's a question of what are you gaining versus what are you losing, and who's going to have the time to care?"
The recent involvement of enthusiastic younger players like fiddler Emily Garoutte and guitarist Hawken Boldman, however, has made him more optimistic.
"They have breathed new life into McClurg. I hope that it's a sign that more in this area—but especially young people—will become involved in Ozarks music and culture."
Julie Henigan is a professional musician, specializing in traditional Irish and American music, and a scholar of folklore and British and Irish literature. She holds an MA in folklore from UNC-Chapel Hill and a PhD in English/Irish studies from the University of Notre Dame.