Where the Modern and the Vernacular Meet in Emirati Architecture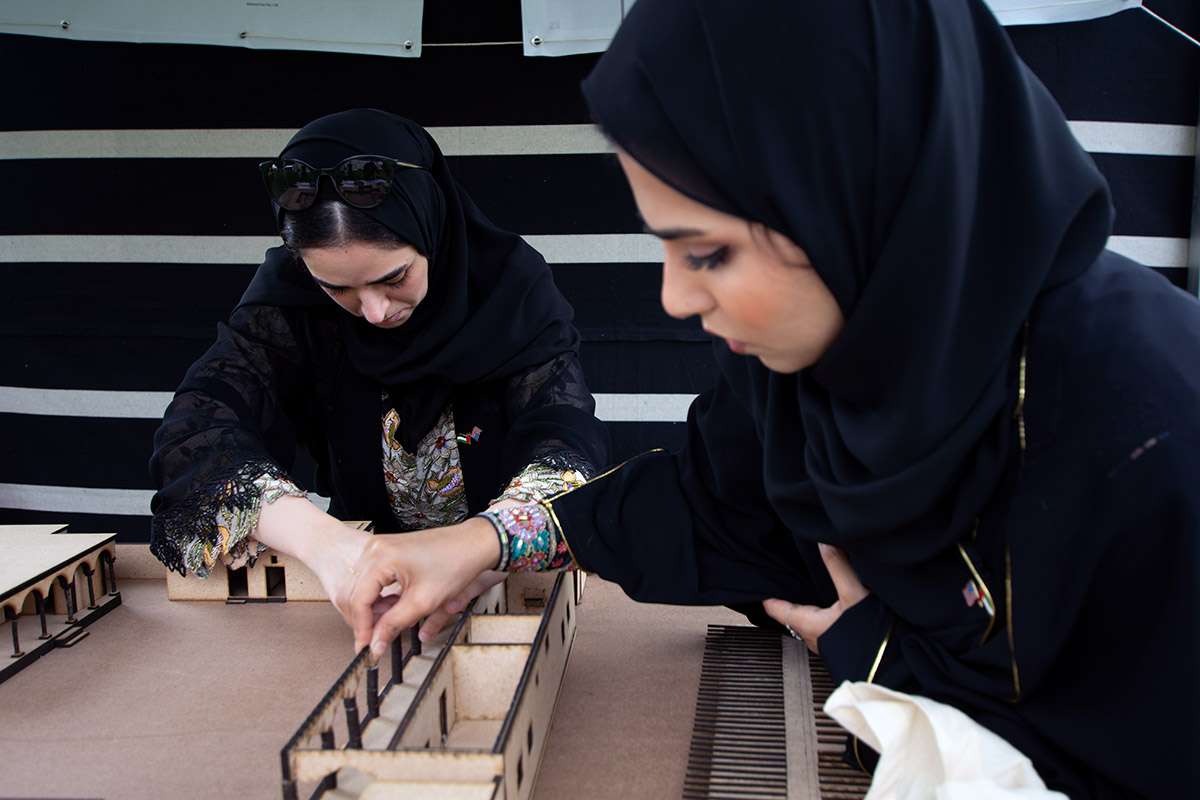 The rise of Dubai has been nothing short of meteoric.
"It's crazy," said Lin Kim, an architect who worked on the city's Burj Khalifa, the tallest building in the world. "You look at these old photos—there's one with one road and a few buildings dotted across it, and then five years later there's a few tall buildings, and now it's like Manhattan."
The United Arab Emirates is a young country. Barely fifty years have passed since Sheik Zayed founded the nation. However, the people and the land have a long, rich history that predates the inception of the modern UAE. The country has two faces—one of the traditional desert village, the other of the hypermodern global city—that coexist in the present day, both informing and resisting each other.
Good architecture responds, on a level both aesthetic and functional, to the environment in which it exists. The environment of the UAE is challenging. Culturally, it combines Bedouin and Islamic heritage; climate-wise, it is arid and faces extreme temperature swings. Architects must navigate the comfort of the residents, the aesthetics of the project, and challenges of sustainability.
Leading up to the 2022 Folklife Festival's United Arab Emirates program, I spoke to three architects about heritage, modernity, and sustainability in Emirati architecture. Lin Kim worked for iconic Chicago firms Skidmore, Owings & Merrill and Adrian Smith + Gordon Gill on several projects in the UAE. He is currently an associate director at bKL Architecture. Lina Ahmad and Marco Sosa attended the Festival as representatives from Zayed University in the UAE. Ahmad is an architect, designer, and professor specializing in algorithmic architecture. Sosa concentrates on the architecture of rapid change and scarce resources.
Together, they gave insight on reconciling the ancient built heritage of the UAE with modern problems and tools.
*****
Looking at the forecast in Dubai this week, I don't see a single high temperature under 100 degrees. The powerful desert sun beats down during the day, its heat augmented by humidity off the Gulf coast. Still, temperatures plummet at night. One of the main concerns of desert architecture is temperature regulation—resisting the extremes of environment. The first thing to think about when designing a building, then, is the sun itself.
A traditional desert house is laid out in a scheme of layers and recessions, all with the goal of blocking direct sunlight. Ahmad and Sosa, writing a joint response to my questions, defined traditional architecture in the UAE as what was built before and during the discovery of oil, up to the 1950s. It's also called vernacular architecture, meaning it didn't come from a school or movement, but developed organically from the nearby people and land.
The house takes the form of a courtyard surrounded by perimeter buildings. The outer rooms often have verandas or porches attached. These layers divert sunlight and create shade, and they also help create privacy. Even the windows are recessed, for the same reason. Blocking the sun is the first step in keeping the house a comfortable temperature. Focus turns to the walls to keep the house warm enough at night. Traditional construction materials vary by location: coral on the coast, mud in the mountains, palm fronds and goat hair in the desert. Mud and coral are naturally good insulators. Walls are built thicker than usual to maintain thermal inertia. The high mass of the walls means that they take the brunt of extreme temperature swings, while the internal spaces remain comfortable.
Modern architecture in the UAE has to weather the same sun, but it takes a more technological approach. Kim spoke to me about designing the world's tallest building, the Burj Khalifa, which he compared to a "high-tech machine." People expect modern skyscrapers to be sleekly clad in glass, but all those windows let in a lot of sun, heating the building. The Burj Khalifa uses special glass pioneered by the auto industry which blocks heat while allowing light to enter. This drastically reduces cooling load so that the building can use less air conditioning. Also, Kim said, there's no reason to resist the environment.
"If there's a lot of rain, is there a way to use it sustainably?" he posed. "Instead of using an umbrella to fight it, try to funnel it." Towers inherently receive a lot of sunlight—so, to take advantage of this, the Burj Khalifa is covered in solar panels. They generate enough energy to heat over 140,000 liters (nearly 37,000 gallons) of water per day.
*****
When the desert wind blows, it's a chance for traditional homes to generate natural cooling. The courtyard layout lets air flow freely throughout the space, and window placement maximizes this flow. Smaller openings are placed higher, letting warm air out; larger openings are lower, letting cool air in. Traditional materials like palm fronds naturally transmit air. And the house as a whole is oriented to best capture the direction of the wind. Desert structures, unlike many Western buildings, are open rather than sealed, using the environment to their advantage.
The barjeel, or wind tower, is an iconic desert form that acts as natural air conditioning. The design varies to fit local wind conditions. Generally, it looks like a tower with large vents. Wind or temperature differences create pressure gradients, forcing air to move through the tower to areas of lower pressure. The movement creates a cooling effect.
For a skyscraper, however, wind is a problem. The top of a skyscraper is subject to the wind's full force. SOM performed extensive wind tunnel studies before the Burj Khalifa's construction. They worked out a shape for the tower that helps it manage wind loads, saving $3 million of reinforcing material. Tall buildings often include a tuned mass damper, a pendulum-like device that offsets movement caused by wind. The wind studies resulted in the Burj Khalifa being stable without one, further saving material and money.
Modern buildings can sometimes adapt traditional strategies. However, Kim explained, we run into issues of scale. Wind towers work in part because of a phenomenon known as stack effect, but this same effect becomes potentially disastrous when the tower is the size of a skyscraper. Air moves through a tall building when there are openings at the top and bottom. Large differences in external and internal air temperature create pressure gradients, and the gradient grows with the height of the column. Adding wind tower vents to a skyscraper would activate the stack effect, possibly causing small objects—or even organisms—to be sucked in or pushed out. It could also affect the closing of doors, including elevators.
*****
Traditional architecture was "designed based on the user's immediate needs, used available, regional construction material, and reflected the local customs and traditions of its people," Ahmad said. It is inherently sustainable—not necessarily with the explicit goal of being so, but because using local materials and cooperating with the environment simply served people best. "These are measures that can transcend to today, intermixing with the other technological advanced methods and materials that we use in the construction industry," Sosa said.
Ideally, a modern interpretation of vernacular architecture would respect both form and function. "Aesthetic is derived from functionality, usage, need, and culture," Ahmad explained.
Kim cited the Institut du Monde Arabe in Paris as a prime example of modernizing vernacular Arab designs. The façade is made of square units modeled after tiles you might find in the Middle East. The units are functional, too: they can telescope like a camera shutter, opening and closing to let in or block sunlight. Kim praised the not-too-literal interpretation: "If you build a house for Mickey Mouse, you're not going to put ears on it," he said. Jean Nouvel, the architect, achieved something beautiful and functional that respects the cultures it represents.
Modern architecture as a whole, however, struggles to achieve the same.
"Many contemporary buildings highly depend on technological solutions that are derived with very little association to context and locality," Ahmad criticized.
Kim added, "The global trend in modernism has been to be able to build buildings anywhere and just plop them wherever, and they all look the same."
Other times, "tradition" is integrated into modern architecture on a purely aesthetic level. The barjeel wind tower, for example, may be beautiful, but its form is directly related to how it directs airflow. Copying the barjeel form for decorative effect erases its inherent function.
Smaller projects such as single-family homes can certainly integrate traditional approaches to sustainability, in a way that respects their function as much as their looks. With skyscrapers, it may be a losing battle. A monumental skyscraper like Burj Khalifa is not built to save the environment. Such a construction necessarily entails a massive drain of resources. Architects do what they can to ensure the buildings give something back, but it is a stopgap measure. Still, there is a certain type of sustainability to these structures, Kim said. When you build something beautiful and iconic, people want to maintain it.
Ahmad and Sosa added that there doesn't have to be conflict between the two faces of the UAE.
"Heritage can be defined in different periods—ancient heritage and modern heritage," Ahmad said. Both old and new buildings, she added, "deserve to be respected with dignity as they are part of the history of the nation."
*****
Sustainability is a community issue, both locally and globally. Building for a group is sustainable, because it means building something once rather than several times, saving material, labor, and energy. Ahmad and Sosa referenced Bait Mohammed bin Khalifa in Abu Dhabi, the former residence of Sheik Zayed's father-in-law. It has been converted into a community center, recycling the building beyond its original purpose. Even the Burj Khalifa, with its 900-plus residential units rising into the sky, makes efficient use of ground space. As focusing on community leads to more sustainable architecture, focusing on sustainability naturally benefits the community. Saving energy, using renewable and ethically sourced materials, and conserving water ensure a better future for everyone.
However, "we live in an age that demands immediacy and automation," Sosa said. "We are used to changing the temperature of living spaces at the flick of a switch. We are slowly losing our connection to the living environment." Consumers must be more conscientious of what they ask of architecture, especially when they try to resist the environment.
A problem also arises when people are willing to accept only surface-level appearances of sustainability, or "greenwashing." Greenwashing is, of course, largely the fault of companies who want to sell a product—in this case, a building. They can exaggerate the efficacy of certain features like wind turbines or solar panels, using them to cover up a larger expenditure of energy or resources.
The path forward for sustainable architecture combines standardization, flexibility, and international collaboration.
Germany and the Netherlands have been leaders in sustainability for decades, motivated by high energy costs in their countries. The Passivhaus ("passive house") movement originated there with a goal to create buildings that consume a negligible amount of energy. But while Passivhäuser function well in a Central European climate, they aren't suited for all places. While sustainability has global implications, Ahmad said, "its application is a regional one linked to the local environment and closely tied to environmental, social, and economic aspects."
Still, global collaboration and innovation drive us all forward.
"International collaboration has enabled us to cross the boundaries of individuality, broadened our vision, and opened avenues and perspectives not visible otherwise," Ahmad said.
Kim also urged supporting independent innovators around the globe. He recounted a time when his project needed heat-blocking glass that curved in two directions. Only three companies in the world could supply that product at the time. Mass production drives down the price of products like solar panels and high-tech glass, sometimes making it difficult for smaller companies to compete. It's good for more people to be able to afford energy-saving solutions, but those smaller companies often lead innovation.
As professors, Ahmad and Sosa are responsible for training the next generation of architects. When asked about their design philosophy, they replied, "Observe and listen. Contemplate what is already there rather than erase. Even little trees and shrubs and humble structures play a role in the material fabric of the site." This is what they will pass on to their students. "Architecture and interior design can play a role in the development of the future of the built environment of the UAE, taking into consideration the climate, diverse culture, and social needs." They also advocated for "a globally acquired knowledge and regionally articulated applications."
"We encourage our students to view the future through the lens of their recent past, to continue building upon layers of time," Sosa said.
Ahmad added, "Today, it is more important than ever that we not only understand but also find the means to pursue sustainable solutions as individuals and as a community."  
With an eye toward the past and the tools of modernity, we can create built heritage that is beautiful, comfortable, and sustainable.
Sophie Henry is a writing intern at the Center for Folklife and Cultural Heritage and an art history major at Yale University. She also studies Spanish, German, and chemistry.