Meet the Masters: Visiting Artisans in the Marketplace, Week Two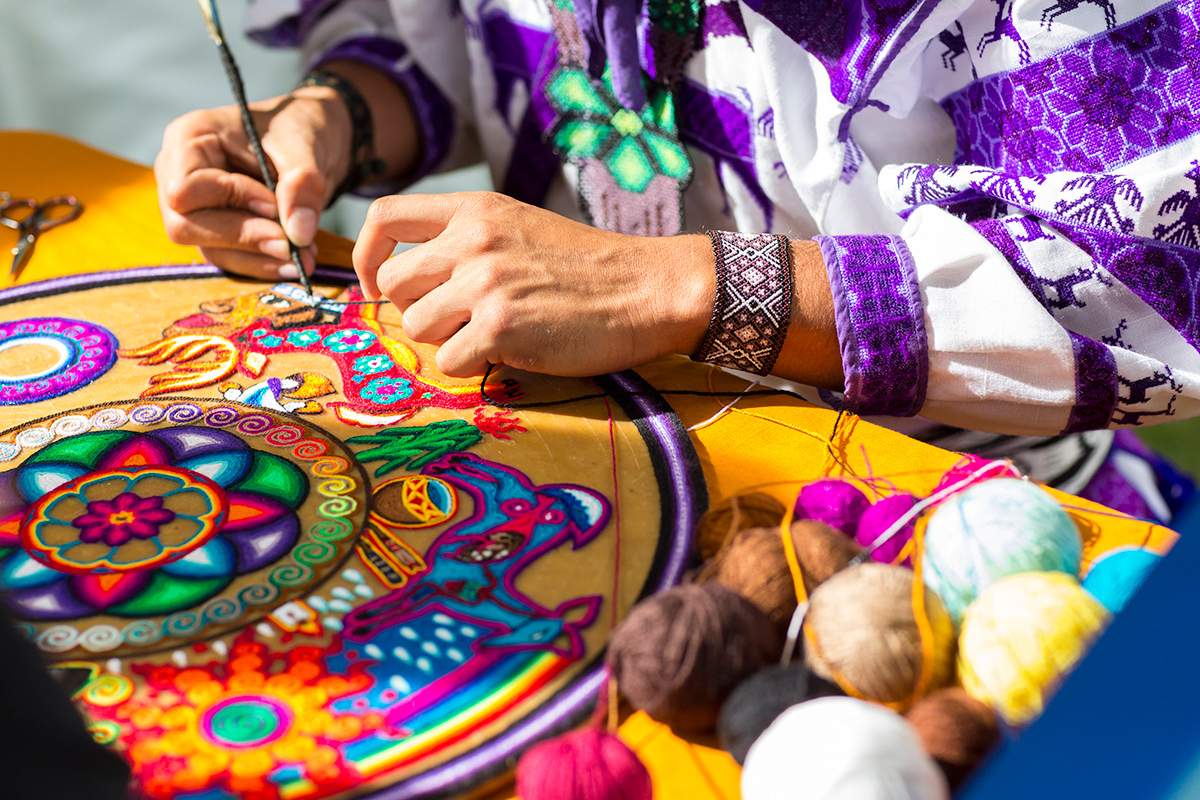 The wonder continues at the Festival Marketplace this week as we resume our pop-up International Folk Art Market, featuring more artisan demonstrations that are sure to leave you awed and inspired. The Festival will be open for its second and final week July 4 to 8, and the Marketplace is open 10:30 a.m. to 6 p.m.
Some of the visiting artists for this coming week include:
Bibi Hanum / Muhayo Aliyeva
Ikat clothing designer, Uzbekistan
Uzbek designer Muhayo Aliyeva and her sisters created the line Bibi Hanum in order to revive interest in traditional Uzbek textiles and clothing. Using a traditional method of weaving silk and cotton ikat fabric, their company produces striking robes, caftans, dresses, and accessories that channel centuries-old craftsmanship into elegant modern designs. The Bibi Hanum workshop operates with the goal of supporting the women who work for them and maintaining cultural heritage.
Daniel Paredes Cruz
Home accessories designer, Mexico
Daniel Paredes Cruz is from a long line of artists, stretching at least as far back as his great-grandfather. He began creating clay sculptures at the age of six, and while his style has become sophisticated with age, his sense of imagination and eye for creative play has never faded. His colorful figurines of skulls and skeletons are teeming with life, reflecting the joy of Day of the Dead traditions in Mexico.
Isabelle Collins
Ceramicist, Mexico
Isabelle Collins has a deep love for functional art—the kind you can eat off of. She creates mostly Talavera-style pottery with colorful painted motifs that are as lively as they are beautiful. Her work is inspired by historical motifs, many of which she sees in tiles around her birthplace in Puebla, Mexico. However, she pushes the craft forward by playing with influences from other traditions, including Moroccan or Chinese designs.
Lesia Pona
Embroidered textile maker, Ukraine
Embroidery is one of the oldest arts forms in Ukraine, where each region has its own particular style. Ukraine's Pokuttya Folk Art cooperative was established in 2015 to preserve the artistic methods and styles of that region. Its members are mostly women, and their participation in the cooperative helps them earn needed income for their families. Techniques are passed from mother to daughter. A sense of place is literally woven into their work; they create table runners, linens, towels, cushions, and more on hand looms, using only linen and cotton fabric, with dyed yarn from local sheep and natural dyes.
Magno Caterino Mahecha Lopez / Divino Niño
Apparel and jewelry designer, Colombia
Magno Mahecha is one of the founders of the Divino Niño, an artist collective of members of the indigenous Zenu group in northwestern Colombia. Divino Niño's artists create an array of jewelry, hats, satchels, purses and other accessories, woven from dyed fibers and reeds that are locally sourced according to traditional methods passed down for centuries. The process of preparing the alpaca wool or the arrow cane for weaving into a fedora or bangle is labor intensive, but yields striking, unique pieces that are effortless to wear.
Manisha Mishra
Madhubani painter, India
Manisha Mishra learned to paint from her mother, who learned it from her mother, and so forth for generations. Her painting style, known as Madhubani, comes from communities in the Mithila region in eastern India. Traditionally, these colorful works of art are painted on the walls and surfaces of houses for special and religious occasions, but Mishra has been part of a recent movement to bring this style to a wider audience by painting on canvas and paper. Her paintings show traditional motifs as well as her personal experiences, including images from the natural world and urban life. No empty space is left in this style of work; the area around the subject of the painting is filled with plants, animals, or geometric designs, adding lively energy to the art.
Nancy Reyes
Painter and visual artist, Cuba

Nancy Reyes creates paintings that are filled with color from edge to edge. Her work draws on her spiritual tradition, Santeria, and is imbued with a sense of energy and joy for the world around her. Animals, people, shapes, lines, and lots of colors join together in paintings that are a celebration of life. She is a member of the Cuban Association of Artisans and Artists and has shown her work in exhibitions throughout Cuba, the United States, and Europe.
Abduljabbar Khatri / Sidr Craft
Textile designers, India
Sidr Craft was established in 1992 as an artisan-based enterprise with a social mission. The group employs around 200 women in the Kutch district of Gujarat in western India, earning income that sometimes provides the sole means of support for their families. Women artisans work from home creating handmade bandhani scarves, a process that involves tying tiny knots in cloth with string to form intricate and unique patterns when dyed. The time-consuming process can only be done by hand. No two textiles are ever the same. Sidr Craft founders were awarded the UNESCO Seal of Excellence for standard-setting craftsmanship.
Cilau Valadez / The Huichol Center
Painter and sculptor, Mexico
Cilau Valadez's Huichol yarn paintings tell vivid stories with mythological and spiritual themes. Huichol yarn painting has been a part of Valadez's heritage for as long as he can remember. His family often made them for sacred places and ceremonies in their indigenous community. He now makes these vibrant and elaborate yarn paintings professionally to support his family, but he has continued to incorporate spiritual and mythological themes. His work features scenes from peyote visions, ceremonial life, and Huichol cosmology. Valadez identifies not only as a Huichol yarn painter, but also as a storyteller who is translating his culture's rich traditions and beliefs into an art form that he hopes anyone can connect to and appreciate.
Zhanyl Sharshembieva / 7 Sisters
Jeweler, Kyrgyzstan
Zhanyl Sharshembieva's silver jewelry blends traditional Kyrgyz style with modern beauty. She begins with a sketch and then works with silver ingots rolled into sheets that are cut and molded. Jasper, turquoise, and coral are set in many rings and cuffs, adding touches of color that stand out against the brightly polished silver. Her work continues traditions practiced for centuries, and includes design motifs that carry ancient meaning and symbols that are meant to protect the wearer from harm. She has received UNESCO recognition for her creativity and quality of work.
Find more information on visiting Festival artists, and see a schedule of Marketplace events. We'll see you in the Marketplace, on the south patio of the National Museum of American History, July 4 to 8!
Allison Lince-Bentley is the marketing specialist for the 2018 Smithsonian Folklife Festival.