Meet the Masters: Visiting Artisans in the Marketplace, Week One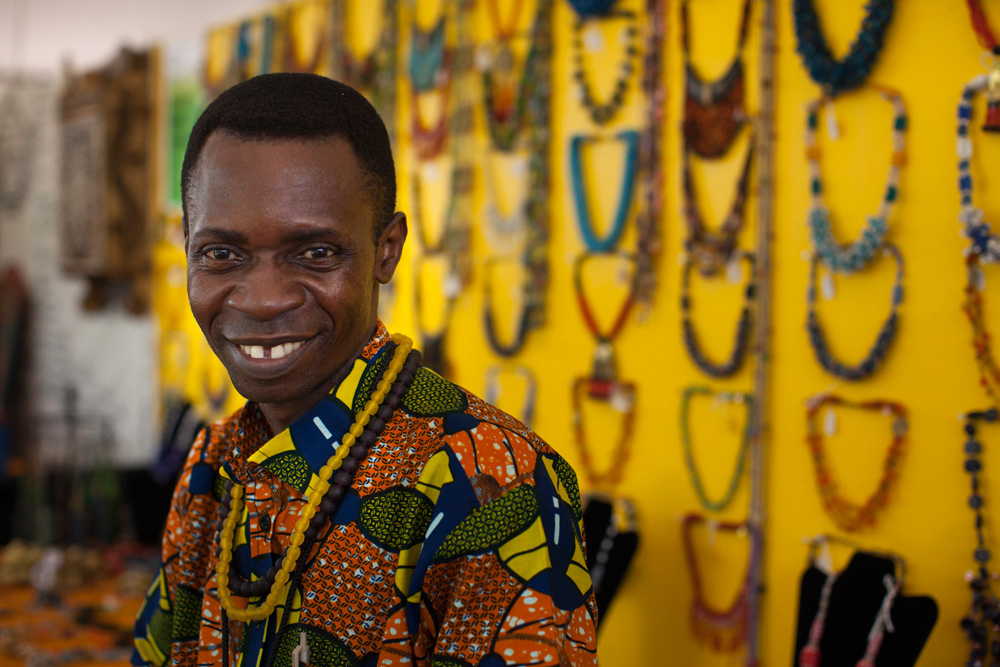 Walk into the Festival Marketplace this year, and prepare to be awed—not just by beautiful crafts for sale, but also by the visiting artists creating incredible works right in front of you.
The pop-up International Folk Art Market will feature jewelers, basket makers, weavers, textile designers, woodcarvers, and other artisans from over fifteen countries throughout the ten-day Festival. Watch their creations come to life and learn their stories.
This week, you'll be able to meet:
Agustín Cruz Prudencio
Woordcarver from Oaxaco, Mexico
Prudencio's career as an artisan blossomed at the age of eleven when began an apprenticeship carving and painting brightly colored figures, animals, and other objects. Drawing from the rich and vibrant traditions of his hometown, Prudencio creates pieces that are alive with color and story. His work incorporates many streams of Mexican history and culture, including indigenous and Aztec imagery, native plants and animals, and Catholic symbolism.
As one who learned the craft early, Prudencio has a deep commitment to sharing his art form with future generations, teaching young people in his community how to create pieces to support their heritage and earn a livelihood for their families.
Andrea Usai / KOKKU
Gold and silver filigree jewelry master from Sardinia, Italy
Andrea Usai employs ancient Phoenician techniques to create breathtakingly intricate jewelry from silver, gold, and gemstones. Using simple, traditional tools and partly recycled materials, he carefully twists wires of precious metals to form pieces that are as beautiful as they are masterful.
Usai remarks, "The art of filigree will only survive by providing enough exposure internationally to create a marketplace for this dying art." Come witness his incredible craftsmanship in action as he demonstrates this centuries-old art form.
Chantha Nguon / Mekong Blue
Ikat weaver and social entrepreneur from Cambodia
Chantha Nguon is a winner of the UNESCO Award of Excellence for her work combining the traditional art of ikat silk weaving with a model for women's empowerment. In 2002, she received a $3,000 Partner in Progress grant and started the Stung Tren Women's Development Centre, where local women learn to weave ikat silks while receiving mentoring and life-skills training to help raise them from poverty. Products made by the center, known by the name Mekong Blue, are considered some of the highest quality silks in Cambodia.
Ebenezer Nomoda Djaba / Cedi Beads
Bead artist from Ghana
Nomoda Ebenezer Djaba (known as "Cedi") began designing and making Ghanaian glass beads when he was just seven years old, breaking ground as a male artist in a field that is typically the domain of women.
He developed a bright and bold style, using recycled glass that he first crushes into powder and then fires into dazzling, colorful beads. Strands of the beads are worn as necklaces and bracelets in every-day adornment, but they also carry an important place in regional ceremonies where they have been worn for centuries.
Cedi's workshop continues the tradition of this highly valued craft in Ghana, training local artists in his techniques.
Porfirio Gutierrez
Rug weaver from Mexico
Weaving has been a part of life for Porfirio Gutierrez since he was a child. He learned at a young age which plants to collect to extract natural dyes, a process that could have been easily lost over the years as synthetic dyes became more readily available. Gutierrez views the traditional process of sourcing and making natural dyes as important to the process as the art of weaving itself, and has been a lifelong advocate of preserving this knowledge.
By contrast, his weaving designs are strikingly modern and innovative, bringing him worldwide acclaim. His work can be found in private collections and institutions such as the National Museum of the American Indian in Washington, D.C., and the Museum of Ventura County in California. Gutierrez currently lives in the United States where he teaches workshops and participates in a variety of exhibitions.
Sarah Mutesi / Gahaya Links
Basketry and jewelry artisan from Rwanda
Sarah Mutesi is a member Gahaya Links, an organization formed by two sisters who wanted to use the Rwandan art of basket making as medium for improving the lives of women and families to rebuild their country after years of brutal war. Through an art form that has been passed down through generations, Gahaya Links helps women artists earn money and build peace, improving their quality of life and offering beautiful artwork to the world. Mutesi brings Gahaya Links' intricately woven baskets and jewelry to new markets, helping the organization continue the cycle of growth and rebuilding.
Find more information on visiting Festival artists, and see a schedule of Marketplace events. We'll see you in the Marketplace, on the south patio of the National Museum of American History, June 27 to July 1 and July 4 to 8!
Allison Lince-Bentley is the marketing specialist for the 2018 Smithsonian Folklife Festival.