How Spoken Word Helps Maitha Al Suwaidi Grow, Heal, and Flourish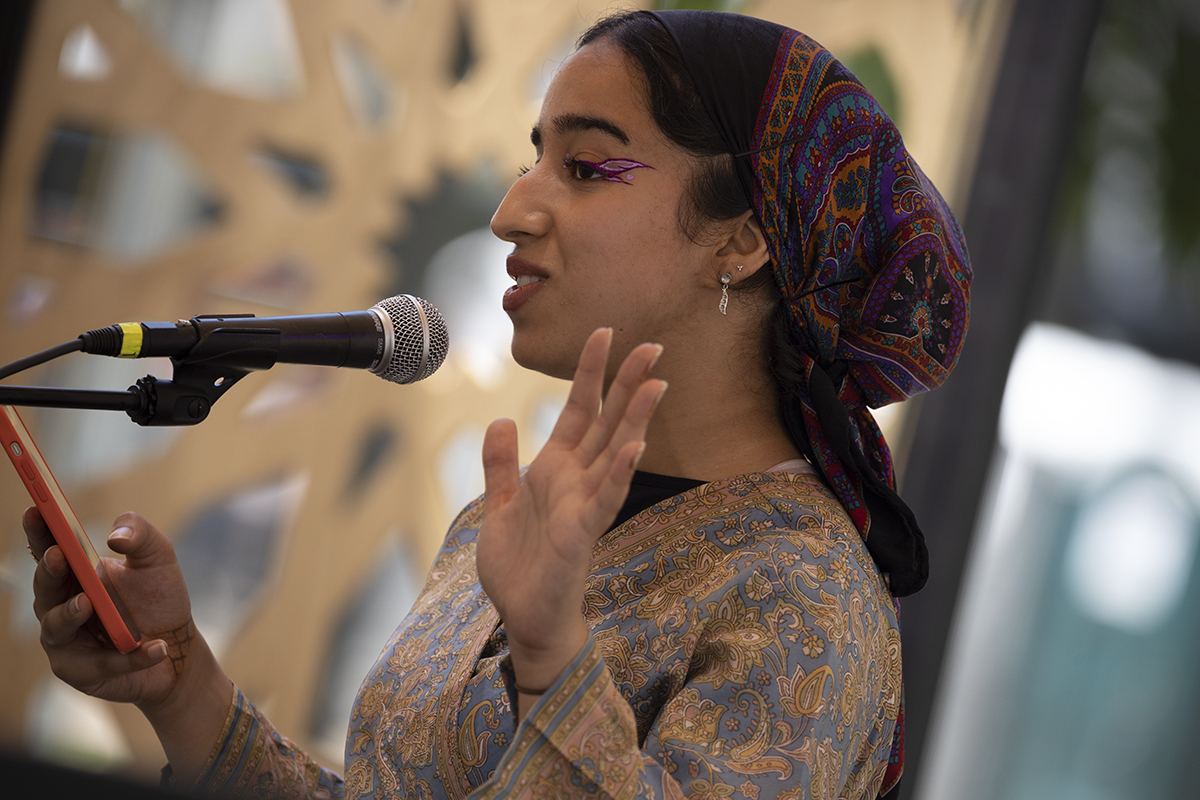 "Every poem tells a different experience, a different part of me."
Maitha Al Suwaidi closed a well-worn journal and waved goodbye to the group of Smithsonian Folklife Festival attendees in her writing workshop. In an hour, she would perform her poetry on the Crossroads Stage, but for the moment, she sat down to discuss the power of spoken-word poetry. To Al Suwaidi, spoken word is not just a tool for describing the world but a space to grapple with essential questions of identity. 
"The first time I wrote poetry was a moment of catharsis," she said. "I just needed to write something."
She found that free-verse poetry helps her channel her emotions, unrestricted by a set meter or the structural demands of prose. In her words, "everyone, everyone, everyone" should try writing poetry—though she understands those who are intimidated by the idea.
"Growing up, poetry sounded so impenetrable," she remembered. "When someone says, 'I'm going to write a poem,' it sounds like it needs to be this polished, professional thing. That needs to be deconstructed, because poetry belongs to everyone."
Raised in Sharjah, United Arab Emirates, Al Suwaidi attended New York University Abu Dhabi, where she first found inspiration to share her poetry at an open-mic night.
"After that experience, I felt confident in the process of continuing to write and explore poetry," she said. She had grown encouraged by the "beautiful sense of intimacy" spoken word offers. When a poet reads, the audience is encouraged to hum, snap their fingers, and whoop in appreciation. Because of poetry's special capacity to translate emotion, forming a deep connection with someone in the crowd is as simple as one compelling metaphor.
"Narrativizing lived experiences and struggles in creative ways is the best way to reach people," Al Suwaidi explained. "It's the best way to have others empathize and have others understand the experiences that you go through."
At one performance, she said, "the crowd was particularly full of women, and the poem I read is about womanhood, about not wanting to be belittled and scrutinized by a lover. I remember finishing that poem and a woman asked for me to come up and recite the exact same poem again." Al Suwaidi smiles at the memory. "Hearing so many people in that audience resonated with the poem to the point where they wanted to hear the exact same thing again, literally just as I read it—it was really, really exciting."
Womanhood is a major theme in Al Suwaidi's work, along with family, friendship, and travel. She gave one poem the title "Nada," after her mother. In it, she paints a picture of the day she was born, telling the story of how her mother was pressured to name her something that would please others. In another, she describes the experience of traveling as being "between one airplane and another," and remembers a moment walking through the streets of Korea in the early hours of the morning, marveling that "men did not stare."
Al Suwaidi doesn't set out with the goal of sharing her cultural background, but her verses hint at the UAE experience.
"While these stories are so specific, they tell you that there is diversity and there is beauty in individual and collective lives that people live in the UAE."
Part of that beauty is the multinational, multilingual nature of the nation. A fluent English speaker, Al Suwaidi often includes Arabic language in her poetry.
"​​I grew up oscillating between English and Arabic to explain different parts of my identity and different emotions," she explained during a narrative session of "Language and Identity" at the Folklife Festival. "The same thing happens organically when I'm writing. If I'm talking about faith and spirituality and home, Arabic inevitably seeps in. If I'm talking about emotions, that means English is going to be present as well."
When she writes poetry in Arabic, she describes having "space to rhyme and play with alliteration and musical sounds" in ways that she doesn't in English. "I can find a word and expand on that word or that root word with ten other words in ten different verses." She explains that Arabic words are centered around a three-consonant root, with different vowels added to form related words. For example, the words for knowledge, teacher, scientist, and divine wisdom all share a root.
In the future, Al Suwaidi wants to explore more facets of her culture, including her Persian ancestry.
"My identity would be characterized as an Ajami Arab or Ajami Emirati," she explained in the language panel. "The word ajami directly translates to 'that which is not Arab.' So in my identity and my family history, it's the non-Arab Arab." As a master's student at the University of Oxford's Blavatnik School of Government, Al Suwaidi plans to use an academic lens to explore this side of her identity.
"I'm choosing to do an autoethnographic work where I can talk about my family's experiences, ask to sit with my parents and grandparents, and just hear their stories, ask questions, and really aim to treasure all of that and document it," she shared. From there, she expects "that's going to open a lot of doors in terms of creative expression."
As the time of Al Suwaidi's performance approached, we started making our way to the Crossroads Stage to meet her fellow UAE poets Mohammed Anis, Dorian Rogers, Danabelle Gutierrez, and Jaysus Zain. As we walked, Al Suwaidi spoke excitedly about her plans for the next day's poetry workshop.
"Long term, I'd really like to teach," she said. "More than anything else, I want to make poetry something that's accessible for everyone to use as a tool to grow, heal, and flourish."
AJ Jolish is a writing intern at the Center for Folklife and Cultural Heritage. She is a student at Scripps College, studying creative writing and linguistics. Audio recorded and edited by Dave Walker for the Ralph Rinzler Folklife Archives.