What Dance Can Do: How Local Motion Project Visualizes Conservation through Movement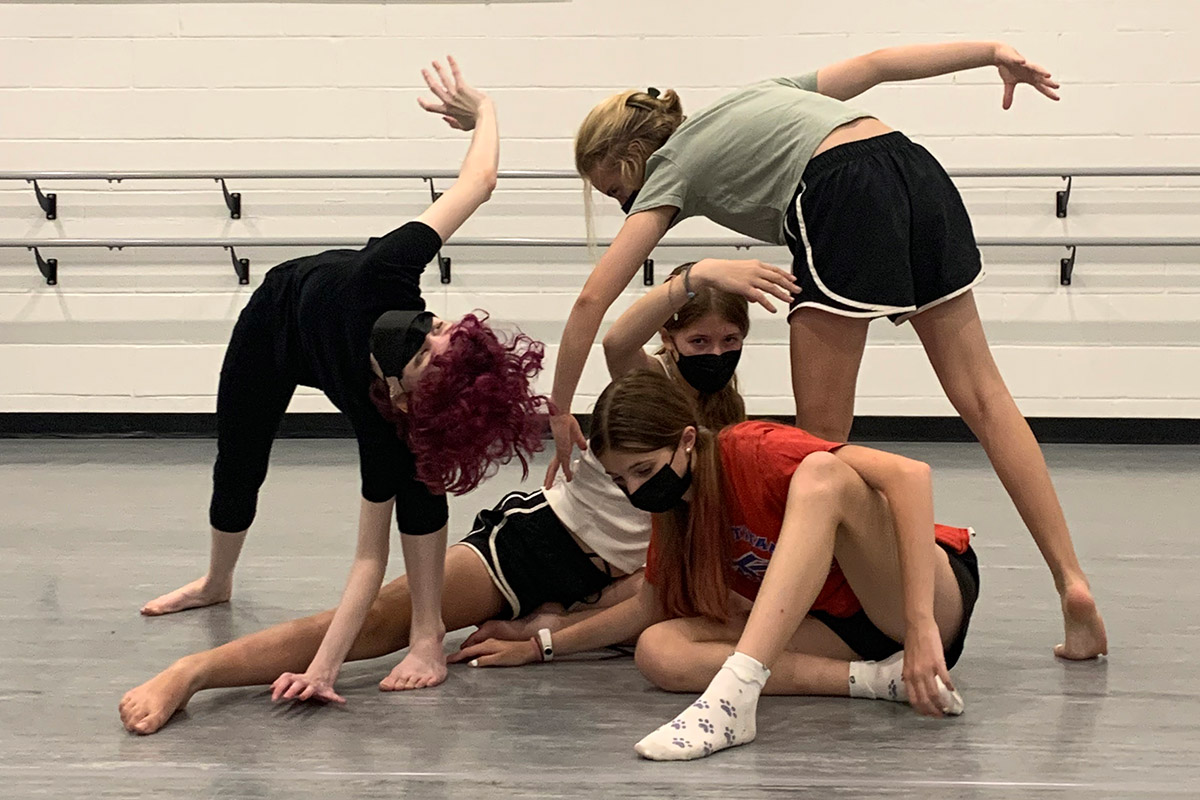 Among the scientists and conservationists featured at Earth Optimism × Folklife this summer on the National Mall, one group coming to the 2022 Folklife Festival stands out. Local Motion Project, a nonprofit organization based in Alexandria, Virginia, will be performing and hosting a workshop.
Their contribution to the message of conservation? Dance.
Local Motion Project organizes youth and adult dance programs, uniting dancers of all ages through movement for "personal growth and social change." The organization hosts youth ensembles, a multigenerational professional performance group, workshops and classes ranging from tap and ballet to aerial hammock, and engages in dance education outreach programming.
At the 2022 Smithsonian Folklife Festival, the group will host dance workshops for families on June 25 at 1 p.m. and on July 1 at 1 p.m. at the People-Powered Science stage. On June 26, a group of dancers from the organization will perform a piece about mangroves at the Earth Optimism Stories stage at 12 p.m. and 3 p.m. The organization will bring its immersive and progressive approach to teaching dance to the world of conservation efforts.
At the center of Local Motion Project is a curriculum that pushes the ordinary boundaries of dance education. According to Sara Lavan, founder and executive and co-artistic director, the group offers "a comprehensive, very inclusive, and historically accurate curriculum in dance and a pretty strong pedagogy in social-emotional learning and cultural competencies in the classroom." It's important that they're diversifying their curriculum, she said.
Their multigenerational approach to teaching dance lends itself to activism, education, and artistry, as they're able to attract different types of dancers at all skill levels, including people who are returning to the art.
"We want to inspire artists and educators of all ages to continue to keep dance in their lives," Lavan said. "You can have artistry and education altogether. They don't have to be separate. You can be creating and doing all these other things in the world that have to do with dance."
One way Local Motion Project works to educate and nurture creative, collaborative, and engaged citizens is through their programming with young dancers.
"We create artistry and give the students agency and autonomy over what they're doing in the room," Lavan said. "We give them a voice, teach them how to make dance out of things, but also teach them what dance is and how it exists in the world."
Local Motion Project creates this space for students through a process Lavan and her co-artistic director Kylie Murray call "dance integration."
"You take content from the classroom, teach the children how to create dance based on classroom content, and use that dance as a communication tool for understanding classroom content," Murray said. It was through this work they've done for years that they first connected with the Smithsonian.
"Our relationship with the Smithsonian began during the pandemic when we were asked to do some dance integration webinars," Murray said. Murray and Lavan participated in the National Museum of Natural History's virtual programming in 2020 connecting dance with science. One in particular paired them with a marine biologist and explored movement and dance inspired by the life of a Gossamer worm. "That program was developed, brought into Smithsonian, and that evolved over the last couple of years," Murray added.
This year, at the Festival, the featured performances from Local Motion Project will come out of an integration-style process with a group of teenage dancers, showing both the participants and the viewers how dance can be a form of conservation activism. Their collaborative piece will focus specifically on mangroves and their importance in their ecosystems.
Mangroves are tropical trees that grow in salty, coastal waters and thrive with the ebb and flow of the tide. Their ability to store vast amounts of carbon makes them crucial to the fight against climate change, and they are also able to stabilize coastlines by protecting them from flooding and erosion. Mangrove forests can be found in tropical and subtropical areas all around the world, including the United Arab Emirates where they are critical to the ecosystem. Experts with the Festival's UAE program will also address cultural knowledge of the environment through mangroves.
There's a lot that can be done with space and movement to say something about mangroves, Murray and Lavan said. The students may discuss what happens when the mangroves are gone, which could manifest in an empty stage that prompts critical thinking from the audience.
According to Lavan, there's no way to predict what the dance premiering this week will look like, as the products of the process are different with every group. The structure, however, is generally the same: "We're going to look at the text, and we're going to pull out some words that remind us of movement words," Lavan said. Like in the virtual Ocean Motion project, words are grouped into categories: body, action, space, time, and energy. Students look for words that "inspire movement" and improvise from there.
"We work with some pretty deep teens. They're very thoughtful people. So I'm excited to work with this content with them," said Murray. "And the moment live will depend on the audience."  
The workshops Murray and Lavan will run are similarly driven by Festival visitors. The workshop will also utilize the dance integration model.
With both the workshop and the performance, Local Motion Project hopes that the people watching, and the people dancing, will walk away with a new idea of what dance can do. But for all their collaboration and communication, Murray and Lavan don't expect people to walk away with any answers.
"I think a lot of our work is a conversation starter," Murray said. "There's not a 'and that's what you've learned,' right? It's 'this is something to consider.' How can you continue to consider this in your life?"
And in a Festival full of solutions and innovations, a dance program that asks questions is more than welcome.
"I do hope that it will reach someone else in a new way to want to learn something more," Lavan said. "To see the power of dance and the power of dance has for social change."
Annabella Hoge is an intern with the 2022 Folklife Festival's media team. ­She is a rising senior at Georgetown University studying American studies, anthropology, and journalism and hails from Los Angeles, California. She danced on pointe for three years.