Linking Language: A Brief History of Armenian American Newspapers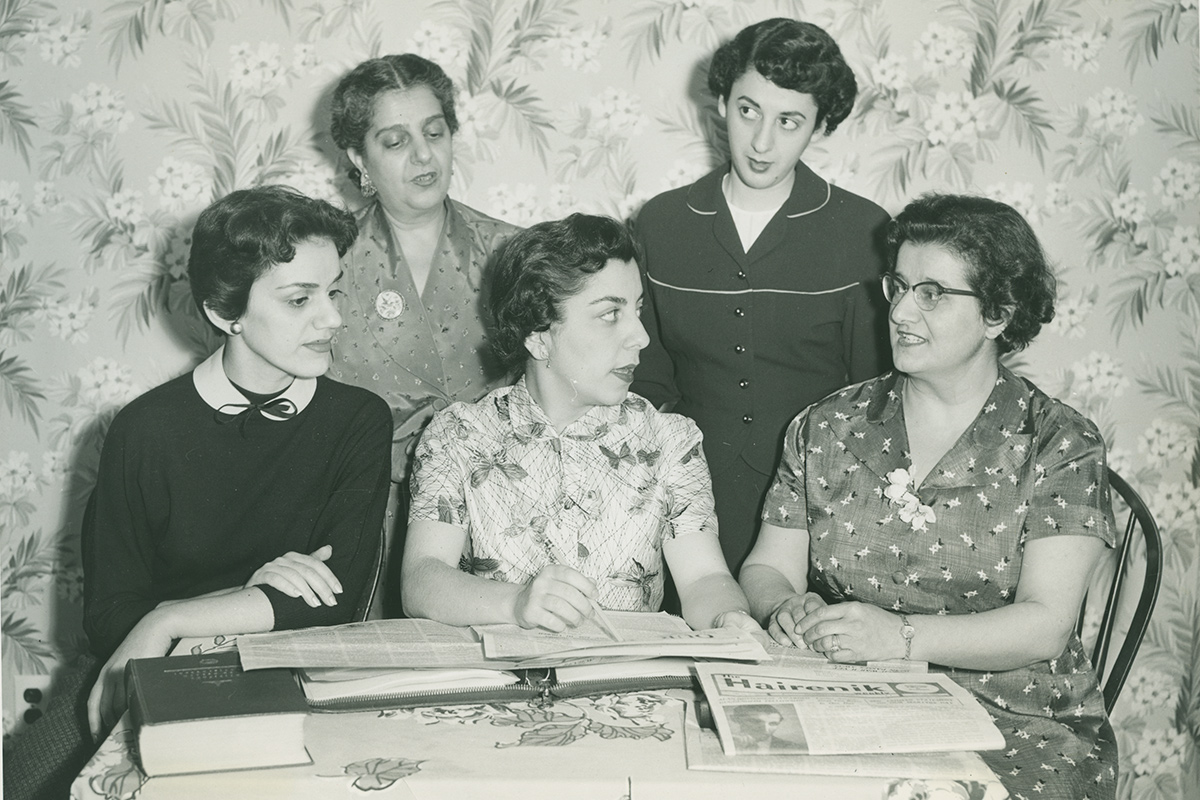 We create community in a variety of ways. A community can be the familiar faces and houses you pass on your daily walk, or the swirl of shared language in the air. Sometimes, it takes the form of ink on paper. As physical communities are changed or taken away, communities based on interpersonal connection and commonality are reinforced to maintain a sense of home in a tumultuous world.
The first wave of Armenian immigration occurred in the 1890s. These families, largely fleeing violence, settled mostly in the northeastern United States, and many moved west to California. Shortly after that wave, newspapers for Armenian Americans began publishing news and covering community events. Most of the publications were connected to political parties from the Diaspora or from Armenia for support and funding. Although some have shut down, many of these publications are still circulating today.
Most of these newspapers began publishing in Armenian, and a few originated in English. The Armenian Mirror, founded in 1931 in Watertown, Massachusetts, with the goal of bridging the generational gap, became the first English-language Armenian newspaper in the United States. It later merged with The Spectator in 1939 and publishes today as The Armenian Mirror-Spectator.  
For thirty-five years, editor Harut Sassounian has written weekly content for The California Courier, founded in 1958 and originally published in English as a way to connect the community.
"The California Courier was published in English for the simple reason that there were no English-language newspapers for the Armenian community in California in 1958," he explained. "Since there were no Armenian Day schools at the time, many Armenians did not know how to read in Armenian."
In fact, The California Courier emerged during a difficult time for Armenian Americans. In order to escape discrimination, many individuals Americanized their last names; even the Courier's founder, George Elmassian, changed his surname to Mason.
Of those papers that originated in Armenian, many have expanded to include English-language sections or publications to address the growing population of English-speaking Armenian Americans. Baikar (meaning "the struggle"), founded in 1922, serves as a sister publication to The Armenian Mirror-Spectator. Asbarez of Fresno began as a wholly Armenian publication in 1908 but added an English section in 1970 that has continued to grow in popularity.In 1981, Massis of Pasadena began publishing in Armenian only, but added an English section in order to connect to younger readers. As a bilingual publication, most of Massis'scontent is the same in both Armenian and English, especially news items relating to political development in Armenia. As readership for the English section increased, Massis added an online publication, which is even more popular than the print version.
A similar process occurred on the east coast. Hairenik (meaning "fatherland"), the first Armenian American newspaper founded in 1899 in Watertown, launched an entirely English publication less than two years after receiving a wave of positive feedback towards the English column they began in 1932. However, the growth of the paper and the inclusion of new readers can be traced to less positive influences. In the 1930s, Armenian Americans were under tremendous pressure to speak English and further assimilate into American life. Many children simply wanted to fit in and strayed away from the Armenian language, both written and spoken.
Rupen Janbazian, editor of the Armenian Weekly,can see these influences in the results of a questionnaire from the time. "Hairenik's Questionnaire to the Armenian Youth of America" asked questions like:
Are you conscious in your daily life that you are an Armenian?
Do you read Armenian books, magazines, or newspapers?
Do you see the necessity of publishing an English paper, weekly or monthly, for our young generation?
Overwhelmingly, the responses confirmed that the Armenian American youth were interested in participating in Armenian life and news as long as they could do so through the language they preferred—the language that helped them fit in.
Nowadays, Armenian Americans consume their news in a variety of languages. Many households identify themselves as multilingual, speaking and reading in any combination of Armenian, English, French, Arabic, Spanish, and Turkish. As Krikor Khodanian, chairman of the Social Democratic Hunchakian Party that publishes Massis, explains, his parents consumed media in Armenian, himself in English, Armenian, and Arabic, and his children in English online.
As Armenian American newspapers and the communities they serve become more linguistically diverse, some express concern for the language being left behind.
"[The community] cannot 'feel Armenian' or 'maintain Armenian spirit' by merely speaking Armenian," Janbazian said. "It is also essential to be conscious of the necessity to keep the mother tongue alive as a warranty of survival. It is through the Armenian language that Armenian literature, culture, and identity are preserved and kept alive."
In either language, the Armenian newspapers in America still fulfill their original purpose of connecting the community, but they have also stretched beyond our borders to reach Armenians and others around the world.
Rachel Barton is a media intern at the Smithsonian Center for Folklife and Cultural Heritage. She is a rising senior at Rowan University, double majoring in English and writing arts, and cannot wait to see how storytelling continues to change in her lifetime.