Coming Home, Leaving Home: Kalyn Fay Creates Space in the Ozarks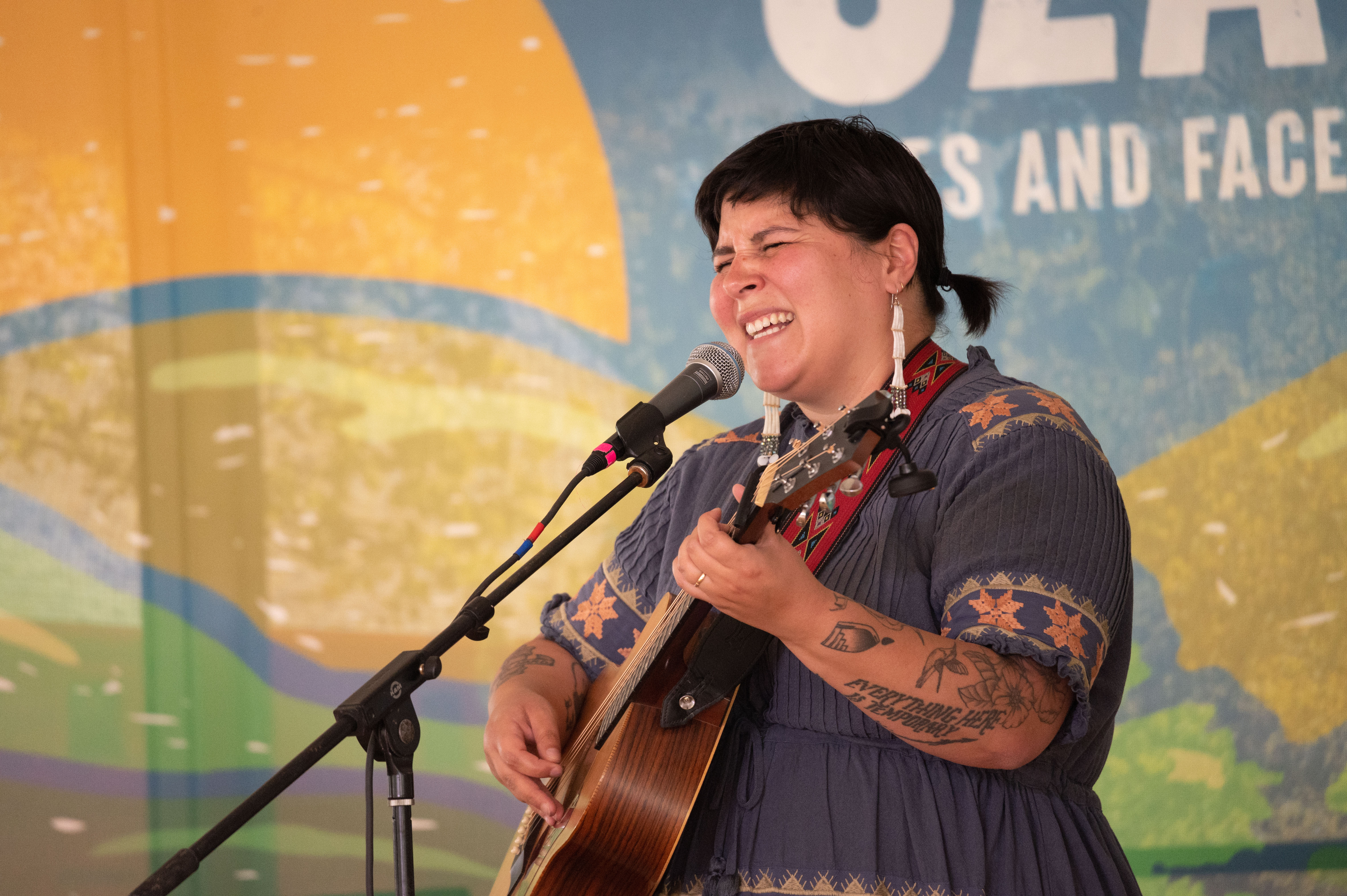 Written by Kalyn Fay, performed by Kalyn Fay (vocals, guitar) and Matt Magerkurth (vocals, cello) |
Read audio transcript
On a hot June afternoon at the Pickin' Parlor, Cherokee singer-songwriter Kalyn Fay crooned into the microphone,
"Well Mama, I've been a ramblin' gal
And it's safe to say
Ain't nothing compared to the way the wind speaks
On your rolling prairie."
In her song "Wait for Me," Fay animates the Oklahoma mountains of her hometown, Tulsa, Oklahoma, with the tenderness of a mother. In her wistful lyrics, place is not static nor impersonal but deeply relational: "Will you miss me when I'm gone? This is just a lonesome lover's song," Fay asks the mountains in the song's bridge.
To Fay, there is no more appropriate medium than song to confront the question of what it means to be from the Ozarks.
"I think of songs as locations, which is from Indigenous ways of storytelling," Fay said in an interview with Ozarks program presenter and consultant Simone Cottrell in the months leading up to the Smithsonian Folklife Festival. "Our cosmologies and belief systems can be told about an object or a place. A strawberry isn't just a thing that you eat. It tells a moral story about a man and woman who got into a fight. The woman ran away and the Creator kept growing things to stop her. The Creator created heart fruit and made her slow down. The man and woman could talk. It's not just a strawberry or a fruit.
"Songs are creating points of location to help people locate themselves," Fay said.
Before she writes songs, there are various questions she asks herself to interrogate the spaces she addresses: "What is my experience to this place as a Native person?" Fay questioned. "Historically, what has this space meant to Native peoples? For me, in the Ozarks, that was a space of transition for a lot of Native people. What are the experiences shared in this space?"
Fay's songwriting is often a physical, embodied process, following traditional methods of Cherokee composition. "Once location is found, I do a 360-degree observation of the space, landscape, and sounds associated with it. I follow the horizon line to create melody lines." In this way, she recreates the contours of the mountains within her melodies—when the horizon rises or falls, the pitch follows—translating the geographic landscape into music.
Outside of her music, Fay also works as an interdisciplinary artist and curator at the Philbrook Museum of Art in Tulsa, Oklahoma. The multiple hats she wears enable her to live a more complete, multidimensional life.
"I'm an advocate of living in multiplicity and the importance of moving in a way that's reflective of all the parts of yourself—honoring all the different parts of yourself and the ways they intersect or are interwoven," Fay said. "Specifically, art making is really important to me because when I weave, there's a rhythm. You're in this sort of meditative state. It helps me think about my music and what I want to be writing—having this cadence and rhythm. My singing and art are constantly in flux and reflective of each other."
Honoring plural identities is especially important for Fay when contemplating her relationship to the Ozarks. "I think the beauty of that space is that rarely are people from there, as most places in the U.S., unless you're a Native person. That space specifically is a liminal space. A lot of people ended up there. Their families might have ended up there a few generations ago, but it's still a liminal space.
"I'm thinking about the Trail of Tears again, a liminal space we had to pass through to get to Oklahoma," Fay continued. "The beauty of the Ozarks is it's this space again that's constantly in flux."
In her latest album, Good Company, Fay negotiates the complexities of what it means to be "from" a place. "And we're all just looking for something/ Something to love, something to leave," Fay sings on the title track. Many of her songs confront the fragile, tenuous balance between leaving and returning home, inspired by her time living away from Oklahoma in the Arkansas Ozarks.
Fay's songs suggest constant movement. "I'm restless in a landlocked state," she declares in "Come Around." "I could hear it calling/ The road for me again," she sings on "Long Time Coming," another track off Good Company.
"By morning I'll be gone
A lonesome heart with a lonesome song
By the evening they will say
Gotta find your own, gotta find your way."
"Liminality is really present in a lot of my music and a lot of my work because I see myself as constantly having to go in between a lot of spaces," Fay explained. "I don't always get to be with my community. I don't always get to be at home. You're finding ways to constantly be in flux until you can come back to that space that you recognize."
Home itself "takes on a few different meanings" for Fay but is ultimately rooted in relationships rather than fixed boundaries. "I think about my community: my family, the Cherokee Nation and Oklahoma existing intertribally. That's home for me. But also, the land is an important part of home for me. You build these really strong relationships with land. You have these really important experiences within specific spaces."
Fay sought to impart a lasting message to listeners in their brief encounter on the National Mall through her performances. "It's easier to receive a hard message when you've already leaned into something," Fay said, pointing to the power of song to invite listeners into different perspectives.
Through her music, Fay has given voice to a sometimes overlooked past and present of the Ozarks, calling for listeners to acknowledge and understand its presence.
Daniel Zhang is a media intern at the Smithsonian Folklife Festival from Edison, New Jersey. He is a rising sophomore at Yale University studying humanities. He sings with the Doox of Yale and leads tours at the Yale University Art Gallery. Thanks to Simone Cottrell, owner and founder of Rachhana Creative Consulting and a presenter for the 2023 Smithsonian Folklife Festival, for conducting the interview.
Find more information about Kalyn Fay on her website, and find her music on all streaming services. She intends to release another album in the coming year.