"It Is Heritage": Two Families of Cloth Dyers in Dakar, Senegal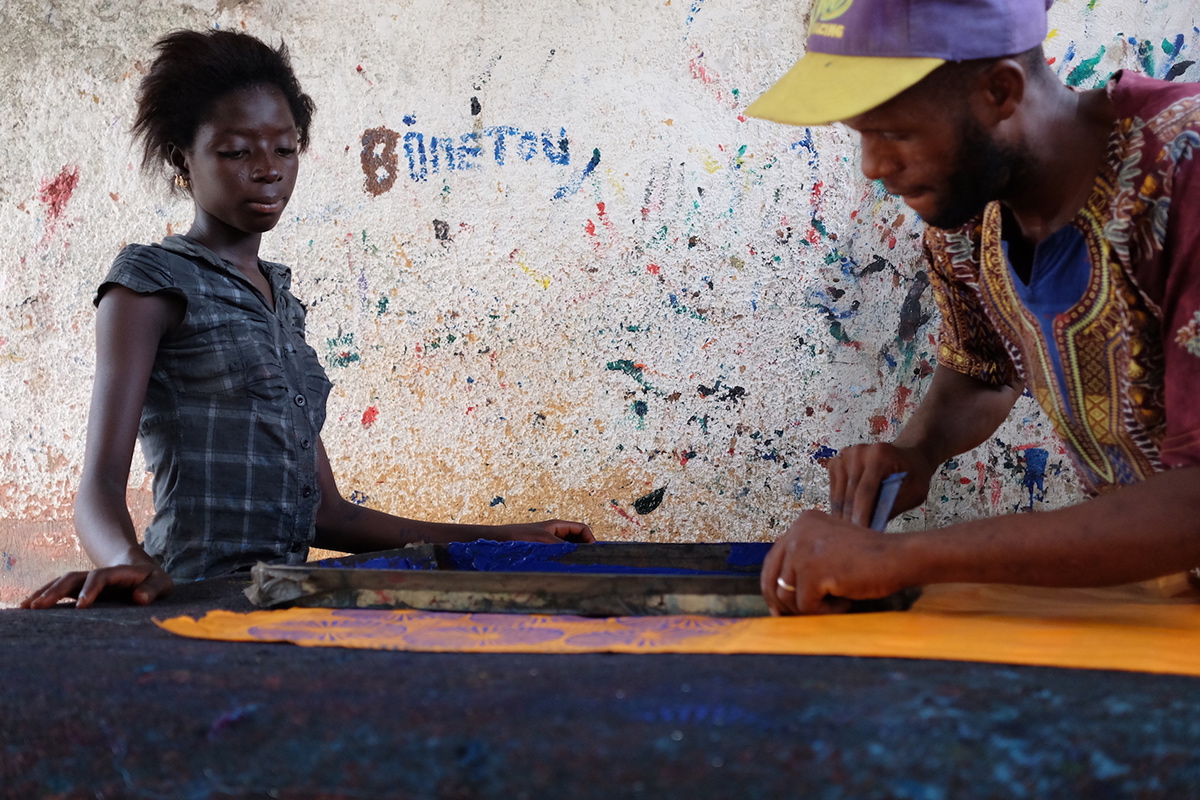 According to Sekou (Cheikh) Fofana, his skill as a dyer is a direct result of his love for his mother. His parents are deceased, but he keeps large portraits of them in his home in Guédiawaye, a large suburb of Dakar, Senegal.
His father was a Guinean Soninke itinerant trader, who was often away for long periods. Sekou's mother was a Malian Soninke dyer, who used the synthetic dyes that became widely available in West Africa from the 1960s. Soninke people are an old and storied Mande ethnic group, particularly known for travel and trade, Islamic scholarship, and cloth dyeing.
From his relatives on his father's side, Sekou knows a bit about the complex processes of gathering, processing, and dyeing with indigo. But it is from his mother that Sekou derives his skills: as a child, he was constantly by her side, learning much of what she knew. With this multilayered family legacy, dyeing is more than a business for Sekou: "o kɛra ciyɛn," he says in Bamanankan. "It is heritage."
Like many African textile artists working in urban settings, Sekou walks a professional tightrope. He must produce cloth that will sell in competitive, fashion-centered Dakar, which often means making things with new, rapid techniques on inexpensive materials. At the same time, keeping in business is what allows Sekou to sustain and teach traditional dyeing skills, techniques that are laborious and complex, yielding pieces that are highly valued but slow to sell. Sekou is open-minded and experimental in his approach to new techniques like silkscreen printing. The balancing act today is to transform his dyeing heritage without destroying it.
The terminology used in contemporary cloth decoration also reflects a regard for old techniques, even as new methods supplant them. The silkscreens themselves are called clichés, French for "film" or "printing plate," as they are produced through photographic means. To describe the printed motifs, artists borrow from hand techniques, like miselini (Bamanankan, "little needle") or takka (Wolof, "to tie").
Although almost any image can be created on the silkscreens, often the motifs or the style of drawing them likewise refer to the hand techniques that artists and consumers continue to value. Silkscreens have been used in cloth decoration in Mali since at least the 1990s, but have attained new heights of popularity across West Africa since about 2013. In 2015 and 2016, shimmer ink became available, and the radiant cloths printed with it were marketed as "VIP," evoking prestigious cosmopolitan style.
The women of the Wagué family, a prominent clan in the central neighborhood of Grand Dakar, have practiced dyeing nearly all their lives. Now in middle age, they have ceased to dye for income, but they continue to create elaborate stitch-resist cloths as a hobby—only for the pleasure of creating. The lexicon of marks, stitches, and designs they possess provides a well of creativity, grounded in the past.
Skilled in the design of intricate, multicolored resist patterns, the Wagués had no interest in adopting the quicker, cheaper techniques that have become prevalent in Dakar, but the declining prices of dyed and decorated cloth have effectively pushed them out of the market. They are proud to have sent the young people in their family to school, but they are concerned that their skills were not being passed on and troubled by knowledge they themselves had lost.
But "in the village, they still know," they said, voicing the widely held imagining of "the village" as a repository of tradition skills and values. I was able to meet one of the "village" Wagués, and she did indeed "still know" and more importantly, still do, some of these old skills, particularly the dense stitch-resist for which Soninke dyers are renowned.
Unlike the silkscreens, which are used to apply designs after the cloth has been dyed, the older methods of decoration involve resist techniques, meaning that artists use knots, thread, wax, or resin to create the spaces where color will not go. Indigo and other natural colorants require careful preparation according to often secret vat recipes. By contrast, dyeing with synthetic dyes appears simple.
According to Sekou, it is the mixing of sophisticated colors, creating attractive and attention-grabbing tones with reliable results, which requires experience and skill. Many people may dabble in dyeing, having seen dye packets for sale in shops and dyers at work in their neighbors' courtyards, but without appreciating the complexity of the work involved. Sekou is a kind and attentive teacher, but it has been hard for him to find an apprentice who will work with him long enough to learn all he has to share.
Dyeing represents an ancient tradition and an important economic activity across West Africa, with many local variations. In many places, including Mali and Senegal, dyeing cloth has historically been the domain of women, and all the stages of cloth production moved back and forth between women's and men's work. To generalize, men grow cotton, women card and spin it, men weave, women dye, men tailor garments. There are exceptions, and the techniques and the social contexts of work change.
Along with dramatic urbanization and increasing Islamization during the twentieth century, which affected many traditions, new technologies have also played a role in transforming textile traditions, from the introduction of manufactured cloths, to machine-spun cotton yarn, to vivid synthetic dyes that became widely available from the 1960s.
Like these earlier technologies, silkscreen printing has changed the equations of labor and value in cloth production. It doesn't make sense to invest months of embroidery work, like the Wagués', into a low-quality cloth that will not be durable, for example. However, silkscreens go down just as rapidly on the best, most costly manufactured cloth as on the inexpensive batiste.
The lightweight batiste cloth is bright, attractive, and desirable for the hot summer months. Even when decorated, however, it is cheap, not expected to last more than a season. It is essentially fast-fashion. In Dakar, where many potential clients lack much purchasing power, demand for lower costs drives the development of faster methods and cheaper goods.
Despite these pressures, the older, slower methods persist. Sekou and his family, the Wagués, and other dyers travel to learn from practitioners in small towns in Senegal and neighboring countries. On one occasion in Guédiawaye, I observed Sekou, his relative Fatou, and his assistant Moussa working on hand-tied resists. They spread their work on the cool tile floor of Fatou's courtyard, taking care to show me the different motifs they created. Their delight and pride in these hand skills suffused the little space as we worked into the evening. Without prompting, Fatou's daughter imitated her mother's deft movements as she picked up scraps and began to try some ties.
The immense popularity of artisanal fashion cloth in West Africa at once sustains and threatens the embodied knowledge that the Fofanas and the Wagués have inherited. Here at the Center for Folklife and Cultural Heritage, a new initiative called Crafts of African Fashion will explore the role of traditional craft skills in the contemporary fashion industry and promote sustainable cultural heritage enterprises. The initiative will launch at this year's Folklife Festival, where visitors to the Festival Marketplace will be able to meet and observe the work of visiting master artisans from Africa and enjoy a display of contemporary clothing by designers from Africa and the African diaspora.
Rebecca Fenton is a predoctoral fellow at the Center for Folklife and Cultural Heritage and National Museum of Natural History. She recently completed her Ph.D. in art history at Indiana University. Her research focuses on expressive dress and other forms of creativity in everyday life in Africa.