How to Have a More Meaningful Experience at the Festival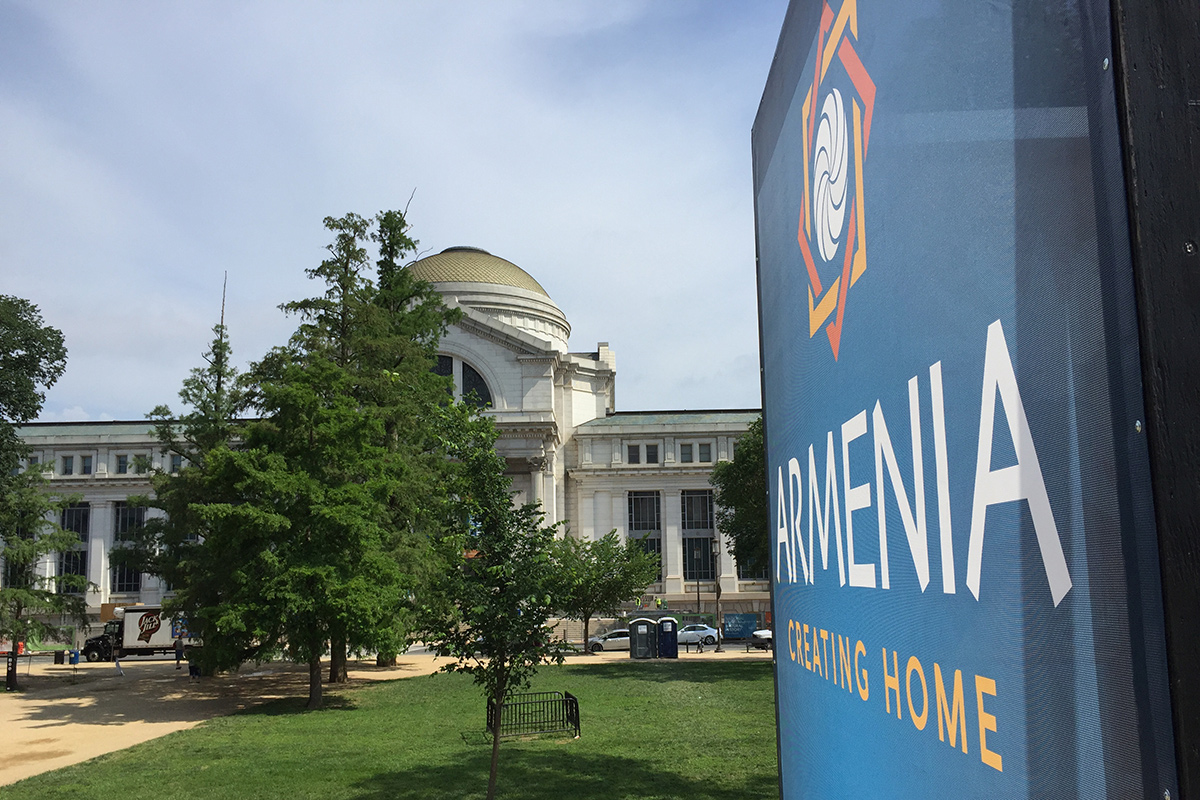 One of the most time-honored and ambitious goals of the annual Smithsonian Folklife Festival is to put a human face on distant communities and allow the American public to meaningfully interact with people of other nations and other regions of the world.
By welcoming artists, musicians, and performers to the National Mall over its fifty-two-year history, the Festival's tradition has long been to plumb the dynamic depth and understanding of these cultural exchanges. Visitors can look a participant in the eye, share a smile, a story, a song or a conversation—something we hope brings a greater and more significant world understanding, transcending assumptions and challenging stereotypes.
Today, this year's Festival again takes over the grassy strips of Washington, D.C.'s National Mall for a two-weekend, ten-day, mid-summer cultural extravaganza. This year's focus is on creative enterprises: cultural activities that produce economic and social value for communities around the world.
That story unfolds with two programs: Armenia: Creating Home and Catalonia: Tradition and Creativity from the Mediterranean. Over the course of our long four-year research and planning effort for this year's programs, and much to the Festival team's surprise, we managed to invite and are now hosting nearly 400 people from these two cultural groups.
Both Armenia and the region of Catalonia are actively struggling to define their own political futures. As Armenia finds its equilibrium following its recent activism during the Velvet Revolution earlier this year, and as Catalonia seeks a path forward out of its political deadlock following its failed independence vote last October, the potential is high for some dramatic and significant conversations.
In Armenia, feasting, foodways, wine production and artisan craft traditions tell the importance of economic and cultural sustainability in the face of change and the ways these practices create home—both in concept and in form. Catalonia has a long history of creating formal and informal organizations that aim to sustain a strong sense of local identity. In both cases, this web of networks reinforces a strong popular culture that expresses shared social values. Despite political tensions, the work of creative enterprises continue uninterrupted and cultural life goes on.
Festival participants revel in these everyday cultural expressions, and they are often the source of some fairly spectacular and wonderful surprises. The masterfully engaging Armenian shadow theater troupe members, for example, are excellent at singing, dancing, and toasting. Some Syrian Armenians have settled in Yerevan, the capital and largest city of Armenia, and have begun to earn a living teaching and crafting a traditional embroidery, that was carried by their grandmothers to Syria at the twilight of the Ottoman Empire.
1 / 3

Ayrogi Shadow Theater

Photo by Narek Harutyunyan, Smithsonian

2 / 3

Ayrogi Shadow Theater

Photo by Narek Harutyunyan, Smithsonian

3 / 3

Ayrogi Shadow Theater

Photo by Narek Harutyunyan, Smithsonian
Click on the image above to see slideshow
Catalan citizens, accountants and bankers by day, spend their leisure time performing in wildly exuberant street processions. And the award-winning bakery cooperative La Fogaina crafts organic bread and pastries. During the great recession, five employees started a new business in rural Catalonia.
Expect the participants to respond from their own, complex perspectives. It is through these repeated questioning and generative conversations that the Smithsonian's annual Folklife Festival provokes self-reflection on the part of its participants so that they often depart with a far greater sense of identity and a deeper appreciation for their own cultural heritage.
Bringing together folk and traditional artists to share their creativity—and their lives—with the American public, allows us to explore nuanced answers to some of the animating questions of our times. How and when do we come together at an era when so much history and so many issues pull us apart? What is at stake for our communities and us when we express what matters most? How does sharing our stories transform and empower us?
These same questions help people determine how they want to live together as they seek to define their own futures.
Michael Atwood Mason, director of the Smithsonian Center for Folklife and Cultural Heritage, is a folklorist whose research explores how people use their cultural traditions to change their lives.
This article originally published on Smithsonian.com.