How to Become Catalan
The Freedom of Choice in National Identity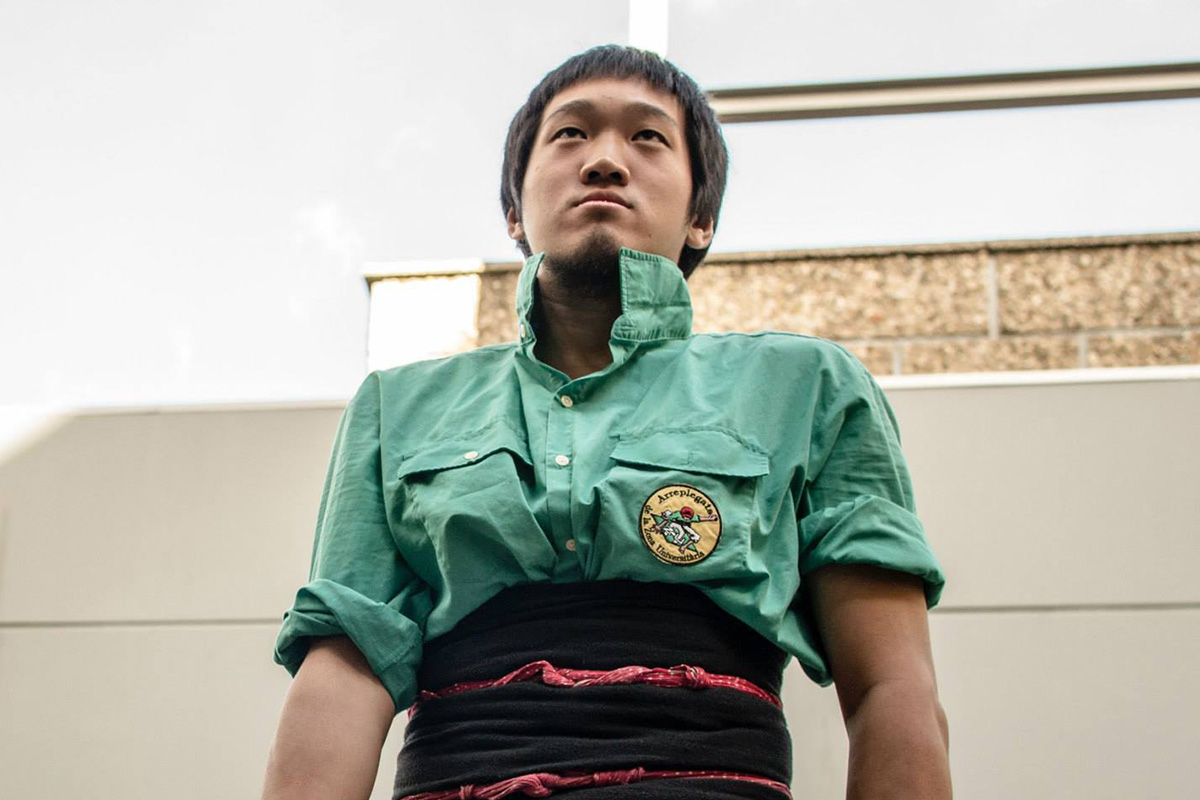 Venim del nord,
venim del sud,
de terra endins,
de mar enllà
We come from the north,
we come from the south,
from inland,
from beyond the sea
—Lluis Llach, artist-activist
It is said that the Basque are born wherever they want. Although the saying does not exist for Catalans, it is true for us as well.
Unlike other national identities which are inherited, immigrants can become Catalan through speaking the language, living in the territory, sharing its values, and participating in life in the plaza. Ting and Souley, as two examples, have always been Catalan, even though their origins are outside of Catalonia.
"I feel Catalan. It's clear," Souley, age twenty-five, told me. "I was born here, and my life is here. I've been to Gambia only a couple of times. I don't identify with Spanish symbols. I would say that I am Catalan, with Gambian origins."
Immigration in Catalonia can be divided into two big chapters: one that took place within Spain between 1920 and 1970, and one international that extends from 1990 to today. Toward the end of the first period, 50 percent of Catalans had at least one parent who was not born in Catalonia; today, 28 percent have a parent born outside of Spain. Demographers believe that without immigration, the population of Catalonia would be half of what it is now. This level of diversity, similar to statistics in the United States and Argentina, show that the current Catalan society is a direct result of immigration. Many immigrants have decided to stay, because it feels like home.
There are many reasons to migrate: work, school, love, etc. Souley's parents met in Gambia. His father arrived in Catalonia first to study, and his mother followed. They settled in a small coastal town where they were the first immigrants of color. Ting's parents came from China, and they decided to relocate to Barcelona for work and because of China's one-child policy.
Although there are differences between their families, Ting and Souley both grew up in the Catalan school system, which is based on language immersion. From the time they were children, they have taken in this surrounding culture—everything from popular to traditional—as their own.
"I have never felt like an immigrant or anything else, but because of my skin color I have thought to myself, this person perceives me as other," Souley explained. Those perceptions are challenged when people hear an other speaking fluent Catalan. Souley speaks Catalan with his brothers. Ting speaks Catalan too.
Discrimination exists everywhere, but its magnitude and the ways in which a society handles its negative effects can sway people deciding to stay or not stay. Ting is often discriminated against because of his Asian features, but from his point of view, he sees that this happens all over the world. Humans reject those they do not know until they have the opportunity to be in direct contact with that diversity. It is there that the conflicts ends.
"When they hear you speaking Catalan, no one doubts it anymore," Ting, age twenty, said. "But looks can be deceiving. There's never been a better saying." For many, "Catalan-ness" comes from speaking the language or by being born in the region, but there are other ways of becoming Catalan, of becoming part of this cultural community.
Besides going to school and speaking Catalan, Ting and Souley are members of colles castellers, human tower building clubs. Souley has been involved since he was a child, and Ting was attracted to it as a way to spend time with friends. This experience within an accessible cultural and popular practice has changed their lives.
"I don't think that anyone who has built castells (towers) and spent lots of time in a colla (club) can ever lose the passion that we feel," Souley said.
For Ting, the club is like a big family, the good and the bad, and a space for socialization while reaching a common objective. The castells—like choirs or sports teams—are much more than just human towers. Members stay because they find a family that they choose, that supports them, a support network that makes them feel like they belong to something.
By participating in activities like human tower building, immigrants have the option of choosing their identity. It's a highly personal choice that may differ even among siblings who were born in the same place. While Ting identifies as Catalan, his sister gravitated more toward Spanish culture. There is a nine-year age gap and a world between them: he votes leftist, and she votes for the Spanish right-wing party. He is catalanista (Catalan nationalist), and she is españolista (Spanish nationalist). They may choose to leave their country, and they can decide to stay and form their own identity given the choices society offers. In this sense, each society manages the tension between internal diversity and assimilation, both in regards to immigrants and in the cultural and national differences within states or countries.
What is evident is that Catalan society has made it easy for immigrants to become Catalan, because of the way they manage this tension. In my opinion, some societies are more accustomed to handling diversity because they are better at adapting. To become part of a place, we need to accept one another, and we need others to connect with us as equals.
We can say that a "welcoming society" is one that is comprised of people who connect with others who come from abroad. With the resulting mixture of people from here and people from there, everyone can become Catalan. Those who are born here would not be Catalan without those who come from other places. A Catalan is not born, but made—and that is a true gift.
Originally from Argentina, Pablo Giori is a specialist in the dialogue between popular culture and civil society in Catalonia and Quebec. He also works as a researcher and photography exhibition curator in the National Archive of Catalonia. He is a research associate at the Center for Folklife and Cultural Heritage and an advisor for the Catalonia program at the 2018 Smithsonian Folklife Festival.
Convertirse en catalán
Venim del nord,
venim del sud,
de terra endins,
de mar enllà.
(Lluis Llach)
Dicen que los vascos nacen donde quieren, de los catalanes no se dice, pero es verdad. Ting y Souley son catalanes de toda la vida, pero sus orígenes son diversos: parecen inmigrantes porque se ven diferentes, pero no lo son. A diferencia de otros territorios, los inmigrantes de segunda generación en Cataluña no se autoconsideran inmigrantes: haber nacido aquí otorga la condición de catalán. Como me dijo Souley:
"Yo me siento catalán, es evidente. Nací aquí y aquí hice mi vida, a Gambia he ido únicamente un par de veces. Dicho esto, mi identidad es claramente catalana, no me siento identificado con los símbolos españoles. Yo diría que soy catalán, con orígenes gambianos".
Los padres de Ting vinieron de la China y, por cuestiones laborales y por la política del hijo único, decidieron quedarse en Barcelona. Los padres de Souley se conocieron en Gambia, su padre vino a estudiar en España y luego vino su madre, instalándose en un pequeño pueblo costero donde fueron los primeros inmigrantes de color. Si bien en sus familias hay grandes diferencias, ambos se han socializado en la escuela catalana basada en la inmersión lingüística y han consumido desde pequeños esta cultura, la de los medios de comunicación pero también la cultura popular y tradicional.
Las razones para venir son múltiples (trabajo, estudios, amor, etc.) y cada uno se queda como puede porque aquí se siente como en casa. A los inmigrantes y a sus hijos se los ven como si fuesen diferentes, tienen rasgos que denuncian sus orígenes, pero estos no importan, cuando hablan catalán se diluyen las dudas: "Yo nunca me he sentido inmigrante ni mucho menos, pero por el tema del color de piel sí que alguna vez me he pensado: esta persona me ve como a un diferente" (Souley). La catalanidad se hace a partir de la lengua o de haber nacido aquí, pero también hay otras formas de devenir catalán, de formar parte de esta comunidad cultural.
Souley y sus hermanos hablan en catalán entre ellos, a diferencia de Ting y su hermana que rechaza lo catalán. Entre ambos hay nueve años de diferencia y un mundo que les separada: él vota izquierda y ella al partido hegemónico de la derecha en España y él es catalanista y ella españolista. A partir de este ejemplo podemos ver como los inmigrantes pueden elegir lo que quieren ser, incluso siendo hermanos y habiendo nacido en el mismo lugar y en la misma familia. Ellos pueden relativamente elegir irse de su país con un ideal de a dónde van y pueden decidir quedarse y cómo hacerlo, según lo que cada sociedad les ofrezca. En este sentido, cada sociedad gestiona la tensión entre la diversidad interna y su voluntad homogeneizadora, tanto en relación con las personas inmigrantes como con las diferencias culturales y nacionales dentro de los propios Estados. Para hacernos de un lugar tenemos que querer, hay algo que nos hace quedarnos, pero también los otros tienen que querer compartir con nosotros como sus iguales. La discriminación existe en todos lados, pero su profundidad y la gestión que se hace de sus efectos negativos marca la diferencia de todos estos jóvenes que la viven en carne propia y que según eso, querrán, o no, quedarse a aquí para siempre.
A Ting suelen discriminarle por sus rasgos asiáticos, pero ha entendido que en todo el mundo es igual, que los humanos rechazamos lo que no conocemos, hasta que tenemos la oportunidad de entrar en contacto con la diversidad y es ahí donde los conflictos se acaban: "Cuando te escuchan hablar en catalán ya nadie duda, las apariencias engañan, nunca mejor dicho" (Ting). Efectivamente, las apariencias engañan porque los envoltorios sirven para envolver regalos, no personas.
Cuando hablamos de inmigración tenemos que hablar de acogida, pero ¿de qué hablamos cuando hablamos de acoger? Hacemos referencia, en concreto, a un grupo de personas capaz de asumir el riesgo de relacionarse con otros que son diferentes (amigos\as, novios\as, compañeros\as de trabajo, etc.). La endogamia nace de la necesidad de reproducir lo que ya conocemos, de no asumir riesgos ni de poner en duda nuestro prestigio, queremos que nuestros hijos asciendan social, económica y culturalmente. La defensa de unos privilegios o el miedo a asumir riesgos, invertir para ganar o perder, limitan la capacidad integradora. Hay sociedades más acostumbradas a gestionar la diversidad porque también asumen mejor los cambios y tienden a arriesgar más. El otro es diferente y eso puede ser una gran oportunidad, un regalo, pero hay que saber abrir el envoltorio, hacer un esfuerzo y asumir los riesgos de que un desconocido, (alguien que no viene avalado como prestigioso por la sociedad, un inmigrante) nos guste y nos cambie la vida.
La inmigración en Cataluña puede dividirse en dos gran capítulos: una primera interna española entre 1920 y 1970, y una segunda de inmigración externa entre 1990 y la actualidad. Hacia el final del primer periodo, el 50% de los catalanes tenían por lo menos un padre no nacido en Cataluña; al final del segundo, un 28% tenía, además, un padre nacido fuera de España. Las proyecciones de los demógrafos indican que sin inmigración, la población catalana sería de menos de la mitad de lo que es actualmente. Estas cantidades, cercanas a aquellas de Estados Unidos y de Argentina, nos muestran un panorama donde se evidencia que la sociedad catalana actual es producto directo de la inmigración. Esto quiere decir que son muchas las personas que han decidido venir y, además, quedarse, porque, de alguna manera, se les ha hecho sentir que estaban como en casa, o mejor aún.
A diferencia de otras identidades nacionales que son hereditarias, uno puede convertirse en catalán, puede devenir catalán hablando su lengua, viviendo el territorio, compartiendo sus valores y sus momentos de socialización. Esto es posible porque la identidad catalana ha sabido modernizarse, a partir de 1960, y hacerse abierta, que la gente pueda convertirse en catalana, naciendo donde haya nacido. Para 1982, todos los actores sociales, de izquierda a derecha y de pobres a ricos, consideraban que aquel que nacía en Cataluña o hablaba catalán o simplemente trabajaba aquí y quería serlo, podía serlo. Esta capacidad de devenir catalán es básica para entender porque los inmigrantes quieren y pueden devenir catalanes. Finalmente, tenemos también el tema del prestigio de ser catalán, en oposición a ser de su país de origen o español, y aquí vemos que de alguna manera la sociedad catalana ha facilitado a los inmigrantes a devenir catalanes frente al resto de las identidades disponibles. El prestigio de lo catalán es básico para entender porque los inmigrantes quieren ser catalanes.
Además de ir a la escuela y de hablar catalán, Ting y Soley han formado parte de colles castelleres: Souley desde pequeño y Ting porque sus amigos comenzaron a ir y era una forma de estar con ellos. Esta experiencia dentro de una práctica cultural y popular permeable les cambió la vida, como me dijo Souley: "Creo que nadie que haya hecho castells y haya vivido mucho tiempo en una colla se le borre la pasión por los castells, no me lo creo ni quiero creérmelo". Por otro lado, para Ting los castells son como una gran familia, para las cosas buenas y malas, un espacio de socialización donde encontrarnos con otros a partir de un objetivo compartido. Los castells (como los coros, las agrupaciones excursionistas, los equipos deportivos) son mucho más que torres humanas y uno se queda porque encuentra allí una familia electiva, que les sostiene, como una red de apoyo que les hace sentir y vivir la pertenencia a algo.
Como conclusión podríamos decir que una sociedad acogedora es aquella que se compone de muchas personas que se arriesgan, individualmente pero a partir de una concepción social, a relacionarse con alguien que viene de afuera y que tiene menor prestigio. A partir de las mezclas entre personas de aquí y de allá es que todo el mundo puede hacerse catalán, los nacidos aquí tampoco lo serían sin los que vienen de fuera. No suelen decirlo pero los catalanes nacen donde les da la gana, porque catalán no se nace, se hace, y eso es un regalo que hay que saber aprovechar.
Pablo Giori es una especialista en el diálogo entre cultura popular y nacionalismo en Cataluña y Quebec. También trabaja como un investigador y comisario de exposiciones de fotografía. Es un investigador asociado en el Center for Folklife and Cultural Heritage y fue asesor del programa de Cataluña en el Folklife Festival de 2018.