Here Comes the Big Head Brigade!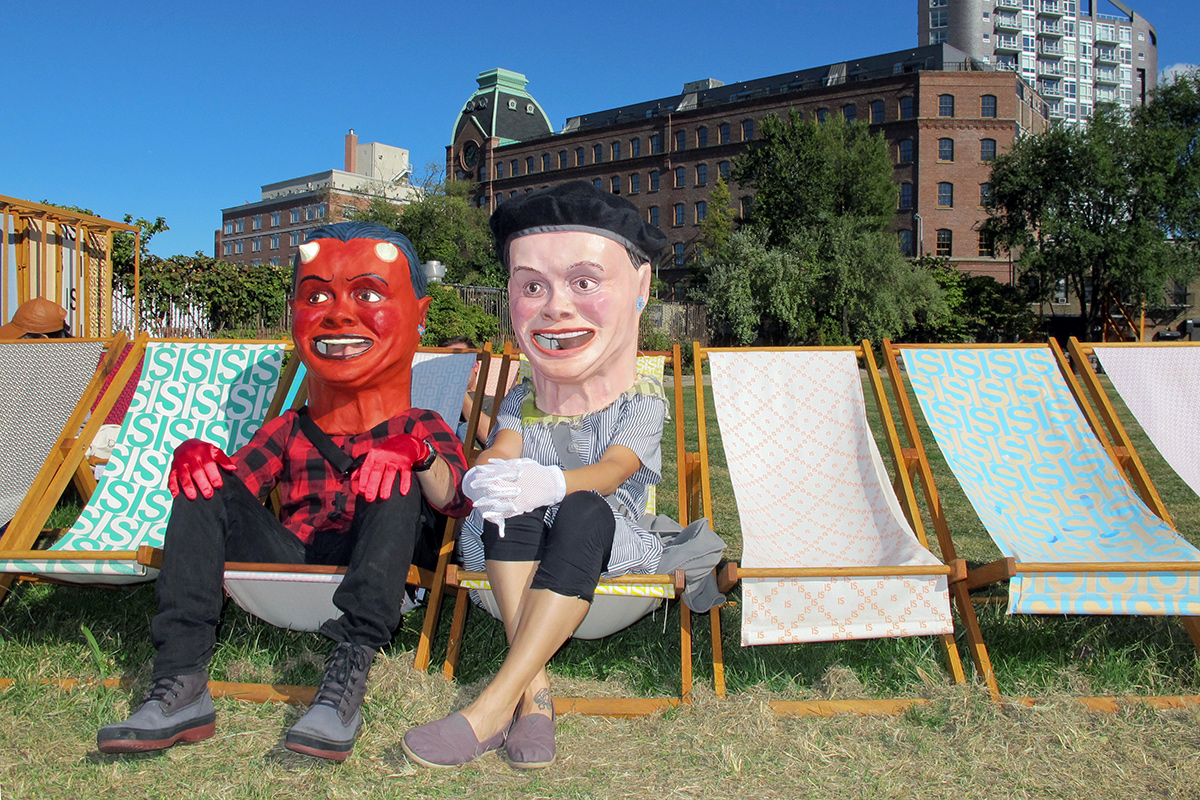 The quietness that envelops Megan Marlatt's workspace resembles the big heads sitting on the shelves, their idleness only disrupted by the occasional train heard from inside the Railroad Avenue Studio. The multifaceted artist and university professor welcomed me into her bright workroom located in Orange, Virginia, on a December afternoon while we shared a cup of tea and talked about her career, her relationship with Catalonia, and the big heads.
Marlatt grew up in Louisville, Kentucky, and has lived in Virginia for the past three decades. Besides her paintings, the artist hosts big heads (capgrossos in Catalan), anthropomorphic figures built out of a material similar to papier-mâché called cartó pedra. The big heads are found in festivals and parades around Catalonia and other parts of Spain. They are often accompanied by giants (gegants) which are taller, and both of them usually represent well known archetypes or historical figures relevant to the community.
When a friend was on a trip in Barcelona and sent photos of the figures to Marlatt, she was instantly enchanted. At the time, she was blurring the line between reality and fantasy, "animating" little children's toys that she immortalized through her art. She projected life into a series of tondos—circular artworks popular in Italy during the fifteenth century—including "Portrait of Olive Oyl as a Rembrandt."
In 2013, Marlatt received a grant from the University of Virginia, where she is a professor at the McIntire Department of Art, to study the big heads in Catalonia. In that pivotal moment, she recalls, "The universe opened up and wanted me to go in that direction, and so there I went." She visited the Girona-based studio of renowned Catalan artists David Ventura and Neus Hosta (known professionally as Ventura & Hosta), where she planned to just paint portraits of their figures, but she learned how to make them too. Although this was a new medium her, she found it very exciting to see her designs and ideas manifest as tangible, three-dimensional characters.
A few months after Marlatt returned from Catalonia, a curator at the Visual Arts Center in Richmond asked her to lead a workshop on making the big heads. Unsure of her skills, she thought, why not bring Ventura & Hosta themselves? Through a grant from the National Endowment for the Arts, the center was able to bring them to Virginia. The Catalan artists worked in Richmond for two weeks, and then worked with Marlatt's students at UVA.
All of a sudden, there was a big group of artists in Virginia with big heads, which prompted Marlatt to establish the Big Head Brigade that same year.
Since then, the group has expanded to include giants as well, with an understanding of how their role differs from big heads in the context of Catalonia. Traditionally, giants represent individuals who are respected, in some cases even revered, while the big heads are more of a parody. In a festival setting, they are playfully ridiculed.
"For a day, you have this time where everyone who was once in power is out of power, and people who have lesser power are in power," Marlatt explains.
This opened a window for Marlatt, who could start playing with the roles of the big heads and giants within the context of the United States. In 2014 she created two big heads inspired by Roberta Smith, a well-known art critic and writer for the New York Times, and her husband, Jerry Saltz. Marlatt has performed with them at big art openings in New York.
"We would walk in with these big heads on, and everybody would recognize us. 'Hey Roberta's here!' and 'Jerry's here!' Anybody in the art world knows who they are. We had mechanics' suits on because we're telling everybody that art critics are the mechanics to the cultural industry. And we would give out merit stickers, things like 'Good job!', 'Keep up the good work!'"
Since then, Marlatt has navigated the international art world and its hierarchical system using the big heads as a satirical device.
Her work with Ventura & Hosta resurfaced in 2017, developing into an unexpected collaboration for the University of Virginia's 200th birthday. During their workshops four years earlier, Ventura had wanted to make Marlatt's class a gift.
"I said, 'Well, maybe you can make a Jefferson as a big head,'" Marlatt told him, because Thomas Jefferson was the founder of the University of Virginia. "But when he realized how important Jefferson was, he said, 'I can't make a Jefferson big head. We have to make him a giant!'"
For the bicentennial, the university commissioned Marlatt to complete a whole set of influential giants. The celebration commemorated the three former presidents who laid the cornerstone of the institution— Jefferson, James Madison, and James Monroe—while acknowledging and honoring the contributions of people who were silenced in the past. In addition to the three ten-foot-tall presidential giants was a representation of Edgar Allan Poe, who was a student at the university in 1826, and a raven that followed him around.
Marlatt accomplished the feat with the help of her team: her friend and fellow artist Ed Miller, and undergraduate student Taylor Parsons who made the costumes with the help of her grandmother. The university also wanted the arms of the giants to move, so they were constructed somewhat differently than those in Catalonia—which meant that the Jefferson giant that Ventura & Hosta created needed to be adapted by Marlatt's team.
"The interesting thing about taking these out of Catalonia and bringing them into America is that there's no context for them in America," she explains. "Even when I copy in verbatim and I bring them over here, I've taken them out of context. And I have to figure out what context they fit in America, because most of the time people would just think it's for Halloween."
She continues to explore how to infuse humanity into puppets through other mediums as well. One of her projects reveals different versions of herself as big heads, including herself as Frida Kahlo, herself as a man, and herself as a devil. She walks, dances, and creates while wearing these oversized masks. Her facial features, recognizable in the big heads, are also captured in the self-portraits she has created while wearing the big heads. Taking a closer look, you can find her bright eyes peeking out of the cartó-pedra structure as seen in paintings such as "Narcissistic Artist and the Seven Inflatable Sins."
Megan Marlatt's artwork and the Big Head Brigade have become an echo of a long-standing tradition that is now being reinterpreted in the United States. They have also traveled back to Europe, reaching new audiences on both sides of the Atlantic. Inspired by the big heads and giants of Catalonia, Marlatt is currently researching carnivals in Belgium for the spring semester as a Fulbright scholar. We are excited to see where the dynamic personality of her work will take her next.
Mariángel Villalobos is a Catalonia program intern for the Smithsonian Folklife Festival. She recently graduated with a master's degree in ethnomusicology from Royal Holloway, University of London. She is from San José, Costa Rica.