"This Is a D.C. Thing!" Head-Roc on Social Issues in Music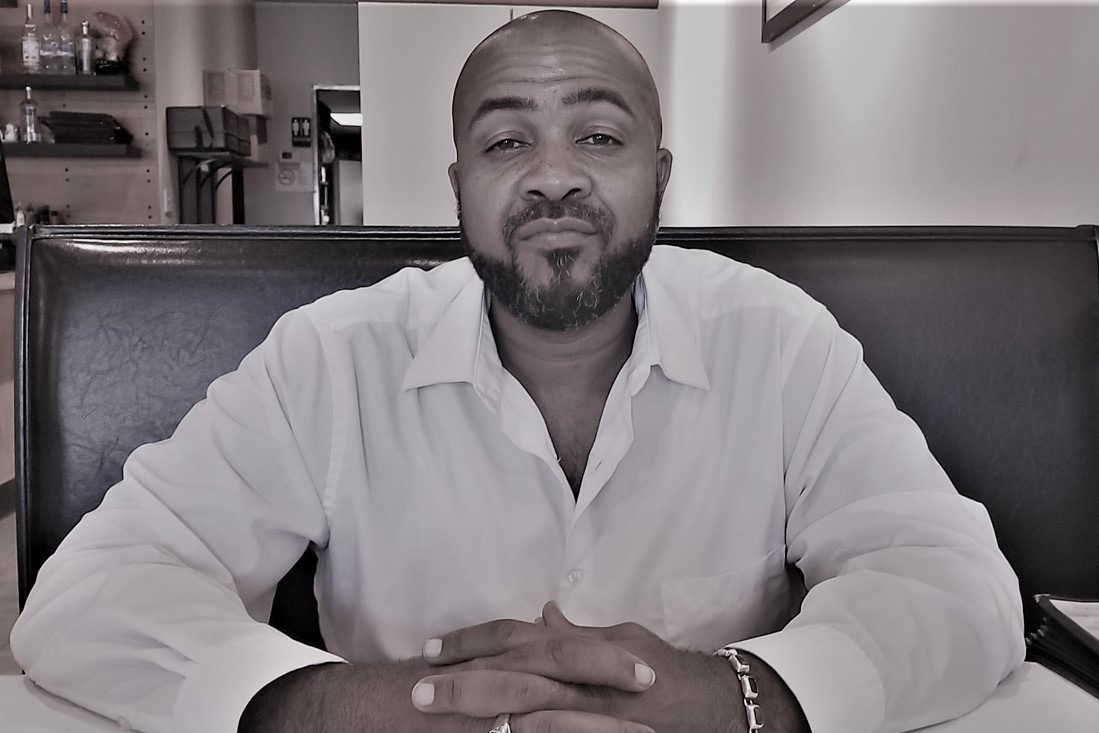 He has been called the "Mayor of D.C. Hip-Hop." Vance Levy, known to many as Head-Roc, has made a name for himself across the region through his commitment to making and supporting music that matters. On the scene since 1993—as a founding member of Infinite Loop and a member of Three Levels of Genius (3LG), which won the Washington Area Music Association's hip-hop award four times—his musical talents and fearless outspokenness have distinguished him as a force to be reckoned with on and off the stage.
With his initiative Chocolate City Rocks, Levy works to bring public awareness and support to socially conscious D.C. artists by organizing performances and other events held around the city. As a writer, he has commented on local issues for the Washington City Paper and Huffington Post DC. As the education director for Washington Area Lawyers for the Arts, he also contributes to ensuring that artists have access to legal resources.
Levy grew up near Seventh and Kennedy streets NW, an area he refers to as "Uptown." Though his family later moved to Maryland, he has spent much of his adult life working and living in the district. From this vantage point, he can testify to how music in the city has impacted both him and the broader culture of Washington, D.C.
Here's what he had to say in an interview from September 2019.
How did you get the name Head-Roc?
My first name, attribute, was G-Clef. It stands for Giving Civilized Lessons Educating Forever. I went by that in the hip-hop collective I'm a member of, the Infinite Loop. One day we were doing a show with KRS-ONE in a place called the Zulu Cave, which was near Bladensburg Road and New York Avenue—where the train tracks are—at a place called De Zulu Cave. This was a place that catered to sounds from Jamaica, reggae music, dance hall. At this show, I was handling the business for the Infinite Loop, and there were some negotiations that needed to happen last minute.
So, I was talking to the promoter, and there was a Rasta nearby, who, apparently, witnessed everything that went down between me and the promoter. When that situation ended, he stopped us and he said, "Man, where I'm from, we call you Heady!" And they started laughing, and they started calling me Heady, and they wouldn't call me G-Clef no more.
So to put the "hip-hopinization" on it, if you will: Head. Dash. Roc. You got Vin Rock (Naughty By Nature), Chubb Rock. You got a lot of "Rocks," you know, so: Head-Roc. That's how that came about.
How has D.C. music influenced you?
Fourth or fifth grade, sixth grade, middle school, high school—that's when I really began to identify D.C. music. Like understanding about go-go, "Oh, this is a D.C. thing!" You know, you heard it, but I began to understand it as something unique to D.C. in my middle school years, in the 1980s. Once we identified that this is from D.C., we all wanted to play it. So, we would have go-go bands in the garage, practicing in the garage at my parents' house or at my friends' parents' houses.
How did you know you wanted to be a musician?
In elementary school, I used to make comic books with a group of friends. It was called the "Cosmic Comics Group." We would have our own comic book characters. We had our own universe. That was my first artistic expression.
It wasn't until high school when a brother named Sir Johnson and his family moved into my neighborhood. They were from New Jersey. Sir was a barber. He used to cut hair for Busta Rhymes. He's actually quite a figure in hip-hop. I don't like to say he's a "background" figure, but, you know, he was a less recognized figure in hip-hop.
But let me be clear about this: I attribute meeting him to be the origins of my wanting to be a musician. One thousand percent! His family had two turntables in the basement and all these records. I had never seen a setup like that before. And they would be in there practicing, DJing and all that. There was a brother, who goes by the name DJ Infinite, used to live with the Johnson family. He and I, together with Sir, formed a group we called Last Resort.
I credit Infinite and Sir and the Johnson family with being the reasons why I eventually decided that I could earn a living as an artist in the discipline of music.
What do you find most powerful and unique about D.C. music?
For me as a black artist, D.C. music is very bluesy. It's very soulful. It's very funky. We are laid back! We some laid back cats here. So I have a D.C. understanding of rhythm, and that gave me an advantage in hip-hop because our rhythm is laid back. It's very funk, heavily funk-based. And what's more, the standards for funk here are very high. Extremely high. There are a lot of D.C. musicians that play all over the world, in funk bands, in different types of outfits that require a funky understanding of rhythm, if you will.
I find this to be true of D.C. music, whether it's go-go, hip-hop, punk: a lot of us are talking about the social conditions in this town because this is the nation's capital. If there's one place in the country where the Constitution and the amendments—where like things are supposed to run by the book, it's supposed to be here. But it doesn't run like that! So that's what artists are talking about.
Even in go-go music, I mean very powerful music. The Junkyard Band's song "The Word," talking about Reagan and the Pentagon. It's a go-go song talking about Reagan in the early eighties! They're talking about what's going on in this town. Hip-hop music does the same thing, and so does the punk community. The punk community's famous for talking about what's going on in this town. And then there's the music of other cultures and communities here as well, who are expressing themselves as they carve out their way to hold their ground to survive in this city.
So there's a lot going on. There's pop culture and the mainstream and what you would call the "underground." I'd like to give it a little more prestige than that: "independent"! Let's say it like that. There's the community that is independent of the opinions of the mainstream and pop gatekeepers and tastemakers, and so at that independent level, aw man, everybody knows D.C. music is awesome! Some of the best musicians in the country, in the world, come out of here!
Find more from Head-Roc on Twitter, Facebook, and Instagram.
Perspectives on D.C.'s Music Legacy
Music is embedded into every nook and cranny of D.C. It begs the question: what is D.C. music? Can it be defined?
On April 20, 2019, the Smithsonian collaborated with Chocolate City Rocks and the Charles Sumner School Museum and Archives to present Make Me Wanna Holler!, a series of activities celebrating the U.S. Postal Service's new stamp honoring D.C. native son Marvin Gaye. Levy organized a discussion in which artists working in different social spaces dug deep into their thoughts and feelings about D.C.
The panel included Elise Bryant (DC Labor Chorus and the Labor Heritage Foundation), Anthony Fields (hip-hop musician, BKA Dimensions of The Package, A.R.K., Infinite Loop), Raj Lidj (funk/go-go musician and creator of Reg'go), and Katy Otto (punk musician and activist, Trophy Wife). Read transcripts of audio excerpts.
Vance "Head-Roc" Levy: What Is D.C. Music?
Levy begins the panel discussion by sharing his thoughts on the meaning of "D.C. music." He calls attention to the significance of go-go and its components, addressing why it's so significant to D.C.'s culture.
Katy Otto: The D.C. Punk Scene
Otto talks about her introduction to punk music in high school and how it resonated with her, inspiring her to play the drums.
Ras Lidj: The Reg-go Sound
Creator of the "reg-go" sound, Ras Lidj recites lyrics from two songs, beginning with "Tour Bus," which was inspired by his experience working at Tower Records in Northwest D.C. during the day and not being able to find cabs that were willing to take him home at night.
Gissel Bonilla is a senior at School Without Walls, a magnet school in Northwest D.C. She volunteered at the 2018 Smithsonian Folklife Festival and began interning at the Center for Folklife and Cultural Heritage in 2019 through the Center for Inspired Teaching's afterschool program, Real World History.
Special thanks to Takoma Radio WOWD FM for the audio recording of the discussion session.