"No Translation Necessary": Hattem Mattar's Third Culture Barbecue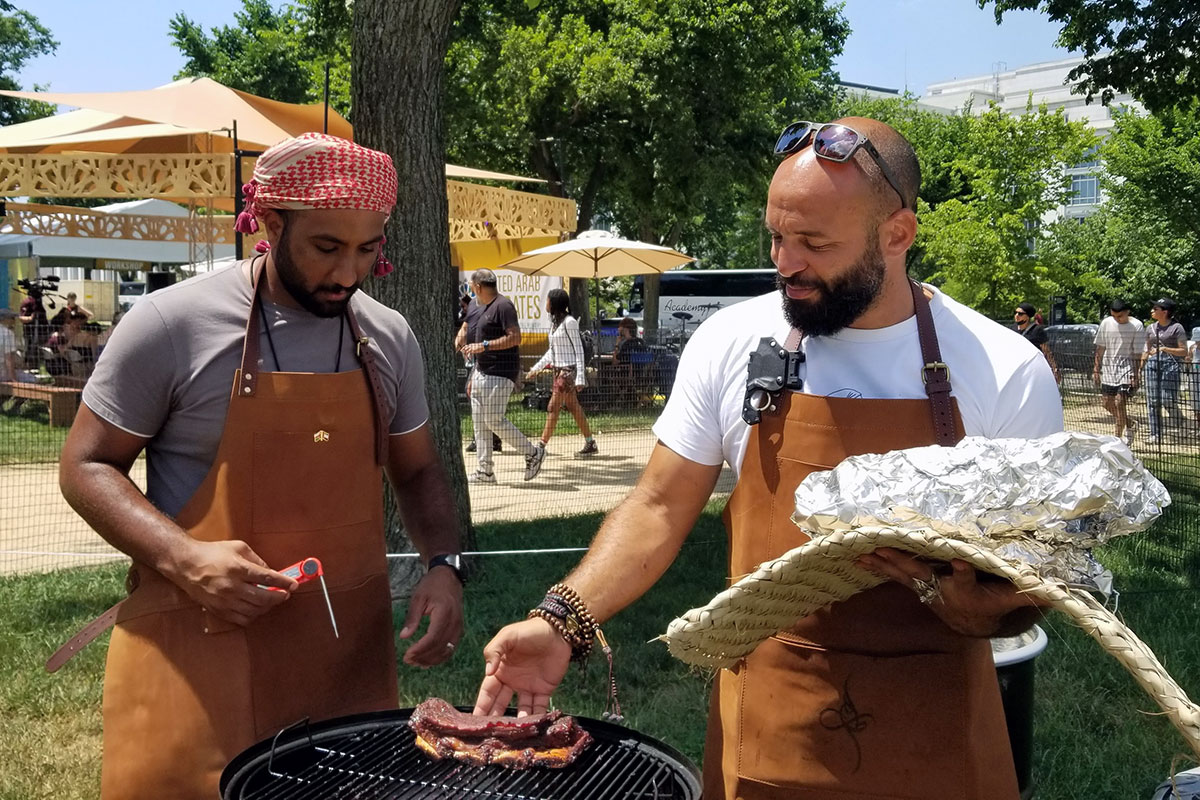 Hattem Mattar wasn't always a pitmaster.
His father wanted him to be an engineer, so he went to school and became just that. "If your Arab father asks you to do something, you do it," he told me, a pit smoker still lightly smoldering behind him.
Mattar worked with a collection of Fortune 500 companies in a successful career as an engineer. When he moved into the field of oil and gas, he found himself on a job in Texas. It was then that his life would change with a bite. Seated with the people who eventually ended up hiring him, Mattar tried brisket for the first time. "I was like, my life has been missing ninety percent of its value," he said. "It's just been brisket ever since."
In the years since that moment, his barbecue has taken him around the world—including the cover of Esquire Middle East—and he's been hailed as the world's first Arab pitmaster. But whether it's at his restaurant and or The Mattar Farm popup in Dubai attracting hundreds, or at the Giant National Capital BBQ Battle this summer in Washington, D.C., serving thousands, Mattar cooks for everyone like he's smoking meat in his own backyard in the United Arab Emirates.
"How we treat cooking for friends and family in the backyard versus how we treat cooking for 'customers' is actually how we got started," he said.
When Mattar first started cooking barbecue in the UAE, it was just for that circle of close people in his life enjoying his food. And then his friends and family brought their friends and family. And those friends and family brought their friends and family. With seven degrees of separation between him and the people he was serving, he said, the next logical step for Mattar was a restaurant.
"To this day we cook in our backyard and in our restaurant in identical fashion, because what got us to the restaurant business in the first place was how we made everyone feel in the backyard." It was the feeling Mattar had trying brisket in Texas that he has learned to replicate in the UAE and around the world. After the bite that changed his life, he taught himself how to make brisket and decided to go back to Texas to ensure he had perfected it.
"The pitmaster term was something that was earned," he boasted. "You don't call yourself a pitmaster. Somebody calls you a pitmaster."
While Mattar had already traveled around the United States, his apprenticeship in Texas took him into what first appeared as unfamiliar territory. Bastrop, a roughly two-hour drive from Houston, was nothing like Mattar had experienced in the States. 
"It's not metropolitan. It's not like a city you've been to and traveled to before. I didn't know what to expect, and I didn't know if I'd be welcome," Mattar said. "But the friends that I made on that apprenticeship still exist to this day."
The similarities between Bastrop and where he grew up thousands of miles away were clearer than one may imagine.
"The familiarity between growing up in the UAE, and being raised in the Middle East in general, and what I saw in the American South is the sense of your neighbor first and community," Mattar said. "It felt very similar actually. A lot of the same belief systems exist, even though they're named different things. They're almost identical."
This discovery of cultural similarities became the core of Mattar's cooking ethos: that barbecue could be a bridge between all kinds of people.        
Bringing a quintessentially American cuisine from the heart of Texas all the way to the UAE posed a variety of obstacles of its own, down to the most basic aspects of the food.
"The challenge to bring barbecue to the UAE is essentially what makes barbecue, barbecue," he said. "The first ingredient is wood. We're in the desert. There's no wood."
Without easy access to the right wood⁠—which Mattar noted in demonstrations throughout the Festival is essential to the perfect barbecue⁠—and no commercial beef farms in the UAE, finding these elements consistently enough to run a restaurant proved to be very difficult.
What was clear from the start, however, was how American barbecue would be translated into Arab cuisine and flavors. "The idea was always to spice it differently," Mattar said. Bringing Emirati spices and date-based barbecue sauce to the dish has helped make the cuisine the region's own. And in the UAE, residing and visiting Americans will find Mattar's restaurant, The Farm House, for a taste of home. But instead of their usual side of corn and baked beans, customers get their barbecue with a side of mandi rice or goat cheese mac and cheese.
Serving all with a universal vision of cuisine, Mattar and his brisket have become a staple of cultural connection and conversation in the UAE. His work has elevated him to the status of culinary diplomat for both the UAE Embassy in Washington, D.C., and for the U.S. Mission to the UAE. "We've got bilateral barbecue relations going on," Mattar quipped during a food demonstration at the Festival Foodways tent.
With a passion for cross-cultural cooperation and discovery, Mattar's involvement in this year's Folklife Festival falls in line with all the work he's done and wants to continue to do. Throughout the latter half of the Festival, he hosted cooking demonstrations where he shared cooking tips, stories, and traditions from the UAE with the audience.
"Do you guys know what we all have in common?" he asked the gathered crowd during one session.
"Barbecue!" they responded in a laughing chorus.
Critical to Mattar's presentation was getting across this idea of both the local and global community around a plate.
"You never light the barbecue for one person. You're not lighting a barbecue for one hot dog," he pointed out, showing pieces of meat in the mirror above the demonstration kitchen. "If you are, please see me after. We should have a conversation about this."
According to Mattar, the reason barbecue is the great connector is because every culture has a live-fire cuisine. Even vegetarian cultures, he says, put their vegetables on the barbecue. "If you put barbecue on the table, it automatically invites the entire planet—regardless of race, religion, color. It invites the entire planet to sit down," he said.
And while Mattar used his platform at the Festival to teach his audience about region-specific traditions and Arab hospitality, his central focus was how barbecue transcends and unites different cultural identities. The idea of "third culture barbecue" is how Mattar explains the intersection of different cultures and cuisines under the banner of barbecue, and it's a signature of his restaurant.
"We call it third culture barbecue because I'm originally Egyptian, born in Egypt, raised in the UAE, educated in Canada," he said at a demonstration. "It is a cuisine that is from somewhere, raised somewhere, but born somewhere else. And that's essentially what we're trying to do: put that on a plate."
It's clear Mattar believes barbecue has the power to do the kind of cultural connecting that anthropologists dream of. When I asked him if there was a time he felt that power was particularly salient, he looked around the Folklife Festival.
"This moment right now," he said. "This moment right here feels like barbecue has been a bridge to come to D.C. to spend time with the Smithsonian, to spend time with you guys. To learn about other delegates that are here and what barbecue means to them."
The Festival was a landing point for what would become Mattar's tour around the United States , taking him to California, Louisiana, Colorado, New York, and, of course, Texas. Feeding people across America, he's noticed that the "new" flavors in his food spark conversations with people who otherwise couldn't pinpoint the UAE on a map.
At the Giant National Capital BBQ Battle in June, just down the street from the Festival, Mattar said his team served over 5,000 people their own twist on barbecue. "When we put that plate to people, it was instantly recognizable that this was brisket," he said at a demonstration. Then, when customers asked questions about the spices, they would start talking about Emirati spices and Emirati identity. "Then all of a sudden it's a conversation about where we're from sparked by a plate."
And that conversation is one that transcends any distinct language.
"We all speak the same language," Mattar said. "No translation necessary: barbecue."
With no language barrier, the mission of hospitality is much easier. And when it's about the culture and the people, Mattar is happy to serve. "Being in hospitality, there's obviously the financial aspect that keeps your regular day-to-day life running, but there is an emotional aspect that you can't compare to the corporate jobs," he said. Crafting special food moments and building those connections, "that's something that you can't quantify," he said.
When I asked Mattar what he wanted people to take with them when they eat his food, his answer was simple. "I want them to close their eyes as soon as they take a bite," he said. "I want them to close their eyes and open them having been turned into completely different people, just from that bite of food."  
Annabella Hoge is an intern with the 2022 Folklife Festival's media team. She is a rising senior at Georgetown University studying American studies, anthropology, and journalism and hails from Los Angeles, California. She has been the grillmaster at a barbecue once in her life and it was thrilling.