Girlhood on the Move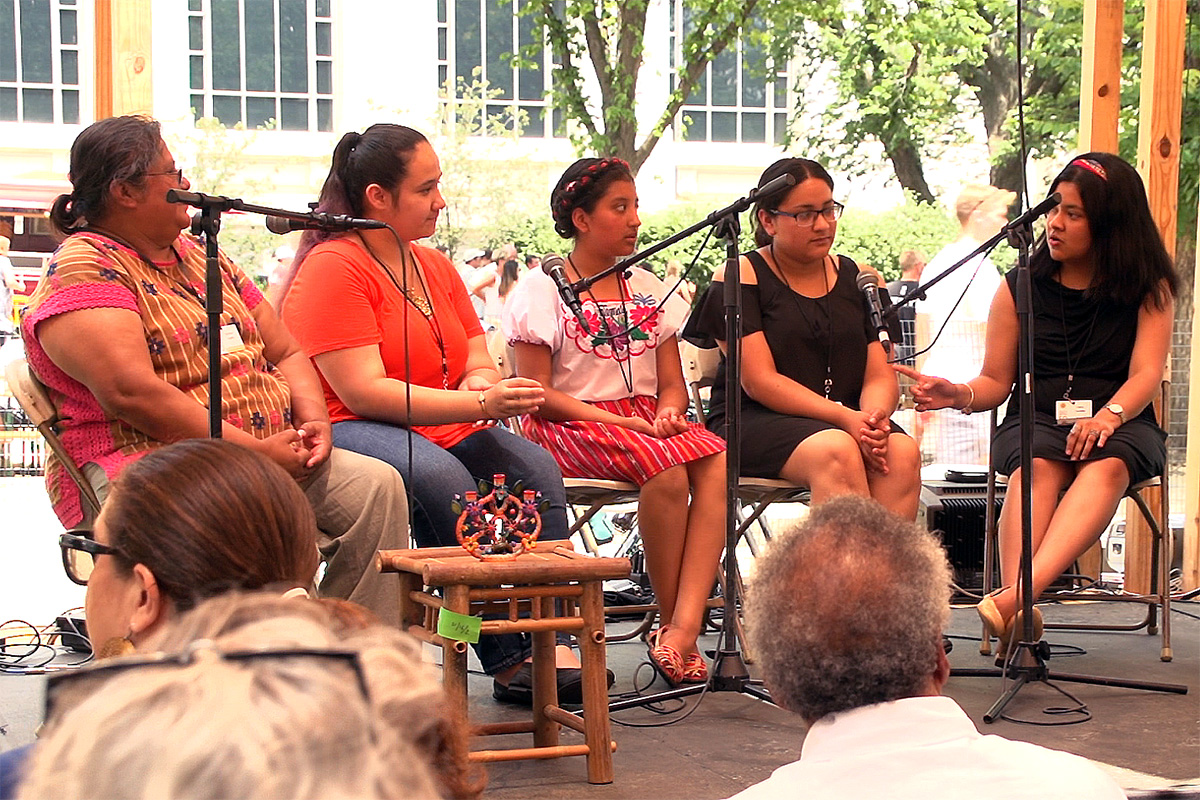 In a discussion session called "Girlhood on the Move," participants from Texas via Mexico and Washington, D.C., via Central America shared their feelings on the bold differences between the childhood experiences of mothers and daughters.
National Heritage Fellow sculptor Verónica Castillo participated in this intergenerational conversation, specifically discussing how the meaning of girlhood has changed across time and borders.
"In my country, even if you're suffering, the child is free," Castillo reflected on growing up in Mexico. "The child can easily climb a tree to eat a fruit and run in the field chasing butterflies. Even if we don't have the material things we desire, we are happy with what our parents provide. My daughter was born here, and something that I notice that has changed is she loses the sensibility of a child. She never had the chance to climb tree, to run in the fields, and it saddens me that she didn't have the same kind of childhood as I."
For young panelists Tania Latín, Fatima González, Darcy Rodríguez, and Marcelina López—all members of the Paso Nuevo Youth Ensemble—American girlhood strikes a sharp contrast to their mothers' experiences in el campo, the country and fields of El Salvador and Guatemala. There, girlhood is carefree, but becoming a woman swiftly demands more responsibility, especially in areas of poverty. Young women in those settings are taught domestic tasks. They often help in the kitchen, or get a job at a young age.
"From very young they teach women that they have to learn to cook, to do housework, and to be good housecleaners," Latín said. "On the other hand, here, our main focus is to study and to be somebody in life."
Most of the Paso Nuevo Youth Ensemble alternated between Spanish and English as they discussed how estrés (stress) has taken different forms between generations: the younger focuses more on school than on working for the family. To them, this academic form of stress is an opportunity. In contrast with their mothers and grandmothers, they have the option to choose a career. They may work hard and achieve in a way that those before them could not.  
"Here you can be an independent woman and not follow the rules that the Latino Hispanic culture has taught us," González said.
The girls expressed their independence through theater, writing obras de teatro (plays) on machismo, their cultures, and other subjects important to them.
The audience of varying ages listened quietly to each question and each response. As the Paso Nuevo members spoke between two languages, their expressions of gratitude and ambition could be felt beyond language barriers. For audience members from similar immigrant experiences, their discussion brings to light a common experience: a generational shift that is both complex and powerful.
Kiana Espinoza is a marketing intern at Smithsonian Folkways Recordings and a junior at the College of William & Mary studying English and Hispanic studies.