Traditional Garifuna Recipe: Hudut (Coconut Fish Stew and Mashed Plantains)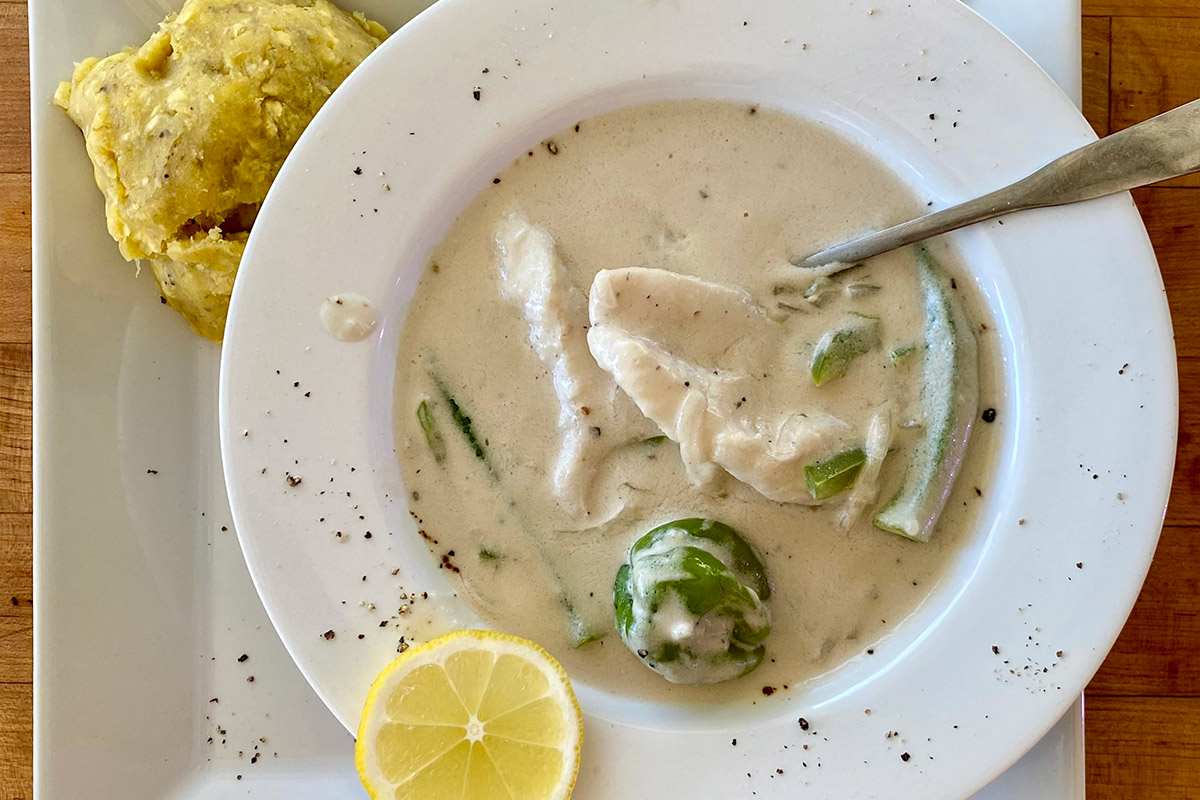 At Veronica Tun's house, Saturdays are for hudut. Tun, an Indigenous Belizean Creole fisherwoman living on the Belize coast, says she usually makes the dish for her family once a week. They know it's on the menu when they hear Tun pounding plantains in preparation. Even when she doesn't intend to cook for a crowd, she often finds her extended family at her home on the days she cooks hudut.
The coconut milk-based fish stew served with mashed plantains is a traditional Garifuna dish. The Garifuna people are of mixed Afro-Indigenous ancestry, said to have emerged as the result of a seventeenth-century shipwreck off the Caribbean island of St. Vincent and then dispersed across Central America. After meeting her partner, a Garifuna fisherman, Tun began learning about fishing and decided to leave her work in hospitality twenty years ago.
Now, she and other Indigenous fisherwomen in the area work with the marine conservation organization Blue Ventures, which partners with traditional fishers and community-based organizations in fourteen countries to design, scale, strengthen, and sustain fisheries management and conservation at the community level. The organization helps to build and expand fishers' capacity in different knowledge areas, such as data literacy, working across Belize in marginalized areas.
Ronalee McKenzie, fisheries coordinator at Blue Ventures in Belize, speaks passionately about the need to support traditional producers like Tun, who provide for their economy in a measurable way and are at the forefront of conservation. She helps them "build their capacity so they get the respect and recognition they deserve." Both women traveled to Washington, D.C., this summer to represent Earth Optimism × Folklife and sustainable practices at the Smithsonian Folklife Festival.
In southern Belize, Tun catches a variety of species, including snapper, barracuda, rockfish, grouper, mackerel, and lobster, among others. She typically makes hudut with snapper or grouper, but at the Festival—in the spirit of climate action—she made it with lionfish. Native to the Indo-Pacific, lionfish are threatening coral reef ecosystems in the Atlantic, Gulf of Mexico, and Caribbean. Tun is all too familiar with lionfish and its impact on Belize's local ecology, but she had never eaten one before she arrived in D.C.—in large part due to the fish's venomous spines, which makes them hard to handle unless you've been trained to remove them.
The day before her first cooking demonstration at the Festival Foodways tent, Tun learned to fillet and cook lionfish from Anthony Valiulis, co-founder and chief supply officer at Netless Catch. The fast-growing seafood start up seeks to manage the lionfish invasion in the Belize Barrier Reef by creating innovative food, clothing, and jewelry solutions using every part of the fish. They also work to increase the livelihoods of sustainable fishers by hiring local artisanal spearfishermen and women to catch their fish.
Contrary to popular belief, lionfish are venomous, not poisonous, meaning toxin is injected rather than ingested. Once the venomous spines are removed, or the venom is broken down with UV light or heat, the fish can be handled and eaten with no risk to the consumer. The flakey white fish, similar in its versatility and mildness to cod, is high in omega-3s and low in mercury, and it can be used in a variety of dishes. Organizations such as the Belizean group Belioness and the U.S.-based INVERSA Leathers turn lionfish fins and skin into jewelry and textiles, respectively. 
Valiulis calls Netless Catch's lionfish "restorative" rather than sustainable seafood, because they don't want to merely sustain the ocean as it is but improve and protect it by removing something detrimental. Eating one plate of lionfish can save thousands of reef fish, he claims. Ultimately, he hopes to more than quadruple the volume of fish they're selling by increasing sales to restaurants and getting products into retail stores.
In D.C., Tun and Valiulis cut the filleted lionfish into pieces, breaded it, fried it, and topped it with a savory-sweet sauce. Tun tried the fish and approved. For the next two days, she made her hudut with lionfish, commenting on how quick and easy it was to cook. Now that she knows how it tastes and how to handle it, she says she'll start catching it in the waters of Belize.
Hudut
Recipe by Veronica Tun
Ingredients
 
3 green plantains
2 ripe plantains
1 whole fish, such as lionfish, snapper, or grouper
2 cans full-fat coconut milk
½ onion, sliced
½ green bell pepper, sliced and cut into 1-inch pieces
1–2 cloves garlic, grated
1 habanero pepper, whole
5–10 small okra, de-stemmed and whole
3 basil leaves
Salt
Pepper
Preparation
To prevent the plantains from staining your hands, apply a small amount of oil to your handsbefore peeling. Cut the ends off each plantain and slice the peel from one end to the other. Unpeel each one, keeping the green and ripe ones separate.
Put the green plantains in a small pot and cover with salted water. Bring to a boil and boil until soft (about 15 to 20 minutes or more). Remove green plantains from the pot and add ripe plantains to the boiling water (they will take less time to soften). Once they are soft, remove them.
Combine the plantains, add a bit of salt, and mash. Add small amounts of water as needed to hydrate the mash. Mash until uniform and form into a ball. Set aside.
Optional: season fish with salt and pepper and fry until brown. Set aside.
In a skillet or pot, pour in the coconut milk and heat, stirring continuously. Add the onion, bell pepper, and garlic. Stir in the basil leaves, and let it steam for roughly 10 minutes. Make sure to keep stirring the mixture to avoid burning or curdling the coconut milk. Add the whole habanero pepper and the okra. Cook on low heat until the okra is softened.
Add the fish to the mixture and continue to cook until the fish is cooked through. If you don't fry the fish beforehand, you can turn up the heat here as long as the coconut milk doesn't curdle.
Salt and pepper can be further added to taste.
The plantain mash is served on the side.
Katie Reuther is the 2022 Festival foodways intern and a food studies graduate student interested in the intersection of food, culture, and identity.