When Food and Culture Are Celebrated Together: Benin's Yam Festival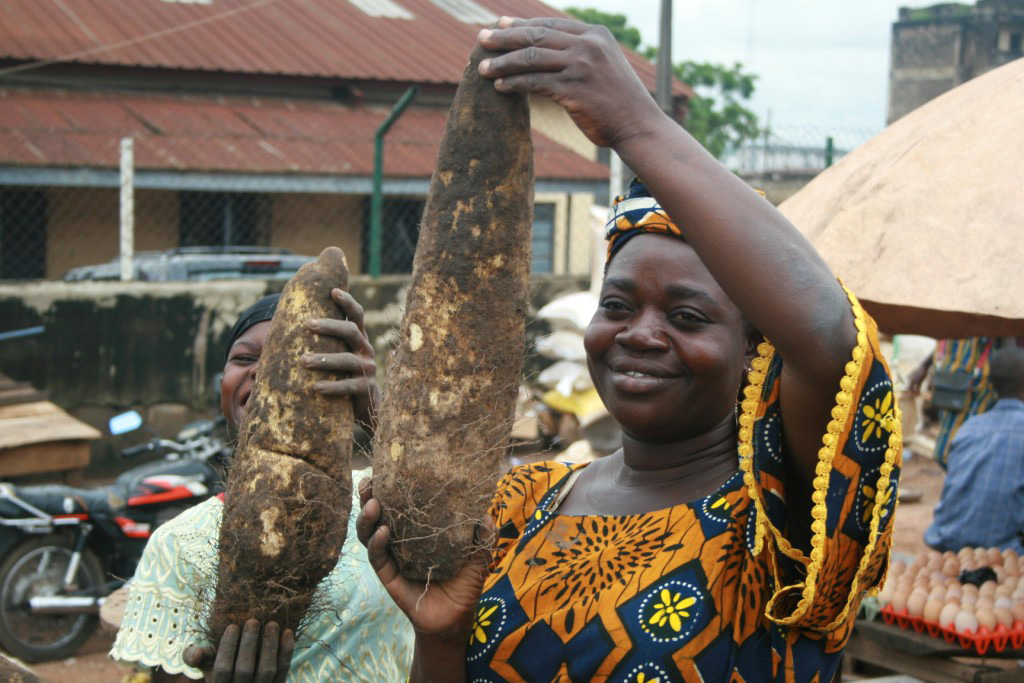 Each year on August 15, Benin celebrates the Yam Festival. The event marks the harvest period and draws thousands of Beninois and tourists to Savalou, the city of the Gbaguidi royal family. Savalou is widely known as the cultural and geographic center of yam cultivation.
The Yam Festival is celebrated by members of ethnic groups like the Mahi, Nagot (Yoruba), Bariba, Dendi, and others, for whom yam is a staple crop and a marker of identity. Unlike cassava, maize, or rice, yam is a native product of these regions and is thus deeply rooted in the culture of their populations. In traditional symbolism, it is through the yam that the spirits of the ancestors are renewed. Eating yam is of course nourishing, but, more than that, it is a communion. Yam holds equal culinary, economic, and cultural importance to the peoples of Benin.
Today yam production is increasing, and yam consumption extends beyond the rural areas where it is traditionally grown, in the central and northern regions of Benin. It is prepared in various forms, but the most prized is pounded yam (in French, igname pilée), known as agu in southern and central Benin and chokuru in northern Benin. Preparing yam by pounding can be tedious work, whether in restaurants or in households, and requires about thirty minutes of intensive physical activity. Pounding—traditionally performed by women using a wooden mortar with a large pestle—yields the soft paste that is eaten with sauce.
Several innovations are contributing to increasing yam consumption. First, the Centre for Research in Agri-Food Technology developed an alternative yam pounding technology in 2004: a pounding machine. The machine can yield pounded yam in just five minutes. Second, an emerging industry now provides pre-cooked and dried shredded yam, which can be stored for several months, longer than the fresh tuber. With the adoption of a new cooking technique that uses the dried shredded yam, this development eases the seasonal fluctuations in availability and price that affect the fresh yam market.
Researcher Marthe Montcho provided the above article, adapted from her blog, Agriculture au Feminin. Below is an interview with Montcho about her own experience with agriculture and yam in particular.
How did your journey into agriculture begin? 
Since childhood, agriculture has always been a passion for me. I loved spending my holidays in the village with my grandparents in the fields of yams and peanuts, and sometimes trapping small animals like cane rat and rabbit. After my bachelor's degree, I completed a double training at the university. I enrolled in both the department of Human and Social Sciences and the department of Agricultural Sciences. For me, these two kinds of training go hand in hand.
I am currently a researcher and assistant professor in the Zootechnic Laboratory of the department of Agricultural Sciences of the University of Abomey-Calavi in Benin. The areas I work on are pastoralism, livestock farming, climate change, environment, and gender and resource management. I aspire and work toward the agricultural development of Benin and West Africa through the identification of the major challenges facing agro-pastoralist communities, the development and implementation of scientific research projects, and, finally, the dissemination of innovative results of this research in the form of illustrated technical sheets in local languages, so that communities can easily adopt the products or recommendations derived from the research.
In 2013 I launched my blog Agriculture au feminin. At that time, food insecurity was in full swing, and the rate of young graduates without a job was alarming in my country. I felt a duty to draw the attention of women and young people who were most concerned with the situation to the best solution against food insecurity and youth unemployment: agricultural entrepreneurship. Through my blog, I put a spotlight on women and young people who have succeeded in agriculture. I also shared the innovative results of agricultural research and the new cultural techniques that have proven their worth.
One year after launching my blog, I received an award for best agricultural blog in the ACP region (Africa, Caribbean, Pacific) from the Technical Centre for Agricultural and Rural Cooperation. In 2016, I was recognized with a Youth Benin Award for service to the community, and on International Women's Day in 2017, I was recognized as one of the influential women in agribusiness in Benin.
What areas of cultural knowledge does the Yam Festival touch on?
The yam festival is simultaneously cultural, ritual, and artistic. Beyond the nutritional value of the yam and its benefits to the body in terms of food, its consumption is highly ritualized, with ceremonies for each new harvest.
For the Mahi people of Savalou, a socio-ethnic group based in central Benin, the Yam Festival is an opportunity to worship the ancestors, who make the good harvest possible.
Every year, when the harvests begin, it is absolutely necessary to consult the oracle to determine whether to consume the yams. Before the diviners consult the Fa, worshipers of the Vodun deities Heviosso, Sakpata, Azaka, and Daah express the cultural and religious richness of the region and its heritage in a spectacular demonstration filled with sounds and colors. This is followed by dances to the rhythms of traditional music sung by local artists.
In these ways, the Yam Festival is a celebration of identity, as well as a celebration of national unity. It brings together all Beninois, regardless of ethnicity, religion, or political side. It is also developing as a tourist attraction in Benin. Many tourists come to discover our history, what we know how to do, and who we are via the Yam Festival.
What does yam signify to you personally?
I am of the Mahi ethnic group from the central Benin region, an area of high yam production. My grandparents produced different varieties of yams on nearly 250 acres. They determined the particular varieties of yam to plant based on the conditions in each area. They cultivated yam varieties depending on the nature of the soil:
Black soils: Laboko variety
White clay soils: Tchoutchouga variety
Laterite soils: Gnanlambo, Kangni, and Mondji varieties
Lowland soils: all yams except Kokoro and Gnanlambo
Grainy soils: Kokoro varieties, Aloungan
Typical of Mahis, they ate various yam-based foods and culinary dishes.
My favorite meal is pounded yam with basil sauce and smoked rabbit meat. Since my childhood, my parents have fed us pounded yam, and it is the special dish that we eat each September 22 to celebrate our birthday—that of my twin sister and me.
Article by Marthe Montcho reproduced and translated with permission. The interview was conducted and translated by Rebecca Fenton, curator of the Benin program at the 2020 Folklife Festival.
Quand la culture et l'alimentation se fêtent ensemble, c'est la fête de l'igname au Bénin
A la date 15 août de chaque année, c'est la fête de l'igname au Bénin. Cette fête marque la période de la récolte et draine des milliers de Béninois et touristes vers Savalou, la cité des Gbaguidi. La commune de Savalou est connue comme le lieu géoculturel par excellence où se célèbre l'igname.
Cette fête est l'appartenance des groupes socioculturels tels que les Mahi, Nagot, Bariba, Dendi et autres ethnies. L'igname est ancrée dans les habitudes alimentaires de ces populations et constitue un marqueur de leur identité. Au contraire du manioc, du maïs ou du riz, l'igname est un produit natif de ces régions et est ainsi profondément ancrée dans la culture de leur population. Dans la symbolique coutumière, c'est au travers de l'igname que renaît la vie des ancêtres. Manger l'igname, c'est bien sûr se nourrir, mais c'est surtout une communion. Ainsi donc l'igname est l'une des cultures qui revêt une importance aussi bien alimentaire, culturelle qu'économique pour les populations du le Bénin.
Elle s'est insérée dans les habitudes alimentaires des ménages urbains et sa consommation dépasse désormais les aires géographiques traditionnelles que les milieux ruraux. L'igname est consommée sous diverses formes dont la plus prisée est « 'l'igname pilée' » connue sous le nom de « agou » au Sud et au Centre Bénin et « tchokourou » au Nord Bénin. Le pilage d'igname, tant dans les ménages que dans les restaurants, est un travail fastidieux (forte dépenses d'énergie physique) pouvant durer une trentaine de minutes environ. Selon la tradition, le pilage est réalisé par des femmes utilisant un mortier en bois et un grand pilon, et donne une pâte mangée avec des sauces.
Quelques innovations rendent l'igname de plus en plus recherchée aujourd'hui. Depuis 2004, une technologie alternative de pilage d'igname, la pileuse électromécanique élaborée par le Centre de Recherche en Technologie Agroalimentaire (CRTA) a été mise sur le marché en vue surtout de promouvoir sa consommation dans les milieux urbains au Bénin. La pileuse, contrairement au mortier à pilon, permet d'obtenir en cinq minutes de l'igname pilée. Ce qui constitue un gain en temps, une diminution de l'effort physique et une garantie de la qualité de l'igname pilée.
Quant à la conservation et la transformation de l'igname, une filière marchande de cossettes d'igname précuites et séchées, fournit l'igname qui peut se conserver plusieurs mois, plus que les tubercules frais. Elle a permis de lever la plupart des contraintes rencontrées dans les filières dominées par les tubercules frais.
Chercheur Marthe Montcho a fourni l'article ci-dessus, adapté de son blog, Agriculture au féminin. Ci-dessous, vous trouverez un interview de Montcho qui touche sur sa propre expérience avec l'agriculture et l'igname en particulier.
Comment êtes-vous arrivée à travailler sur l'agriculture ? 
Depuis mon enfance, l'agriculture a été toujours une passion pour moi. J'aimais passer mes vacances au village chez les grands parents dans les champs d'ignames et d'arachides et quelques fois à piéger les petits animaux comme l'aulacode, le lapin. Après mon diplôme de baccalauréat, j'ai suivi une double formation à l'Université. Je m'étais inscrit à la fois à la Faculté des Sciences Humaines et Sociales et à la Faculté des Sciences Agronomiques. Ma passion étant l'agriculture, pour moi ces deux formations vont de paires.
Je suis actuellement chercheur et Assistante-Enseignant au laboratoire de Zootechnie de la Faculté des Sciences Agronomiques de l'Université d'Abomey-Calavi au Bénin. Mes axes de recherche sont: Pastoralisme, Changement climatique, Environnement, Genre et gestion des ressources animales, Alimentation animale, Système d'élevage. J'aspire et je travaille à contribuer au développement agricole du Bénin voire de l'Afrique de l'Ouest à travers l'identification des défis majeurs des communautés d'agro-éleveurs, l'élaboration et l'implémentation des projets de recherche scientifique et enfin la diffusion des résultats innovants de ses recherches sous forme de fiches techniques illustrées et en langues locales pour l'adoption facile par les communautés des produits ou recommandations issus de ses recherches.
J'ai lancé en 2013 mon projet de blog dédié à l'agriculture avec la thématique « Femmes-Agriculture-Développement Rural » parce que dans le temps l'insécurité alimentaire battait son plein et aussi le taux des jeunes diplômés sans emploi était alarmant dans mon pays. J'avais sentir le devoir d'attirer l'attention des femmes et jeunes beaucoup plus concerné par la situation sur l'unique solution contre l'insécurité alimentaire et le chômage des jeunes : l'entreprenariat agricole. A travers mon blog, je mets un coup de projecteur sur ses femmes et jeunes qui ont réussir dans l'agriculture, je leur donnais une visibilité… Je partageais aussi les résultats innovants de la recherche agricole et les nouvelle technique culturales qui ont fait leur preuve.
Une année après le lancement de mon projet de blog, j'ai reçu le prix YOBLOCO, meilleur blog en agriculture dans la région ACP (Afrique, Caraïbe, Pacifique), une distinction du Technical Centre for Agricultural and Rural Cooperation (CTA). En 2016, j'ai été distinguée à YOUTH BENIN AWARD pour service rendu à la communauté et le 08 Mars 2017, j'ai été reconnu comme l'une des femmes influente dans l'agrobusiness au Bénin.
Quelles domaines de savoir culturel aborde-t-elle la fête de l'igname?
La fête d'igname est à la fois culturelle, cultuel dans le sens religieux, et artistique. Au-delà de la valeur nutritionnel de l'igname et ses bénéfices pour l'organisme en terme d'alimentation, sa  consommation  est  fortement ritualisée, régie, à chaque nouvelle récolte, par des cérémonies  entretenant  la cohésion des groupes sociaux et activant leur identité. Pour le peuple Mahi de Savalou, groupe socio-ethnique basé dans le centre du Bénin, cette fête de la nouvelle igname est aussi une occasion de vouer un culte aux ancêtres pour avoir favorisé la saison qui a permis la bonne récolte de l'igname.
Chaque année, lorsque les premières récoltes de l'igname sont effectuées en sa saison, il faut coûte que coûte consulter l'oracle avant de consommer ou non l'igname lors de la fête de l'igname. Avant la consultation proprement dite du Fa, les adeptes du culte Vodoun, Heviosso,  Sakpata, Azaka, Daah, dans une démonstration spectaculaire, riche en sons et en couleurs, démontrent la richesse culturelle et cultuelle de la région et de l'ethnie avant le ballet et danses au rythmes de la musique traditionnelle chanté par les artistes locaux.
La fête d'igname est une fête d'identité qui se tient à la date du 15 aout selon l'accord de l'oracle. La fête d'igname est également une fête d'unité nationale en ce sens qu'elle rassemble tous les béninois peu importe leur ethnie, leur bord religieux ou politique. C'est aussi une fête qui fait développer le tourisme au Bénin. Plusieurs touristes viennent découvrir à la fête de l'igname notre histoire ce que nous savons faire et ce que nous sommes au Bénin.
Pour vous-même, personnellement, que signifie l'igname?
Je suis d'ethnie Mahi de la région du centre Bénin, zone de forte production d'igname. Mes grands-parents produisaient différentes variétés d'ignames sur près d'une centaine d'hectares. De façon spécifique, ils définissaient par rapport aux types de sols, les variétés d'igname à y planter. Ils cultivaient les variétés d'ignames suivant la nature des sols :
Sols noirs : variété Laboko
Sols blancs argileux : variété Tchoutchouga
Sols latéritiques : variétés Gnanlambo, Kangni et Mondji
Sols de bas-fonds : toutes les ignames sauf les variétés kokoro et Gnanlambo
Sols granuleux : variétés Kokoro, Aloungan
Comme les Mahis, peuple du centre-Bénin, ils se nourrissaient de différents mets (recettes culinaires) à base d'igname.
Mon repas préféré est l'igname pilé accompagné de la sauce de basilic et de la viande de lapin fumée. Depuis mon enfance mes parents nous offre le plat de l'igname pilé et ceci de façon particulière chaque 22 septembre pour célébrer notre anniversaire (celui de ma sœur jumelle et moi).
Article de Marthe Montcho reproduit et traduit avec la permission de l'auteur. Interview réalisé et traduit par Rebecca Fenton, commissaire du programme du Bénin au Folklife Festival 2020.