Pocket Cinema Preview: An Earth Optimism Video Playlist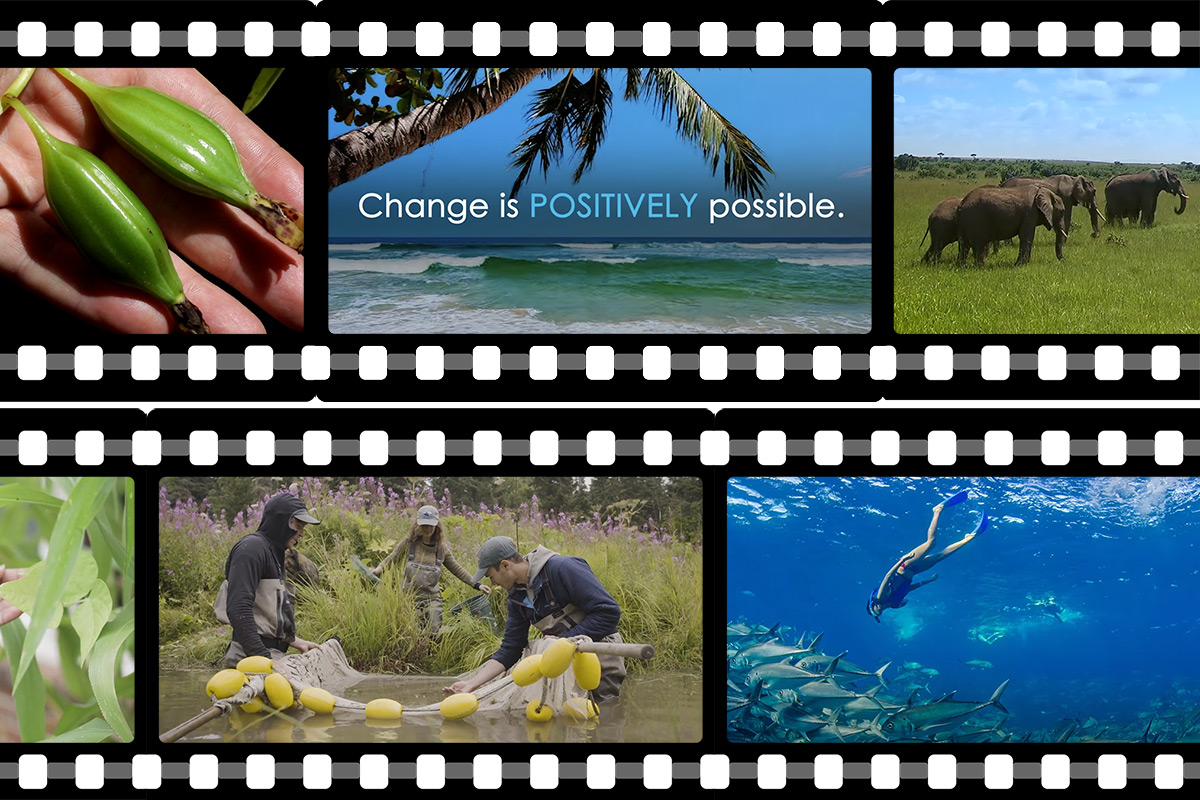 Earth Optimism is a Smithsonian movement that focuses on changing the climate change narrative from doom-and-gloom to hope, inspiring action and mobilizing a global community. This year, the Folklife Festival will bring this celebration of conservation action and planetary possibilities to the National Mall from June 22 to 27 and June 30 to July 4.
For the first time, Festival audiences can visit a pop-up movie theater, the Pocket Cinema, to watch a curated collection of short documentary films throughout the day. To give you a sneak peek, this Earth Optimism video playlist reflects the visible progress toward solutions addressing some of our planet's most significant environmental challenges. Each of these shorts provides a vignette of the new ways of living, learning, and working toward a shared sustainable future.
We invite you to discover solutions and positive change presented by storytellers, community leaders, innovators, scientists, and artists working to create a sustainable planet. The playlist will inform, inspire, delight, and most importantly, leave visitors with hope for our planet and ideas of how to get involved with projects around the world and within their own communities. If you enjoy these films, be sure to visit us this summer and catch more selections in the Pocket Cinema.
The Pocket Cinema at Folklife Studio is sponsored by HHMI Tangled Bank Studios.
1. Earth Optimism: Change Is Positively Possible
Produced by Smithsonian Earth Optimism
The global conservation movement has reached a turning point. We have documented the fast pace of habitat loss, the growing number of endangered and extinct species, and the increasing speed of global climate change. Yet while the seriousness of these threats cannot be denied, there are a growing number of examples of improvements in the health of species and ecosystems, along with benefits to human well-being, thanks to our conservation actions. Earth Optimism celebrates a change in focus from problem to solution, from a sense of loss to one of hope, in the dialogue about conservation and sustainability.
In 2017 this brief but energetic video introduced the Smithsonian's new conservation initiative, Earth Optimism.
2. Orchids: Preserving the Jewels of Palau
Produced by the Smithsonian Environmental Research Center
Can a plant be used an indicator of environmental change? The Pacific Island nation of Palau is home to nearly a hundred different species of native orchids. More than thirty are found nowhere else on Earth. Smithsonian biologists journeyed to the islands to find secrets to conserving them.
The future of Palau's orchids is far from certain. Besides the usual threats (poachers, development, or vanishing fungi), sea-level rise is slowly eating away at the land. If rising seas claim some of the orchids' territories, conservationists may need to find new homes for these orchids outside Palau. While lab-to-wilderness propagation is still years away, if scientists can pull it off, it could mean additional ecotourism revenue for Palau, and a new lease on life for some of the world's rarest orchids.
3. The Heartbeat: The Salmon and People Project
Produced by Smithsonian Global
The Heartbeat tells the story of the connections between salmon and people in the Kenai Peninsula of Alaska. Can science untangle the complex relationships between land, sea, and community to ensure salmon survive?
Even in the face of wide-ranging threats like overharvesting and climate change, Alaska is one of the few remaining places on Earth where sustainable management of salmon is possible. However, growing human populations, lack of government regulations, and unpredictable climate change create uncertainty for the future of the landscape—and the salmon streams that course through it like a cardiovascular system.
The Salmon and People Project—a collaborative effort between the Smithsonian, the Kachemak Bay National Estuarine Research Reserve, and other partners—is working to understand how to best protect the future of salmon in this interconnected region. The team conveys their knowledge to local communities so that they can make informed decisions that impact the watershed. Together, they aim to support not only the salmon but also the culture and economy that depends on them.
4. Mara Elephant Project: Conflict to Co-existence
Produced by the Mara Elephant Project
In 2015, it was reported that the human population around the Maasai Mara region in Kenya was growing at 10.5 percent annually, more than three times the global rate. This population expansion means the expansion of settlements, permanent buildings, crop-based agriculture, fenced plots, wildlife poaching, and deforestation. This fragmentation and associated fencing of the ecosystem is blocking key wildlife corridors and is rapidly accelerating human-wildlife conflict.
As the spread of human settlements and farms increases, escalating conflict between humans and elephants and subsequent loss of lives and property can be expected. Unless measures are taken now to change this trend, irreplaceable wildlife habitat, biodiversity, and large mammals will be lost as agriculture expands.
5. Women and Ginseng: Vicky Ferguson
Directed by Clara Haizlett for the Smithsonian Center for Folklife and Cultural Heritage
An enrolled member of the Monacan Indian Nation, Victoria Persinger Ferguson has spent nearly three decades researching and developing cultural programs around central Virginia. Her knowledge of and relationship to the American ginseng plant derives from the Monacan ethos she learned from her father. For her, ginseng is more than a key ingredient in Native medicinal practices, but it also illustrates the way radical differences between Native American and non-Native worldviews continue to play out.
This video is one of many produced for our forthcoming online exhibition, American Ginseng: Local Knowledge, Global Roots.
Peter Vaselopulos is an intern with the Earth Optimism × Folklife program at the Smithsonian Folklife Festival.