Dancing with Yacine & The Oriental Groove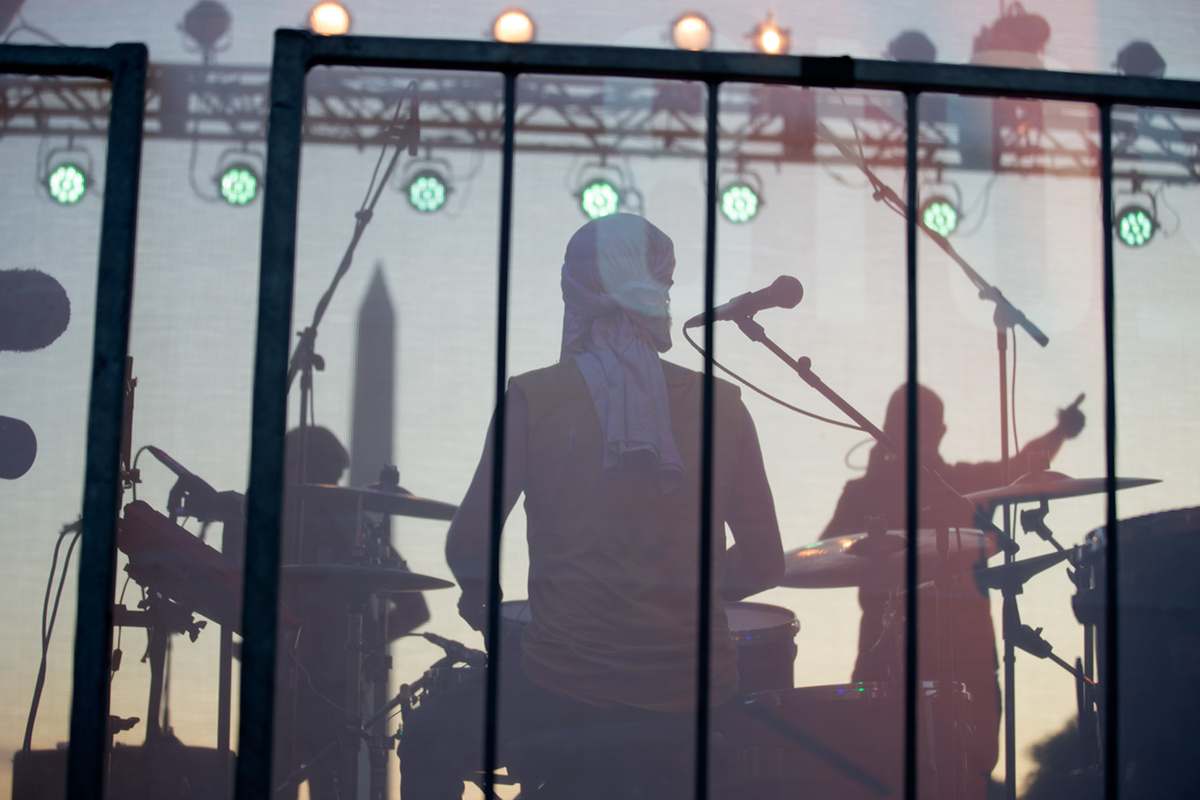 Yacine & The Oriental Groove at the 2018 Folklife Festival
In the shade of the Catalonia side of the Folklife Festival grounds, I found Yacine Belahcene i Benet, Alexandre Guitart, and Gabriel Fletcher lounging shoeless, comfortably digging into their lunches as the sounds of visitors, performers, and demonstrations filled the space around them.
Belahcene laid on his side quietly, his all-black ensemble and dark sunglasses adding mystery to his already quiet demeanor. Guitart positioned himself centrally, assuming his role of interpreter with confidence. Fletcher sat to the side, his striking gaze focused on the cigarette he rolled between is fingers. I intruded on their bubble of calm, hoping for a glimpse into the minds behind one of the most dynamic and exciting musical performances I've ever seen.
Singer Belahcene, drummer Guitart, guitarist Fletcher, along with absent bassist Massinissa Aïtahmed, make up the Mediterranean rock band Yacine & The Oriental Groove. Led by the energetic dancing and singing Belahcene, the band has a carnal, frenetic stage presence that drives their audience to dance. Offstage, their personal energy, although much more subdued, is no less captivating.
The first thing the group wanted to talk about was their missing bass player: Aïtahmed was unable to attend the Festival because he was denied a visa by the United States. Although they were able to record him for their performances here, it is clearly not the same. They are missing a friend as much as they are missing a musician.
Guitart, translating for his bandmates, believes that Aïtahmed's visa was denied due to his country of origin: Algeria. He blamed current immigration policies for this discrimination. Belahcene, who has dual citizenship from his Algerian and Catalan parents, said he and his Catalan bandmates had no trouble getting visas, and his other Algerian friends have had no trouble entering the United States in the past.
As a musician myself, I recognize the close bonds that form between the members of a band—playing without someone is like running a race with a missing shoe. We are lucky that Yacine & The Oriental Groove still came to the Festival to share their music.
When asked what kind of music they play, the three of them shrugged and laughed.
"We are open-minded," Guitart said.
Each member of the band has his own diverse background: Fletcher was born in Uruguay and immigrated to Catalonia. Belahcene has a dual background in Algerian and Catalonian culture. Guitart comes from Catalonia. They take inspiration from other Mediterranean regions and other genres as well, including rock, reggae, electronic, and more.
"The music flows through our background," Fletcher said. "We play what we enjoy and what we like to do."
"Ultimately," Belahcene said through translation, "our major goal is for people to dance."
That night, they accomplished their goal, even with an incomplete lineup. Although it took some coaxing from the band, by the encore we were all dancing to the Mediterranean-North African-rock-reggae-punk-electronic cocktail that is Yacine & The Oriental Groove.
Abigail Hendrix is a video production intern at the Smithsonian Folklife Festival and a graduate of the University of Washington with a B.A. in medical anthropology and global health. Her areas of interest include ethnographic and documentary film, public health education, ethnomusicology, and narrative nonfiction writing.