Christmas in Catalonia: The Living Nativity Scene of Joanetes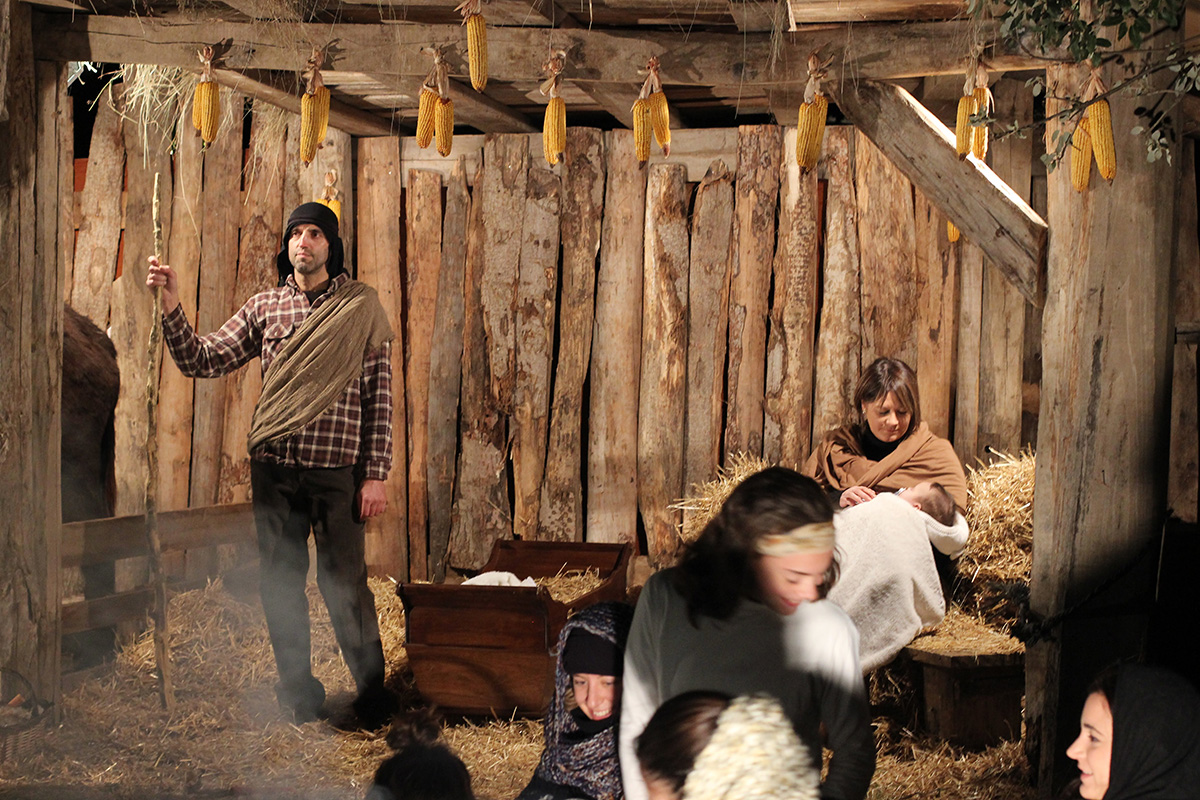 Llegiu aquest article en català
The village of Joanetes is nestled in the foothills of the Puigsacalm Massif, sheltered by the Llancers Mountains in northeastern Catalonia. Its 320 inhabitants live in traditional farmhouses scattered here and there, united by their love for this corner of the world.
This idyllic stretch of inland countryside is the setting of the Living Nativity Scene of Joanetes, attracting tourists from across the region. By incorporating aspects of Catalan traditional culture, it creates the illusion that baby Jesus was born in the village, letting visitors find what he would have found: a farming village that is humble yet strong, resourceful and capable.
The nativity scene tradition in Catalonia has deep roots, featuring the work of a wide variety of artists, including painters and sculptors. The living nativity, which dates from the second half of the twentieth century, involves a series of scenes portrayed by real people. They usually use a rural setting or beautiful landscape as a backdrop, such as a forest or the dry bed of a river.
The Living Nativity Scene of Joanetes started in 1983. A teacher in the village organized a scene portraying the Adoration of the Magi inside the Romanesque Church of Sant Romà for Midnight Mass on Christmas Eve, assisted by the village children. Père Roura, the parish rector and something of a traditionalist, was not pleased with the scene, especially the bales of hay and other decorative items. However, when he saw the enthusiasm of the young children, he offered to help as well.
Since then, the village has continued to develop the tradition, moving it outdoors to the church garden and then to other locales. It has grown exponentially, attracting 10,000 visitors annually over three days at Christmas. More than forty scenes now show traditional Catalan life and trades—many of which have disappeared: candlemaking, charcoal burning, carpentry, blacksmithing, pig slaughtering, fishing, baking, tailoring, corn threshing, and many others.
One of the main goals of this yearly festivity is to preserve the local cultural heritage. As the organizers will say, one of the loveliest aspects of the event is to see grandparents walking with their excited grandchildren through the various scenes, explaining to them how all these tools were used.
The organizers design the scenes, but they're always open to new suggestions. With the help of the village, they build wooden structures that symbolize the houses and workshops. They stage the scenes, providing furnishings and other decorations. Many find period clothing in the bottom dresser drawers in their grandparents or great-grandparents' houses.
All the elements come together on a nearly mile-long route, determined each year by the organizers. It must always go through the church square, then through the old quarter of the village, along the dry river bed, and through the ancient holm oak forest of La Codina. The idea is that visitors become more enchanted with every step, using rural paths that link traditional and historical farmhouses, offering a mix of natural and cultural heritage in an idyllic setting.
In addition to the nativity, the village places a large illuminated star at the top of Santa Magdalena Mountain, which stands at over 4,200 feet. Four stories high and 160 feet wide, the star is switched on every year on December 24. It has become a symbol of the nativity scene. The village even submitted it as the largest star in the world to the Guinness Book of World Records, and to celebrate the organizers bought a star for each house, lighting up every corner of Joanetes over Christmas.
All of this activity wouldn't be possible without the commitment of the village's 320 residents, the Living Nativity Scene Association of Joanetes, and the many other people throughout the municipality who volunteer their time and skills. When people work together toward a common goal, they're unstoppable. The solidarity of this group knows no bounds; every year it donates a significant sum to charity.
The ritual around the Living Nativity Scene of Joanetes is priceless in preserving Catalan traditions and culture, transferring knowledge from one generation to the next, and enriching and empowering our society. This love for the area, for culture, and for our identity is the most defining characteristic of the people of Joanetes, of La Vall d'en Bas, and of Catalonia as a whole.
Xevi Collell is a cultural heritage specialist and director of Can Trona in La Vall d'en Bas, Catalonia. This article was translated and revised from the original version in Catalan published below.
Situat a les faldilles del massís del Puigsacalm, i protegit per l'orografia de la serra dels Llancers, hi descansa el poble de Joanetes. Tres-cents vint habitants, escampats de forma dispersa pel paisatge, que és banyat per masies tradicionals, conviuen units per l'estima al seu territori.
En aquest espai natural, d'imaginari idíl·lic de l'interior de Catalunya, hi té lloc el pessebre vivent de Joanetes, que s'ha convertit en una activitat festiva nadalenca reconeguda a tot Catalunya. Les seves 34 edicions actuen com a garantia i la seva trajectòria i evolució l'avalen per seguir atraient les mirades de les persones que el visiten.
L'origen del pessebre -naixement o betlem- se li atorga a Sant Francesc, originari d'Assís, al centre d'Itàlia. El pessebre és la projecció del naixement del nen Jesús a la seva llar i acompanyada de representacions de la vida rural. Segons la Bíblia, quan l'Infant va néixer, el van posar en una menjadora d'animals anomenada pessebre. El seu origen es troba en el segle XIII.
La tradició del pessebrisme a Catalunya és molt arrelada. Diversos artistes l'han treballada en les seves obres, tals com pintures, escultures o representacions pessebrístiques que esdevenen autèntiques obres d'art. El betlem, a Catalunya, constitueix un veritable patrimoni.
El pessebre vivent, per altra banda, segueix el mateix patró, però a partir de diverses escenes amb personatges vius. Aprofita un entorn o paisatge rural, que normalment disposa d'un interès arquitectònic, un bosc o la llera d'un riu o rierol. El seu origen és de la segona meitat del segle XX.
El pessebre vivent de Joanetes va néixer l'any 1983. Una mestra de l'escola del municipi, que residia al poble, va organitzar una escena a l'interior de l'església de Sant Romà, d'origen romànic del segle XII, per la missa del gall, el 24 de desembre. S'hi representà l'adoració i l'ajudaren els nens del poble. El Mossèn Pere Roura, rector de la parròquia i eclesiàstic tradicional, no veié amb gaires bons ulls la iniciativa -ja que anava acompanyada de bales de palla i altres decoracions. Posteriorment, però, al comprovar l'entusiasme dels joves, es convertí en un ajudant i precursor més. Durant tres anys se seguí aquest esquema, fins que gràcies a la voluntat dels joves del poble, algunes persones grans i l'esma del mossèn, es realitzà una representació a l'horta de la rectoria. A partir d'aquí, el poble s'anà fent seu el pessebre i anà creixent pel nucli antic.
Trenta-quatre edicions després, el Pessebre Vivent de Joanetes, s'ha convertit en un dels més importants de Catalunya. Ha viscut un creixement exponencial i ja el visiten més de 10.000 persones, dividides en els tres dies que dura la representació, sempre en dates nadalenques.
Hi són expressades més de 40 escenes que mostren la vida tradicional de la cultura catalana i altres oficis antics, de fa més de 80 anys. Molts d'ells ja s'han perdut, tals com la producció d'espelmes, la pila carbonera, el fuster, el ferrer, el mercat, la matança del porc, el pescador, el forner, el sastre, o batre el blat, entre moltes altres. I és que un dels objectius més importants és conservar el patrimoni etnològic. A més, segons comenten els responsables d'aquest esdeveniment, una de les coses més boniques és veure com els avis expliquen als nets, plens d'il·lusió als ulls, com funcionaven aquells estris que ara veuen tot caminant.
Les escenes són pensades des la pròpia organització, però sempre estan oberts a noves propostes. Són ells qui, amb l'ajuda del poble, construeixen les estructures de fusta que simbolitzen les cases i els tallers, i són les persones que representen les escenes les qui porten els mobles i tot el material que sigui necessari per adornar l'espai. La roba, molts d'ells, la troben en la darrera calaixera del moble de casa els seus avis o besavis.
El recorregut es un altre ingredient essencial. A primers d'octubre, la junta del pessebre es reuneix per a discutir-lo. No obstant això, el punt de pas obligatori és sempre, la plaça de l'església. També es ressegueix el nucli antic del poble, la riera de Joanetes i el meravellós bosc d'alzines centenàries de la Codina. Cada pas dels mil tres-cents metres de caminada i més de tres hectàrees de territori que fa el visitant el deixa més encisat.
Aquest recorregut, a més, aprofita camins rurals emprats per connectar les masies tradicionals i històriques, una barreja de patrimoni natural i cultural enmig d'un paisatge idíl·lic. Joanetes escenifica la il·lusió, ja que des de la comissió organitzadora parteixen de la idea que el nen Jesús nasqué al seu poble i que el visitant hi troba el mateix que hi hagués trobat l'Infant: un poble de pagesia humil, però ferma, enginyosa i capaç.
Paral·lelament al pessebre i situada a la muntanya de Santa Magdalena, a més de 1300 metres d'altitud, hi ha una gran estrella il·luminada que s'encén, cada any, el 24 de desembre. Fa 4 pisos d'alçada i 50 metres d'amplada. L'organització va decidir posar-la fa més de 20 anys per a poder fer un salt endavant i atraure més visitants. S'ha convertit en un símbol del pessebre. Cal destacar, a més, que el poble de Joanetes va aconseguir el record Guiness per tenir l'estrella més gran del món. Per a celebrar-ho, l'organització va comprar una estrella per a cada casa del poble, per així il·luminar entre tots els veïns cada racó del poble durant els dies de Nadal.
Tot aquest esdeveniment, en un poble de 320 habitants, no seria possible sense la vinculació de tots els veïns. Es troben constituïts sota el paraigües de l'Associació del Pessebre Vivent de Joanetes. Cal destacar, també, la vinculació de moltes persones de tot el municipi i la feina que fan totes les persones que hi col·laboren, de forma totalment altruista i desinteressada. Quan la gent treballa unida i amb un objectiu comú, és imparable car la solidaritat d'aquesta agrupació és infinita. Cada any, donen a una entitat solidària una part molt important del recompte econòmic.
El Pessebre Vivent de Joanetes s'ha convertit en un dels patrimonis més importants del país. La preservació de les tradicions i de la cultura catalana i la transferència de coneixement dels més grans als més petits, així com l'enriquiment i empoderament que això aporta a la nostra societat, tenené un valor incalculable. I això, aquest amor pel territori, per la cultura i per la nostra identitat és el que més defineix la gent de Joanetes, de la Vall d'en Bas, i de tot Catalunya.
Xevi Collell és tècnic de cultura i patrimoni i director de Can Trona a la Vall d'en Bas, Catalunya.