Eating the Change: Chef Spike's Crispy Chik'N Funguy Sandwich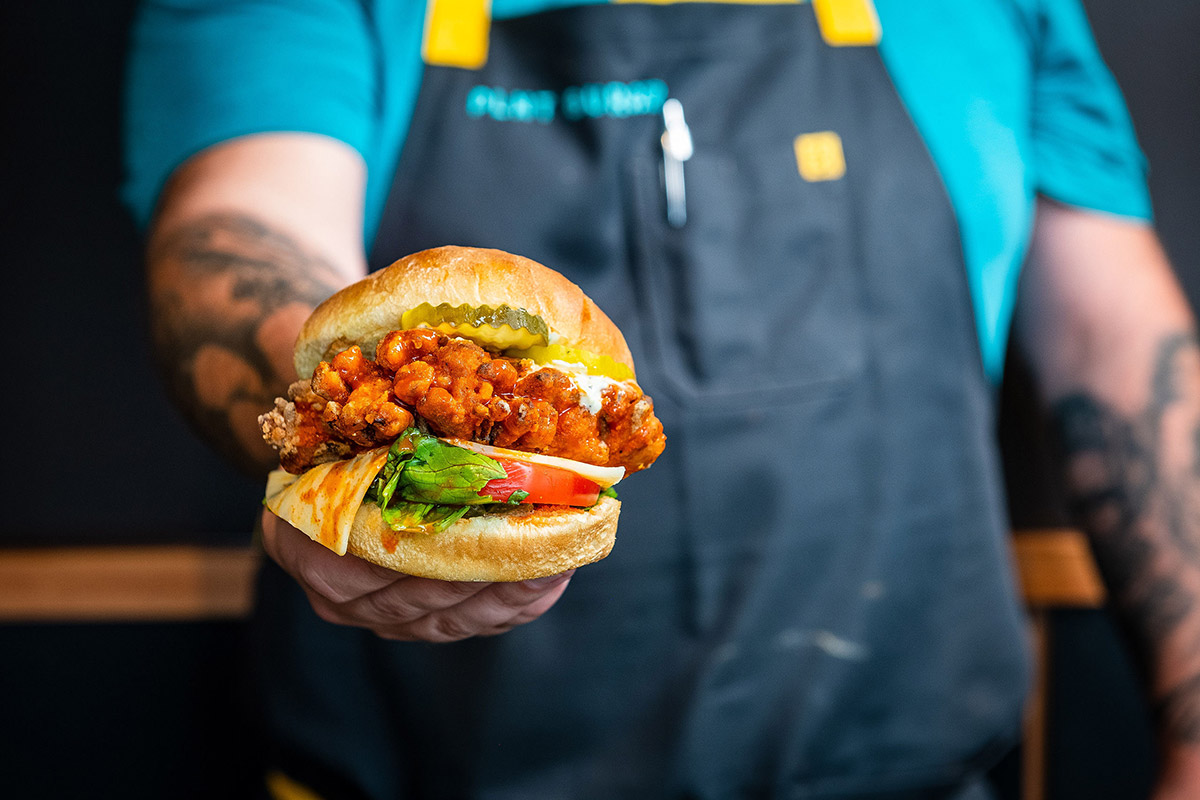 "The foods we choose represent our single biggest environmental impact."
This idea is at the core of Eat the Change™, a platform created by Chef Spike Mendelsohn and entrepreneur/activist Seth Goldman to inform and empower consumers to make dietary choices aligned with their concerns around climate and health.
A nationally recognized chef and restaurateur, as well as Bravo's Top Chef Fan Favorite, Mendelsohn has always been passionate about how food impacts our country and the world. He has worked with organizations including CARE, DC Central Kitchen, Food Rescue US, and Food Policy Action to advance food equity and education, and he serves as the first chairman of Washington, D.C.'s Food Policy Council.
Despite his lifelong love of nature and interest in environmental causes, it was a chance meeting with Seth Goldman, co-founder of Honest Tea and chair of the board of Beyond Meat, that provided this activist-minded chef with his most passionate project to date: Eat the Change™.
At ETC, Mendelsohn is focused on launching businesses that make climate-friendly foods delicious, fun, and accessible. Beyond investing in innovative nonprofit organizations working to promote and expand access to climate-friendly foods, Eat the Change™  also produces plant- and fungi-based snacks such as mushroom jerky and flavored carrot chews.
Goldman and Mendelsohn's first collaboration was PLNT Burger, a fast-casual restaurant concept where Mendelsohn offers up some of America's favorite foods free of animal products, without compromising flavor or experience.
At the 2022 Folklife Festival, Mendelsohn will be making PLNT Burger's Crispy Chik'N Funguy sandwich, which is made with oyster mushrooms. Catch his demonstration in the Festival Foodways kitchen area on Friday, June 24, at 1 p.m.
The recipes below for Bloomies dredges, Bloomies spice, and garden herb aioli make more than you'll need for a round of sandwiches. You can experiment with other recipes are scale them down.
Crispy Chik'N Funguy Sandwich
Ingredients
4 tablespoons Earth Balance spread, melted
4 potato buns
1 cup garden herb aioli (see below)
16 slices kosher dill pickle
4 leaves green leaf lettuce
4 3-ounce crispy mushrooms (see below)
Salt and pepper to taste
Preparation
Heat up a pan, brush the buns with the melted butter, and toast in the pan until golden brown.
Once the buns are toasted, add aioli to the insides of each bun and place pickles on both sides of each bun.
Top with lettuce and the mushrooms. Serve warm.
Crispy Mushrooms
Ingredients
4 3-ounce oyster mushrooms
2 cups Bloomies Wet Dredge (see below)
2 cups Bloomies Dry Dredge
4 cups sunflower oil
Salt and black pepper to taste
Preparation
Heat up a sauté pan with 2 tablespoons of oil, season the mushrooms with salt and pepper, and sauté until the mushrooms are tender, about 8–10 minutes.
Meanwhile, in a deep pot, heat up the rest of the oil to 350 degrees F.
Once the mushrooms are tender, place them on a plate lined with a paper towel and let cool for 5 minutes.
Put the wet dredge and dry dredge in separate bowls. Dredge the cooked mushroom in the dry dredge, then wet, then dry again. Fry the mushrooms in the oil until they are crispy and resemble fried chicken. Season with salt and pepper.
Bloomies Dry Dredge
Ingredients
1 pound rice flour
2 cups cornstarch
2 cups Bloomies Spice (see below)
1 cup kosher salt
Preparation
Mix all ingredients together in a large bowl.
Bloomies Wet Dredge
Ingredients
2 cups Bloomies Dry Dredge
1 quart oat milk
Preparation
Whisk ingredients together in a large bowl until smooth.
Bloomies Spice
Ingredients
1/4 cup smoked paprika
2 cups sweet paprika
1 cup chili powder
1/2 cup ground cumin
1 cup brown sugar
1/4 cup ground mustard
2 tablespoons ground black pepper
2 tablespoons ground oregano
1/4 tablespoon cayenne pepper
1/4 cup kosher salt
Preparation
Mix all ingredients together in a large bowl.
Garden Herb Aioli
Ingredients
1 cup fresh dill, roughly chopped (packed)
1 cup fresh parsley, roughly chopped
1 cup fresh chives, roughly chopped
2 cups eggless mayonnaise
2 tablespoons ground black pepper
Juice of 1 lemon
Preparation
Mix all ingredients together in a large bowl.
Katie Reuther is the 2022 Festival foodways intern and a food studies graduate student interested in the intersection of food, culture, and identity.