Catalan Recipe: Coca Bread for Breakfast, Lunch, and Dinner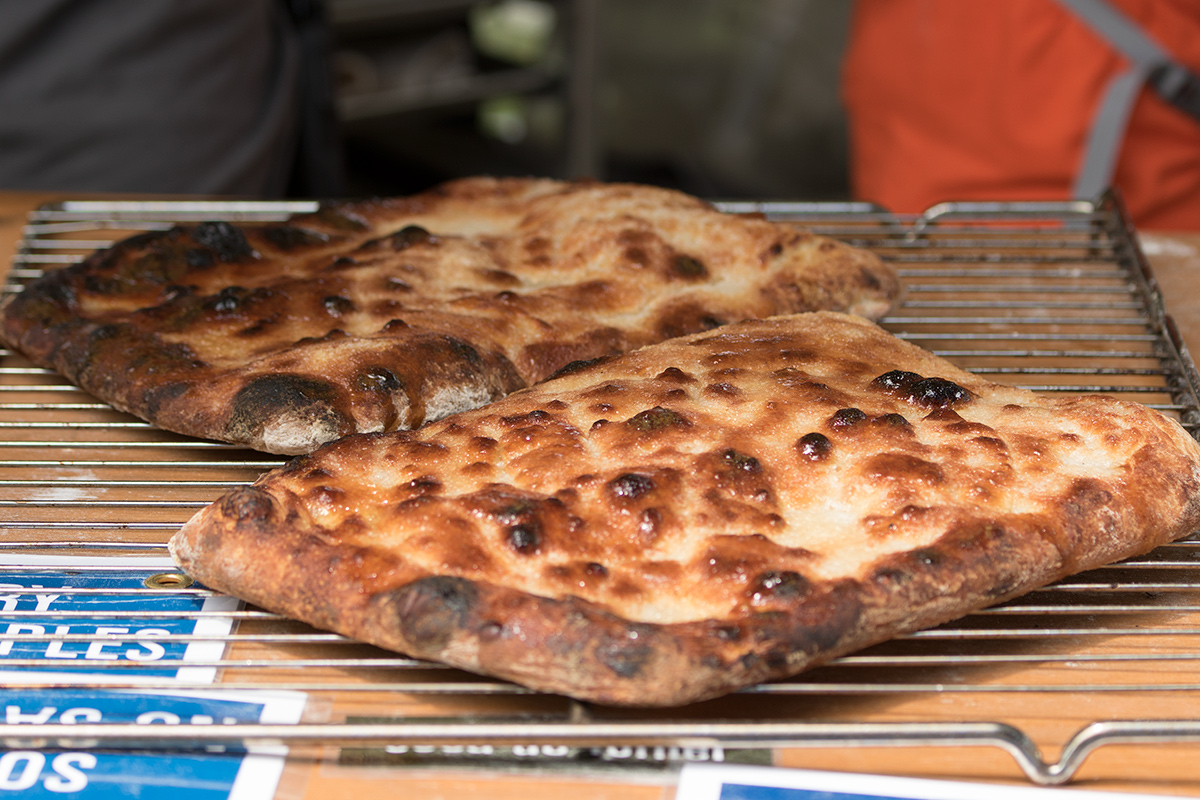 Bread is so crucial to the Catalan diet that Catalans have a word for someone who loves to eat bread: panarra. They also have a song that expresses their love for bread. In fact, Cobla Catalana dels Sons Essencials sang "Pa Amb Oli" ("Bread and Oil") during one of the evening concerts at the Folklife Festival. When the song began, every Catalan stood up and sang along. Clearly, bread is a symbol of community and unity among Catalans.
To represent bread traditions at the Festival, we invited Àngel Zamora, a self-taught bread master and one of the owners of La Fogaina in La Vall d'en Bas, Catalonia. He does not come from a family of bakers; instead, he acquired everything he knows by visiting other bakeries, reading books, and watching videos. He started selling his bread at the local market, and then his partner convinced him to open La Fogaina. Since its opening in 2011, Zamora and his co-op have successfully transformed La Fogaina into one of the best bakeries in Catalonia.
We recreated a miniature bakery from Zamora at the Festival. Once the aroma of crystallizing sugar and anise liqueur drifted around the National Mall, people quickly swarmed the baker's tent, eager to see what had just come out of the oven. They would watch Zamora drizzle anise liqueur over the freshly baked bread, creating a glaze over the sugar.
Each morning, Zamora would tell me which breads he was going to make, and then we would measure the ingredients, knead the dough, let it rise, knead it again, put it in the oven, let it cool, and make sure none of it went to waste. Over the course of ten days, he made llonguets (bread rolls), pa de pàges (farmer's bread), brioche, rye, and—my absolute favorite—coca.
Coca is a popular flatbread in Catalonia. Coca de forner or "baker's coca" is a sweet bread glazed with anise liqueur and eaten for breakfast or a snack. Coca de recapte is savory, made with roasted eggplants, onions, peppers, tomatoes, salted cod, and sausages. Just like pizzas, cocas can be topped with anything in your fridge and can be eaten for any meal, any time of the year.
Having the opportunity to work with Zamora not only taught me the bread basics, but it also gave me the chance to become closer to the Catalan participants, Smithsonian staff, and Festival volunteers. Everyone made an effort visit our tent, either to talk to the baker or (more importantly) try his bread. Eventually, it became a meetup spot for us when the day's work was done. As soon as people spotted Zamora with his bread, he was greeted with roaring applause.
"I had never been applauded for my bread until the Folklife Festival," he remarked.
Now that I understand the power of bread in Catalan culture, I would like to share with you Zamora's recipe with the hopes that you will make this bread to share with your friends and family.
Coca de Forner
Makes 4 large cocas that can feed around 50 people
Ingredients
1135 grams (40 ounces) all-purpose flour*
915 grams (32.2 ounces) bread flour
1655 grams (58.3 ounces) water
195 grams (6.8 ounces) sourdough starter
44 grams (1.5 ounces) salt
52 grams (1.8 ounces) olive oil
3 grams (0.1 ounces) dry yeast
Sweet anise liqueur
Sugar
* The flour we used at the Festival was generously donated by King Arthur Flour
Preparation
Set the oven to 425 degrees Fahrenheit.
Mix both flours and water together in a large bowl. Cover the bowl with a towel and let it sit for 30 minutes.
Mix the water, sourdough, salt, and yeast together in a separate bowl and add it to the flour and water mixture. Mix well.
Knead the dough in the mixing bowl by pulling sections of the dough up and folding it towards the center. Do this for about 20 minutes. Set the bowl aside and cover it for 2-3 hours.
Continue folding the dough for 10-15 minutes. Transfer to a plastic container and pour the olive oil on top of the dough. Cover and chill for 2-3 hours.
Take the dough out of the refrigerator, empty onto a floured surface, and fold it over a few times. Return it to the refrigerator for 12 hours.
When it's done rising, take it out of the container and pour it on to a lightly floured surface. Cut to the desired coca size and then gently start shaping it into a rectangle.
Transfer the cocas to a baking sheet and stretch them out until they are about half an inch thick. Using the side of your hand, gently "karate chop" the coca diagonally to create air bubbles in the dough and grooves for the sugar. Drizzle the coca with olive oil and then generously sprinkle sugar on top.
Put the cocas in the oven for 15 minutes, until they are golden brown. Make sure to open the oven doors twice while they bake.
When you take them out of the oven, immediately drizzle the anise liqueur over the cocas. Let cool for 5-10 minutes.
Serving suggestions: eat the coca de forner for breakfast with coffee.
Notes:
You can make a plain coca by not putting the olive oil, sugar, or anise on top.
To make coca de recapte, simply roast vegetables (eggplant, onion, and pepper) in the oven for 30 minutes and then arrange them on top of the coca. Add salted cod or sausage on top of the vegetables.
Depending on your oven, you can transfer the bread from a baking sheet to a pizza stone so that the bottom gets crispy.
Zamora used King Arthur flour to make all of his bread and Meletti sweet anise liqueur to sweeten the coca.
Josi Miller is an intern for the Catalonia program at the Folklife Festival and a junior at Denison University majoring in anthropology and Spanish. She enjoys studying food culture as well as cooking with her friends and family.