Building the Landscape: Dry-Stone Masonry of Catalonia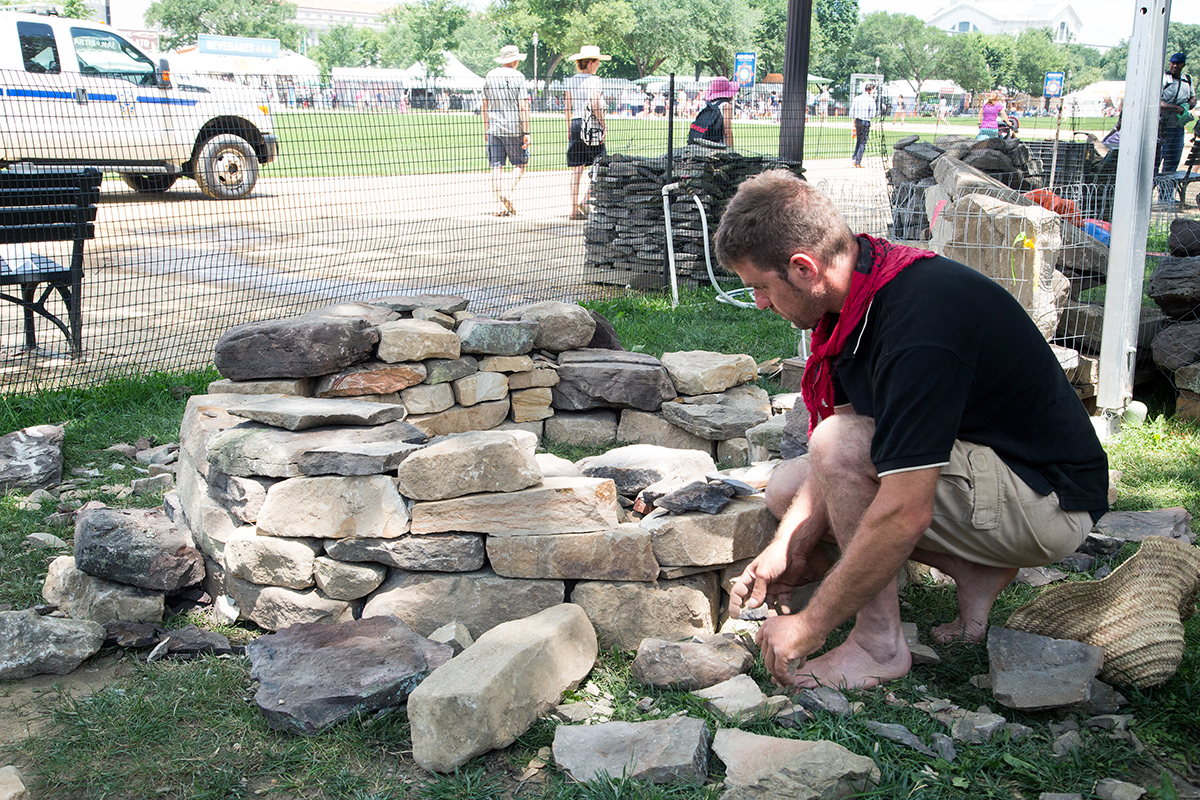 Among the colorful troupes of Catalan musicians, dancers, and imaginary figures at the Folklife Festival, one man worked unaccompanied in a corner of the National Mall. As the sole representative of dry-stone masonry (pedra seca), Roger Solé-Coromina worked throughout the two weeks on a sandstone barraca, an igloo-shaped dwelling once used by shepherds in the Pyrenees.
Solé said it would be unusual to see this age-old tradition in action at any festivals in Catalonia, but mostly because their festes (festivals) and fires (fairs) last only one to three days. With nine days to work in Washington—he missed one day because the elm tree at his demonstration area was struck by lightning and needed trimming—he was able to build a beautiful and durable structure, even while explaining his process to visitors. Without any cement or mortar to hold the stones together (that's the "dry" in dry-stone masonry), the small barraca could fit one or two people, and steps leading up the side allowed access to the domed roof. Inside, the temperature was markedly cooler.
While it's a clear passion now, Solé was dedicated to rock climbing before he ever thought about rock wall building. Between rounds of chipping down stones to fit just right, and scheduling around the human towers so we could both watch, he took a break to answer a few questions about his history and community.
How did you transition from rock climbing to dry-stone wall building?
By chance, really. I used to travel around and rock climb all the time. I worked in the Basque Country in a bodega, the place where they make wine. Good wine. I was the one with the forklift. Every year I would go there just for two, three months, and with that money I could climb for the rest of the year. I did that for maybe six years.
I also studied geology at university. I know the rock types and the geology of the earth, but I never really thought about dry-stone walling. But one day, by chance, I had the opportunity with a friend to do one big wall. He already knew some basics, and I had done some gardening work with flat flagstones, but not really dry stone. We went to see a craftsman up in the north of Catalonia, asked him how he did it, and after that we started that work.
At first it was just for fun, but when we finished, I was really interested. I had a job in Switzerland, but I never went back. I stayed in Catalonia and tried to be a dry-stone waller.
In the beginning, there was not enough work. There was no market. But I also do some basket willow, so when I had no stone to work, I went to some markets to sell my baskets. The first two, three years, I did something like that. Now I can't work with willow because I have no time! In part the market grew because of me, because I've done some conferences with some architects, with some schools, teaching people. We live in a small country, and word travels fast. In a couple of years, everybody knows you.
I have no time to rock climb. I climb always here, in my head, but I have no time. I miss it a lot. I have many, many projects to do, but it's okay.
What is your connection to the environment?
You're doing something really interesting: you're building the landscape. It's going to stay there forever. And it's nice to always work outside. That's perfect. Even with rain, with snow, with cold, with warm, I like that. I'm taking care of the landscape.
Animals can live inside the walls. Plants can live inside. Lizards cannot live inside modern buildings. I do these little things with dry stone to protect animals, like rabbits. We make a small refuge where it's cool inside, then we make some, like, roads inside, and then in the center, we can make some places to sleep for the rabbits and their families. It's a nice place to protect these kinds of animals.
I like to mix colors and different types of stone, and now I'm starting to put plants inside the walls. While I'm building, I put soil inside the wall, then I put the plant, and I continue building—special plants that don't need much water, much earth. It's perfect because you finish, the next day it looks like a very ancient wall!
What is your connection to the community?
My community is my town, in the center of Catalonia. It's a small community. But I am part of rock climbers, dry-stone wallers, but also by myself. I also like the community of human towers. The last six, seven years, every year, I go to some special events for human towers, sometimes to watch, but most of the time I participate in the base, the pinya.
The response from the communities is the best part of dry-stone building. For example, I've been working in the Barcelona area, in some city parks, and some people were crying seeing me there working. They tell me, "Oh congratulations! Thank you for doing that!" It's a craft that is disappearing, so when you see somebody doing it and you thought no one did it anymore, people are always saying, "I really like that! You are an artist!" It's really amazing. You feel like being in the sky.
Why is it important to share this tradition as a representation of Catalonia?
I think it's basic: this is a very old tradition. It's everywhere. Maybe ceramics is an old tradition, but I'm sure this is one of the oldest crafts in humanity. When humans escaped from the caves, they started building with stones, with mud. It's a really ancient craft. We follow our ancestors, because this is not just work. It's a human tradition.
It's very representative of Catalonia. Every single town has barracas in their land, and everything is documented. On a website called Wikipedra, you can find where you live, you click there, and you find all the barracas around your town. There's a picture, there's a drawing, there's a plan, the sizes, the year it was built if somebody knows. There's thousands of them. And then there's the walls and the roads and everything. Every town has dry-stone walling.
Have you learned anything new about Catalonia at the Festival?
Yeah, some things. I've never seen how they build the falles in the Pyrenees. I've seen them in pictures and television, but not in person. What I get from this Festival is really nice people and good friends for the future. We have plans together with some people. I will go to Àngel's place to learn how to make a special bread, because with my wife we opened a small bakery. It's all based in the same traditional work.
Find videos, photos, and more about Roger Solé-Coromina's work on his website, lafeixapedraseca.com.
Elisa Hough is the editor at the Smithsonian Center for Folklife and Cultural Heritage. This interview was edited for clarity and length.