A Celebration of Brazil in D.C.: Festival Afro-Bahia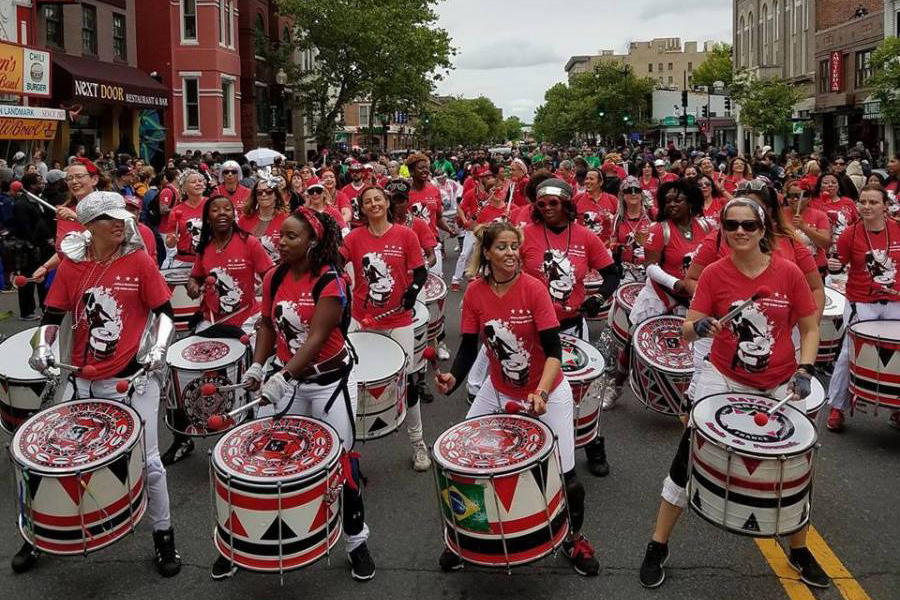 As we prepare for the 2020 Folklife Festival, our Brazil program team is meeting some of the most important cultural organizers of Brazilian events in the Washington, D.C., area. It's been a blast—we've gotten to bang on maracatu drums at Samba Trovao, dance samba at Tropicalia, and even show off our beginner capoeira moves at Universal Capoeira Angola.
One of those exceptional organizers is Sonia Pessoa, a graduate of Howard University, a certified nutritionist, and the founder of the only festival in the country that celebrates Afro-Brazilian culture from her home state of Bahia. The Festival Afro-Bahia starts today and runs through Sunday, June 16, with performances, tastings, and workshops at locations around Northwest D.C.
Sonia has single-handedly brought the Afro-Bahian festival into being, pouring her heart and soul—as well as her own money—into the event. Basically, she is a dynamo committed to bridging black and Latino cultures. She came to the United States twenty-five years ago as a member of Oba Oba, a Brazilian dance and music showcase. Here in D.C., she combines her background as a samba dancer and nutritionist in a health program called Samba Kitchen.
In this interview, she shares her thoughts about our own festival, the changing meaning of Salvador in D.C., and the deep connections within the African diaspora.
Can you tell us about how you started the Festival Afro-Bahia?
Actually the funny thing that propelled me to do this was the Folklife Festival! When I got here, I always heard about the event on the Mall. Then around 2011, I went and I was like, "Oh my god! It would be so beautiful if I could do something on Bahia."
During that time, I did an event for the Hirshhorn Museum, Family Day, and it was all about Brazil. We had capoeira workshops and samba workshops. So I thought, "Why not do something about Bahia?" Bahia is rich in culture. I said, "I'm just going to get together with some friends and see what we can do." So we decided to do the Festival Bahia in 2011.
There was a capoeira group in D.C. that was able to do drumming outside to let people know. We did dance workshops, tastings, and a concert—all of it. It was kind of hard. I lost a lot of money! I had to pay for hotels and food and the tickets, so I said, "I'm going to do a better one. I'm going to do it again." And then when I put some friends together, I said "Let's make an organization." We sat down with the bylaws and started planning for the following year, which was a little better. I learned with everything.
How has your experience been raising awareness about Bahia and Brazil in D.C.?
The thing that was very interesting was that nobody really knew a lot about Salvador, Bahia. Every time I did something, I had to put "The Flavor of Brazil" because people think of El Salvador, so there was a lot of confusion. Also the logo of the festival is the flag of Bahia, and a lot of people called to ask me if it was a French event! I did a lot of work to educate people about Salvador. That was pretty much the idea: to expose D.C. residents too because D.C. has many Afro-descendants, just like in Bahia.
Unfortunately, I have not had any financial help. A good amount is from donations. But the planning is really hard because I'm a nutritionist! I have a full-time job.
I like the way you bring different Afro-diasporic cultures together so people can see the relationship between them.
When you bring together the Afro-Cuban and Afro-Brazilian cultures, you see some of the movements are the same. That is why I included an Afro-Cuban dance class, so people would be able to see the two and how Afro-Bahia is a little bit different.
Why do you think people look to Brazil when learning about the Afro-diaspora?
I think because of the culture. Most of the African slaves, they came from Benin or Congo, so there was the same cultures there instead of here [in the United States] where you have people from different continents speaking different languages. So the music, the dancing, that brings all the cultural aspects and the mixture too, the Indians, the Portuguese, and I think that's why people look to Brazil.
It's very interesting that it's a country with so many black people and yet Black Brazil is at the bottom, socially. Like in Salvador, my people, the population is African citizens and our mayor is white. The governor is white. I think it could be because of the lack of knowledge of the past. We live—dancing, drinking, having fun—but we don't fight to keep that space in society.
Do you feel like D.C. is a unique space for this festival?
It's just because I'm here and it was my idea to do it. If I lived in New York, I would do it there. I'm the one living here, and I was the one who had the passion.
What are your larger goals for the festival?
What I really want is to have at least one day outside. That was always the goal. Another thing is to have a street event. Like in New York—every state—they have a Brazilian Day. It's one day where there are a lot of events and you have space for people to come singing and dancing. I want to do something that's more consistent, so that I can bring the cultural aspect, the social aspect, and economic aspect of Bahia.
I think the gastronomy part is also very interesting. We usually do the moqueca (a Brazilian fish stew), but I really want to do cooking demonstrations and explain so people can learn how to do that. And when you get there, you can try some West African food, some Bahian food for real, because we don't really have typical restaurants from Bahia here. We could have this beautiful gastronomy from different countries. Or even have chefs from those countries and from different regions in Brazil do demonstrations.
I want to bring Ile Aiye to a beautiful stage. To have everybody, a singer, a capoeira performance, Afro-dance—I think that would be beautiful.
The Festival Afro-Bahia kicks off with an opening reception on Thursday, June 13. See the complete schedule of events and find more information on their website.
Aidan Keys is a recent graduate of Howard University with majors in English and Spanish. In the past year, she has worked on the Catalonia program at the 2018 Folklife Festival and the current Brazil in D.C. project leading up to the 2020 Festival.
Cristina Díaz-Carrera is a curator at the Center for Folklife and Cultural Heritage and is co-curating the 2020 Festival program on Brazil.