Reimagining Classic Games with the Black Girls Handgames Project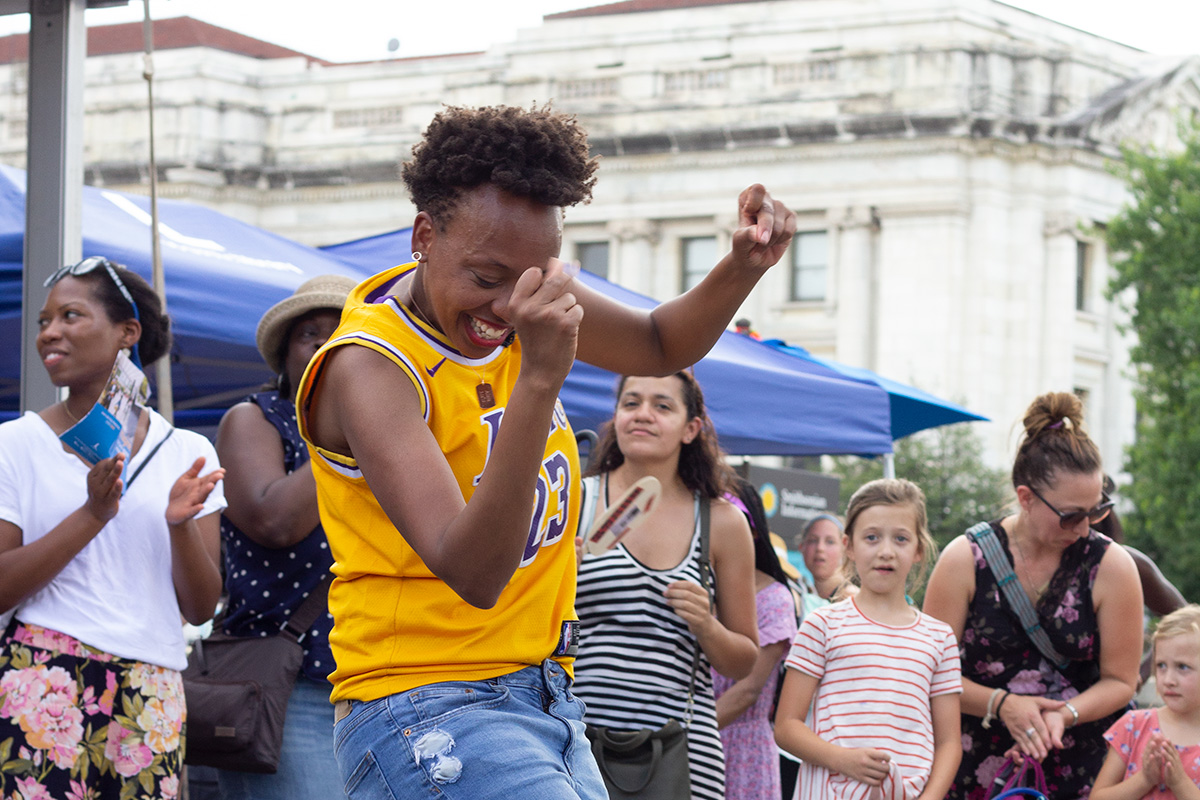 A large dance circle formed in the middle of Jefferson Drive music pumped through the speakers. Inside the circle, OnRae LaTeal, easy to spot in her bright yellow Lakers jersey, hyped up the crowd lining the National Mall, driving them to move and sing along.
"This is what it is all about," she told me later. "Just empowering people to get outside their comfort zone, to experience something communal, experience something that brings them joy."
At the 2019 Smithsonian Folklife Festival, LaTeal led a workshop to promote the Black Girls Handgames Project. The D.C.-based project reinterprets classic hand games to promote joy and resilience among young people and bring a greater representation of women to music production by teaching beat-making skills. LaTeal sees these hand games—combinations of rhyming verses and gestures, often played in pairs—symbolize friendship.
"It is symbolic of safe touch," she explained. "You can even go as far as saying it's symbolic of love. I will say it's symbolic of joyful experiences that black people experience."
Along with co-founder Tashira Halyard, LaTeal started the grassroots project when her fiancée and a friend were comparing versions of "Miss Mary Mack," a classic hand game and rhyme dating back to the 1800s. LaTeal found it interesting that for so many variations of the lyrics and gestures, the song always carried the same joyful meanings for her friends.
"So, I thought, what if I take these hand games and remix them into hip-hop and soul songs? And that's what I did. I started out with the first song, which was 'Miss Mary Mack.'"
With the project, LaTeal hopes to counter several of the narratives that people of color encounter.
"People of color are defined by their experiences with oppression and discrimination. So being able to channel those experiences and make it into a project like this—having someone come in and counter trauma that young girls might go through, by instead channeling joyful moments of playing hand games on the porch."
She views hand games as a tool to counter stereotypes and teach concepts like sisterhood. "Regardless of your age, regardless of your cultural background, I want this to be an experience that anyone can jump in and enjoy."
She certainly created such an experience at the Folklife Festival, as visitors jumped in and out of the dance circle, letting loose and showing off their best moves. LaTeal was ecstatic over the energy she felt from the crowd.
"For this experience, I wanted to make it organized and a bit more communal. I was able to teach the crowd 'Little Sally Walker,' our new remixed version, and it was lit."
Using her drum machine, hula-hoops, hopscotch, and hands, LaTeal showed the crowd how communal games play an important cultural role.
Malgorzata Mical was a summer intern at the Center for Folklife and Cultural Heritage. She is a senior at the University of Florida, where she is studying English and Russian.
OnRae LaTeal also works at the Smithsonian's Hirshhorn Museum and Sculpture Garden as the senior manager of ARTLAB+, the digital art studio for teens.
The Black Girls Handgames Project was co-presented at the 2019 Smithsonian Folklife Festival by the DC Public Library Punk and Go-Go Archives.