Painting Palm: How Azza Al Qubaisi Explores Emirati Identity in Art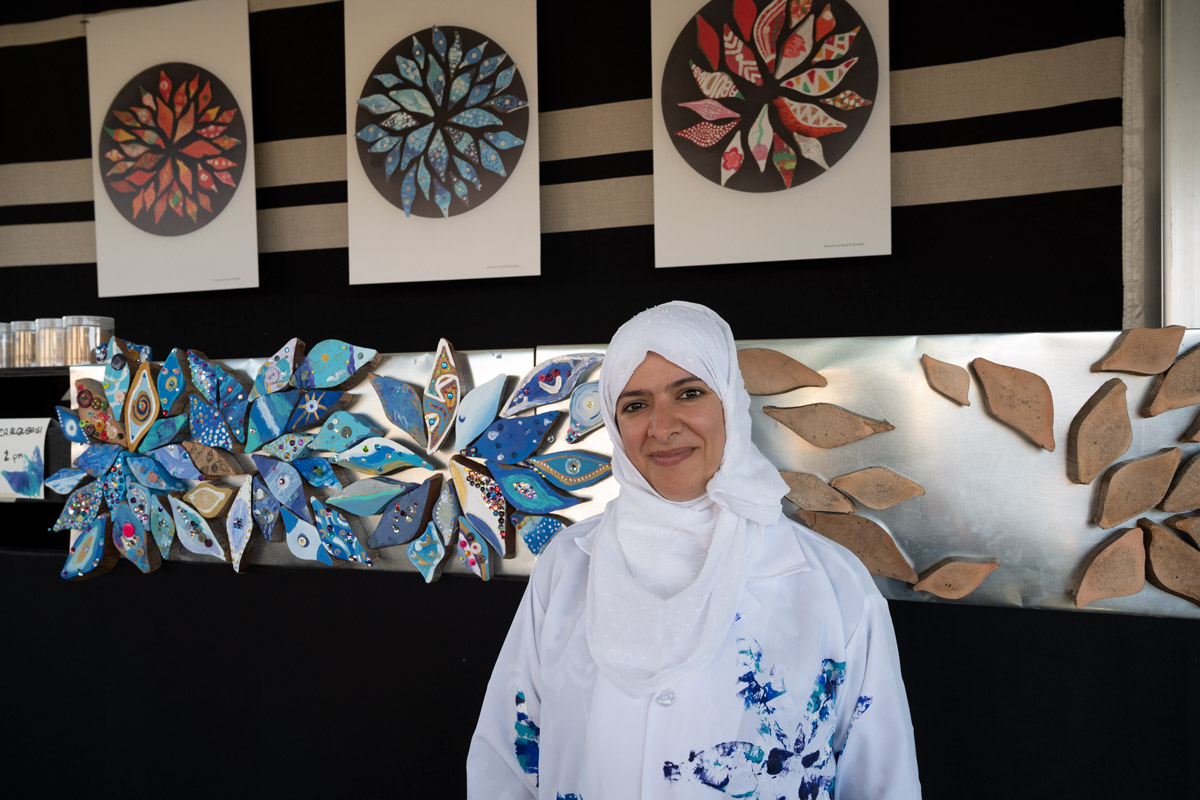 Along a silvery strip on the back wall of a booth at the Folklife Festival swirled an array of wooden, painted magnets. Shaped like eyes and featuring various shades and combinations of blue, purple, white, and gold, these pieces of art burst into flowers, each magnet a unique petal folding and curving outward.
But these magnets weren't pieces of wood at all. They were cut pieces of palm, flown all the way from the United Arab Emirates by Emirati artist, designer, and sculptor Azza Al Qubaisi. When we sat down to chat, she reminded me that palm is not wood—it's fiber.
Just as these pieces of painted palm were not what they initially seemed to be, Al Qubaisi hopes that those who visited her studio at the Festival discovered a part of the UAE that is not what it seems either.
Al Qubaisi was an artist before she found palm as a medium. In the early 2000s, she returned to Liwa to visit her relatives and ventured out onto her family's date palm farm, which she estimates grows over 1,400 trees.
"They were starting to do the usual cleaning. Now we have help to do that, so we are not really in touch with the palm that much," Al Qubaisi said. On the ground, she got up close and personal with the trees and the cleaning and date harvesting process. Watching the cleaning and the leaves getting cut and composted, she was struck.
"I saw them cutting the leaves and I thought they were the most beautiful material I'd seen," she said. "I was like, how come I've never worked with it before? And how come nobody is working with it?"
Al Qubaisi started collecting the palm and quickly saw the incredible diversity of the fiber. Akin to differences between lighter and darker woods, palm too has different densities and colors. In her small apartment at the time, she started cutting the palm into smaller pieces to work with it. Her passion quickly grew.
"But when you have a material that only you value, and nobody else values, it's very difficult. I felt that I had to start promoting this material."
The date palm tree is native to the UAE, with one estimate that the country is home to 40 million date palms. Dates have been essential to life in the Middle East for thousands of years, and archeologists have found date pits on Dalma Island off the coast of Abu Dhabi dating back 7,000 years. The date palm is often called the "blessed tree" because all its parts can be used to sustain life, yet each plant produces roughly 33 pounds of waste biomass annually. It's this waste that Al Qubaisi is harnessing into art.
She says she has never shied away from bringing her work to museums or exhibitions or festivals like ours. So when she was invited to the Liwa Date Festival, she saw an opportunity to introduce palm to the art world.
"That was eye-opening and an opportunity for them to see what can be made," she said. "Now, it's like a movement that I've created."
Al Qubaisi says she's seen many artists now incorporate palm into their work. And since that Liwa Date Festival, she has continued to seek opportunities to teach people about palm and the history of the UAE through her artwork.
"I like educating the public through being there with them and showing them my art," she said.
At the Folklife Festival, visitors of all ages could join Al Qubaisi at her studio and paint the eye-shaped pieces, cut from the leaf bases, or kurub, of the date palm. On the back of each was a magnet so that painters could bring their painted palm home with them and put it on the fridge. Every new artist would put their name down for Al Qubaisi's documentation, as she photographed each palm and plans to create an online art piece with all of them. The activity was so popular that some days she was forced to close before the Festival was over if they had already gone through their daily allocated one hundred pieces of palm.
Al Qubaisi works with a variety of materials, from silver to sand. "You name it, I've probably worked with it," she said at a Festival panel discussing palm trees. Normally, she makes sculptures, wall art, and even chandeliers, often inspired by the palm. She doesn't usually paint herself, but she always does so for her public art engagements so visitors get a hands-on experience with the material without altering its form.
"For me, it's about connecting and really being able to understand the material so much, not to change it to do what I want," she said. "Creating art that goes with the form, rather than the other way around."
Along with her interactive workshop, Al Qubaisi brought one of her sculptures to the Festival and displayed it at her studio. Looking at the sculpture, with many small pieces of trapezoidal "palm" building their way upward like the trunk of a tree , those who stopped by while I talked with her assumed it was made of actual palm encased in metal. According to Al Qubaisi, that was precisely her intent.
"It is inspired by the palm itself, inspired by the trunk itself," she said of the sculpture made of metal. "But to me, each element represents a unit, a person, so it's creating the community growing from the ground up. I started this series under the title 'Foundation,' and at the end of the day, it is us. It is the community. It is the people who create a foundation of a country."
There is a very close tie to country and craft for Al Qubaisi, who uses her art in all its forms to express and explore her own identity. "To me, it's about understanding who I am as an Emirati and what is it to be an Emirati. It can't be just a passport," she said.
As she expressed at the Festival panel "The Tree of Life: Palm and Other Native Plants," Emiratis are a minority within the UAE. With an estimated population of 9.7 million people, only eleven percent are UAE citizens (Emiratis), while the other eighty-nine percent are UAE non-nationals. According to Al Qubaisi, this has contributed to a vision of the UAE that is not the full picture of Emirati life.
"A lot of people today see the visual," she said. "The visual is big, huge skyscrapers with Bentleys and Mercedes, but that's not us. That's all imported. But us as people, there are some things that get inherited: how you live, how you are affected by the people around you that make you who you are today."
In this way, Al Qubaisi seeks to use the palm to bring Emirati people closer to their culture and to work for the future. Palm, as discussed in "The Tree of Life" panel, can be used for more sustainable and environmental purposes. "Today if our kids hold it and paint on it, maybe tomorrow they think of making different innovations out of it," Al Qubaisi said at the panel.
She equated it to how bamboo is now being used as a sustainable material. By making art with palm, a resource that is normally disposed of during cleaning and date harvest, Al Qubaisi hopes to inspire that kind of green, innovative use with fiber as well.
"It is a material that is being composted instead of being made into fiber or clothes," she said. "I definitely want people to see the potential in the fiber."
For Al Qubaisi, connecting craft to culture is as much about changing perspectives about the present and future of the UAE as it is about honoring and educating about the past. The palm is the perfect example of this.
"If the palm didn't exist there, people wouldn't have existed," she explained. From stories she heard growing up with her grandmother, Al Qubaisi recalled how difficult life in the desert was before there was easy access to essentials such as water. Then, the date tree was the lifeline. "It was an essential food source and shelter," she said. The dates and palm were used for basic survival, not for luxury.
Pulling on these old traditions and uses, Al Qubaisi is bringing the palm back into daily life a new way.
"To me, to reintroduce it as a beautiful material, sculptures, wall art, pieces that people can take and have as magnets to remember the UAE with, is the least I can do with it."
Annabella Hoge is an intern with the 2022 Folklife Festival's media team. She is a rising senior at Georgetown University studying American studies, anthropology, and journalism and hails from Los Angeles, California. She loves dates, especially when they're roasted and stuffed with goat cheese.