Armenian Recipe: Sou Boreg (Cheese Casserole)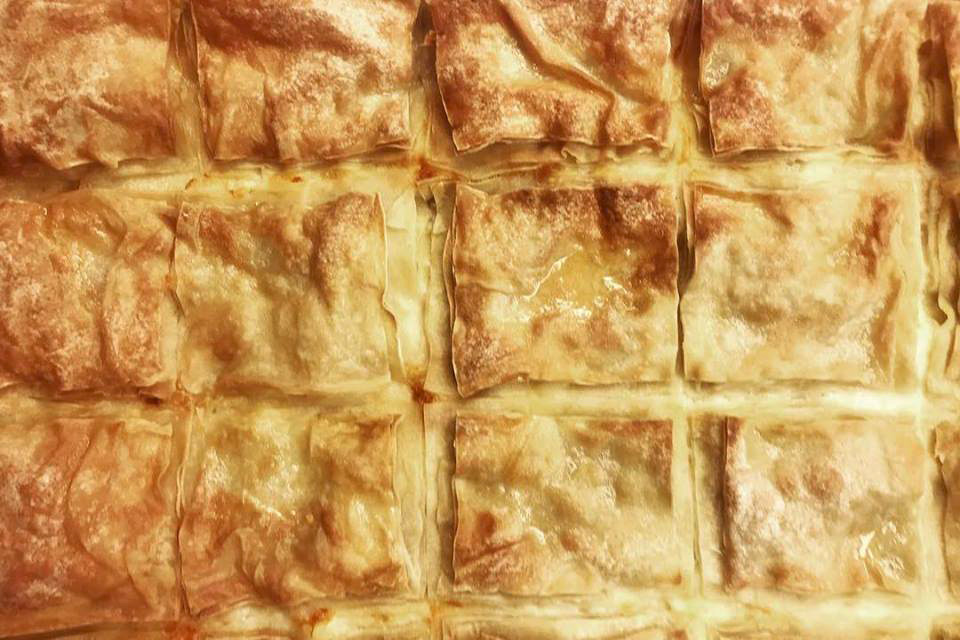 "Don't brown the sou boreg too much."
As Chef Carrie Nahabedian's mother ushered her out the door to her flight to D.C. for the Folklife Festival, this was her advice to the Michelin-starred chef.
Armed with her grandmother's rolling stick, Nahabedian blew into the Hatsatoun prep kitchen along with the end of a storm on our opening day, ready to demonstrate her grandmother's recipe for sou boreg, a cheese-filled, layered noodle dish. She had prepared it once the previous evening, teaming up with Chef Michael Costa at Zaytinya to serve alongside roasted leg of lamb and fasoulia (braised green beans), topped with fresh herbs, chive oil, and lamb jus.
Nahabedian started cooking in high school, when she would go to Grandma Rose's house every week and learn a new dish until she had cooked through her grandmother's repertoire. She would measure her grandmother's hand to learn the amounts of salt or olive oil used. When it came time to choose a dish to demonstrate for Folklife Festival visitors, everyone in her family and at church had an opinion: from crème kadayif (a cream-filled pastry made with crispy phyllo) to boreg (a rolled version of baklava). But the fact that Nahabedian had her grandmother's rolling stick, which itself is almost seventy-five years old, cemented the decision to make sou boreg.
The most time-consuming part of this dish is making the noodles from scratch, but as Nahabedian attests, once you've had it with fresh noodles, you can't go back to mock sou boreg, a variation using purchased dried egg noodles.
Ingredients
Makes 1 13x9" tray
Dough
3 eggs
Nice pinch of kosher salt
1 tablespoon extra-virgin olive oil
1 1/2 cup all-purpose flour
2 cup all-purpose flour for kneading and rolling
Filling
1/2 cup butter, melted
2 pounds Muenster or Monterey Jack cheese, grated
1 pound small-curd cottage cheese
4 eggs, beaten
1/2 cup parsley, chopped
Preparation
To make the dough, crack the eggs into a large mixer bowl and beat until fluffy with a whip. Add the salt and olive oil. By hand, knead in the flour. It should be sticky. Knead in more flour until it is soft and makes a smooth ball.  Do this on a smooth surface for best results.
Divide the dough into six equal portions shaped into balls. Place on a sheet pan or counter; cover with a towel and let rest for at least two hours. This will make it easier to roll out later. Do not let the dough balls touch each other.
Preheat the oven to 350 degrees. Generously butter a 13x9-inch ovenproof dish. Set aside.
Boil a large pot of lightly salted water on a high flame. Have a bowl of lightly iced water ready next to it.
Roll the dough with additional flour, making sure it does not tear. This is a very fragile dough! Roll into a thin round, approximately 10 inches wide.
Drop the dough round into the boiling water for approximately 30 seconds. Carefully remove the cooked dough and drop into cold water. Make sure there is not too much ice—it can tear the noodles. Remove quickly. Pat dry with paper towels and set aside. I like to drizzle it with a bit of olive oil to prevent sticking.
In a large bowl, mix the grated and cottage cheeses together with the beaten eggs. Taste for seasoning; it will vary based on the cheese. It most likely will not need any salt due to the nature of the cheese.
Divide the cheese into two bowls. Into one bowl, add the parsley, and leave the other plain.
Place one noodle sheet in the prepared pan. Brush with melted butter. Next, add the cheese-parsley mix. Add the rest of the noodle sheets and the remainder of the plain filling. Take care not to put cheese on every layer: this is not a lasagna! Dot the top of the dish with small pieces of soft butter.
Bake for 35 minutes until the top is nicely golden brown, puffy and bubbly. Let it cool before cutting into squares.
Note: The dough can also be made ahead of time and rested overnight. The whole dish can be made up to the baking step, then covered in plastic wrap and refrigerated to prevent drying. Alternatively, the dish can be baked, chilled, and reheated for the next day.
Kathy Phung is a foodways coordinator for the Smithsonian Folklife Festival, who also manages the demonstration kitchen at the National Museum of American History. Armed with a degree in anthropology and baking and pastry arts, she has worked in various food enterprises in the D.C. area as an oompa loompa, pastry cook, and butcher.