Armenian Recipe: Khashlama (Meat Stew)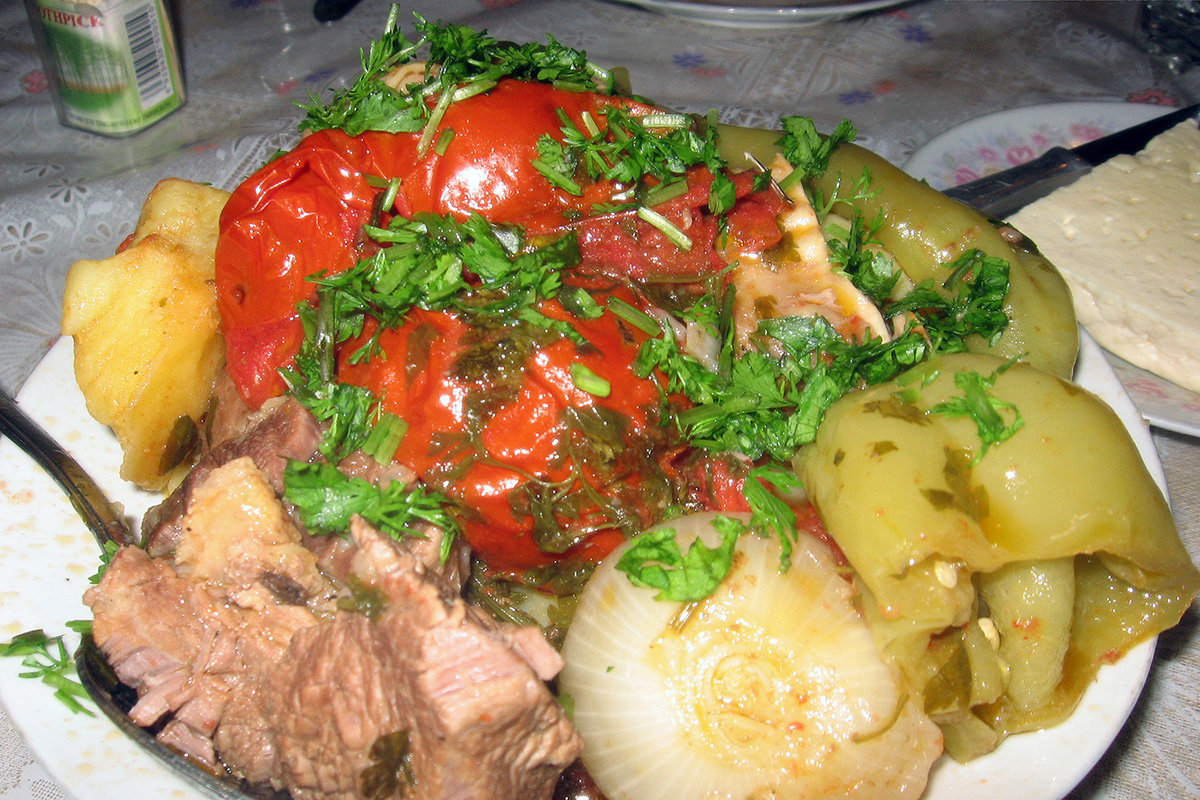 Men cook very little in Armenia. Dancer Arsen Vardanyan claims it's because they reserve their energy for the big dishes, like khashlama (meat stew) and tonir khorovats (grilled meats), and they only make them once a year because that makes the dishes taste especially good. Khashlama, made with boiled lamb or beef, is a celebratory dish, heightened in the summer with a bounty of fresh vegetables and the smell of the great outdoors.
All the components of this dish come together in the fields. It's where the vegetables are harvested and the lambs are slaughtered. Softer cuts get marinated for khorovats, and the boney cuts are long simmered for khashlama over an open fire and a ring of stones. And it's where the dish is eaten, preferably outdoors as a picnic.
During these great family picnics, the men do the cooking while the women set up the tables and do just about everything else. At least that's how it was for Gagik Mkihitayrn, a photographer and frrik (spinning top) demonstrator at the Folklife Festival—and our cook to Arsen's comic relief. As Gagik explains, the goal is to get the meat cooking as soon as possible, freeing up time and hands to drink and chat among the men. Everyone saunters over to the pot at some point for "quality control" of the meat, and by the time it's ready to eat, there isn't as much meat!
During their demonstration in the Hatsatoun kitchen, Arsen and Gagik used boneless lamb shoulder, as it is readily available at our local grocery store, but traditionally they would use a cut closer to rack of lamb, as the bones are rich in flavor with collagen and marrow.
Cooking notes: Variations of the dish include replacing the water with wine or beer, depending on the crowd. Make sure to reserve some raw onions cut in rounds for garnish.
Ingredients
1.2 kilograms lamb, good for stewing, preferably with bones
2 large tomatoes, diced
2 large onions, diced
2 red bell peppers, diced
1 jalapeno, chopped (optional)
5 large potatoes, peeled and cut into large chunks
Black pepper, as needed
Salt, as needed
Fresh parsley
Fresh dill
Fresh basil
Preparation
Cut up vegetables, depending on size. If you are using boneless meat, cut into chunks.
In a large pot, layer the cut vegetables, starting with a layer of potatoes, then meat, seasoning each layer with salt and pepper.
Garnish the top layer with the chopped fresh herbs. Fill the pot with water, or wine or beer for a different flavor. Bring to a boil over high heat, then lower to a simmer and cover, cooking until the meat is tender, about two hours.
Kathy Phung is a foodways coordinator for the Smithsonian Folklife Festival, who also manages the demonstration kitchen at the National Museum of American History. Armed with a degree in anthropology and baking and pastry arts, she has worked in various food enterprises in the D.C. area as an oompa loompa, pastry cook, and butcher.