Echoes from the Archives: Almeda Riddle and Mance Lipscomb, 1970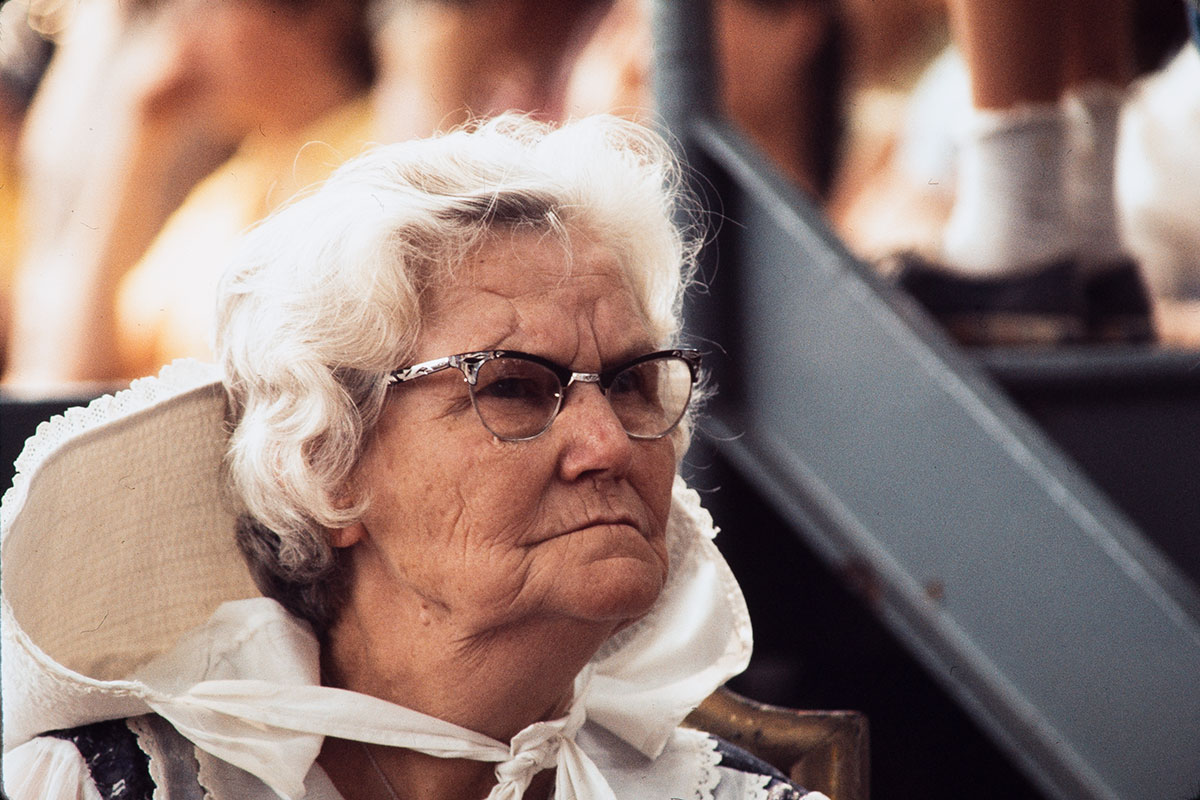 The Ralph Rinzler Folklife Archives is like a portal—to other countries, to the minds of great artists, and to specific moments in time.
In March, in celebration of Women's History Month and the upcoming Ozarks program, we shared on Facebook a short profile of the legendary Arkansan ballad singer Almeda Riddle, along with a photo from the Rinzler Archives of her performing at the 1983 Festival of American Folklife (now the Smithsonian Folklife Festival). But it wasn't the first time Almeda had sung at the Festival. Hoyle Osborne commented with the following story:
I got to visit with her when I was a college-age volunteer stage manager at Smithsonian Folklife, 1970. Almeda and [renowned Texan blues guitarist] Mance Lipscomb caught up with me. She said, "Vance (sic) and I have been practicing a song together. He has a workshop on your stage ending at 3, and I'm on the next workshop. Could we do our song right at 3?" The very idea of two legendary elders asking permission from a twenty-year-old! The song was "The Four Marys."
With just these bits of information, Dave Walker—our audiovisual specialist in the Rinzler Archives—found and excerpted the recording of this precise moment. In fact, we hear Hoyle asking Mance if Almeda can join him on stage, and then announcing the impromptu duet to the audience. After a minute of finding and adjusting their key, the two artists, both then in their seventies, sync beautifully.
To dig deeper into this memory, I reached out to Hoyle, now a professional folk singer and pianist in New Mexico. His partner in music and in life Jane Voss, coincidentally, had been a singer at the 1976 Folklife Festival. Back in 1970, Hoyle was a student at the University of Pennsylvania and a folk music DJ at the college radio station, WXPN—his entrée to the folk revival world.
When Almeda and Mance approached me about doing their duet, I was keenly aware of their respective talents and reputations. I had seen Almeda perform at the University of Texas when I was about sixteen, and I'd seen Mance in an outdoor festival-style concert in Zilker Park.  I understood immediately that this was going to be a unique performance.
When I heard Almeda refer to "Vance," I understood that she was familiar with the name because of the Arkansas folklorist Vance Randolph. I've never heard of another "Mance" [a name he adopted in his youth, short for "emancipation"]. Mance was so gracious and unassuming. Back home in Navasota, Texas, he did lots of entertaining for white folks' picnics and so forth. I never discussed it with him, but I doubt that he would ever have corrected something a white person said.  As you can hear in the recording, Almeda treated Mance as her colleague and friend, which is remarkable for a Southern white person of her generation. They seemed perfectly comfortable together.
I knew at the time that I was having an incredible experience, so it is thrilling to have such a powerful keepsake of it. In the context of the Festival, those remarkable moments were quite common.
The fact that an archive can transport us to the National Mall around 3 p.m. on July 1, 1970, is due to the careful recording, logging, digitizing, and data management of our documentation team. But sometimes, in a case like this, it seems, to me, like magic.
Elisa Hough is the editor and social media manager for the Center for Folklife and Cultural Heritage. Thanks to Hoyle Osborne for sharing his Festival memory and to Dave Walker for retrieving the recording.