Creating a New Tradition to Honor the NEA National Heritage Fellows
Editor's note: In our 50th anniversary year, we are partnering with our friends at the National Endowment for the Arts, and the organization's folk and traditional arts specialist Cheryl Shiele submitted this blog post about the new National Heritage Fellow medals.
As we approached the thirty-fourth anniversary of the NEA National Heritage Fellowships, the Folk and Traditional Arts staff at the National Endowment for the Arts began to review and ponder the ways that we could deepen our recognition of these extraordinary artists. A question that kept coming up was—what kind of physical award might we produce that would truly celebrate our fellows with artwork and design worthy of their accomplishments? We took note that our fellows are often recognized not only for the exemplary artistic skills and passion that they bring to their work but also for their commitment to passing along their skills and knowledge to future generations.
We began researching and brainstorming through ideas such as producing a statuette, a custom-made plaque, or a wearable medal. With the idea of a medal in mind, two art forms stood out from the pages of our previous thirty-three program books—ornamental ironwork found in Charleston, South Carolina, and Osage ribbonwork, two craft traditions celebrated in 1982, the inaugural year of the NEA National Heritage Fellowships.
A little backstory on the award: since 1982 our NEA National Heritage Fellows have received great distinction at an awards ceremony in their honor, recognition from peers and the press, and a monetary award for their dedication to folk and traditional art, work, and performance. To commemorate the fellowship, they have also received a personalized certificate or plaque to display in their homes, workshops, and studios. What would make 2016 different from the others is that instead of a certificate or plaque, our newest fellows would receive a newly designed and commissioned award medal.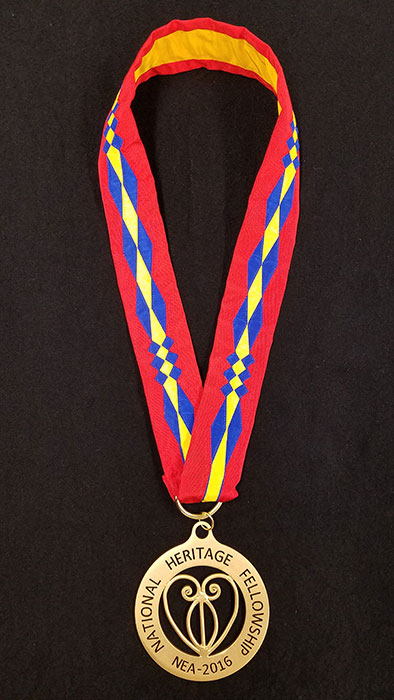 One of our inspirations for the new award was the work of the late Georgeann Robinson. A citizen of the Osage Nation, Robinson received a National Heritage Fellowship for her intricate ribbonwork stitched by needlepoint onto clothing worn by Osage people for the In-Lon-schka dances and other important social gatherings. We first reached out to Robinson's great-granddaughter, Jami Powell, who has been working diligently to document Robinson's work.
After we discussed the idea of ribbonwork as a part of an award design, Jami spoke to her mother, Lisa Powell (Georgeann Robinson's granddaughter), and they both eagerly agreed to contribute to this unique award. Lisa continues the family tradition of ribbonwork from her home in Eudora, Kansas. Together, they drew inspiration from one of Robinson's designs creating a red, blue, and yellow traditional Osage design, which would allow the fellows to wear the medal around their necks.
To design the medal itself, we reached out to the Philip Simmons Foundation, named in honor of the late master blacksmith and ironwork designer who received a National Heritage Fellowship for his ornamental ironwork. A notable feature of Charleston, South Carolina's unique visual and cultural aesthetic, Simmons' remarkable wrought-iron gates, fences, balconies, and freestanding sculptures still grace many of the homes, gardens, and businesses in the city and its surrounding areas.
Carlton Simmons, who apprenticed with his uncle Philip from age thirteen, continues to work in the same workshop on the grounds of the former residence and now Museum Home of Philip Simmons. After discussing and reviewing several of our ideas, Carlton took matters into his own hands, literally, and presented us with an award medal in a signature heart motif.
Carlton's filigree heart symbolizes the passion that drives each National Heritage Fellow, while Lisa's delicate ribbonwork represents the love of family heritage and culture radiating upward to envelop each fellow. Instrumental to these efforts were collaborators Rossie Colter of the Philip Simmons Foundation and Gomez & Associates Co. Inc. Together, these traditions and community members represent legacies of perpetuation, distinction, and extraordinary commitment to cultural heritage.
Every fall, when we finally get to meet the fellows in Washington, D.C., they bring with them the past and make it present through their stories and artwork. They bring with them family legacy and family lineage, generously sharing vital cultural knowledge with future generations. They bring with them the important lesson that we are linked together through songs, fabric, stories and mostly importantly people. In a tactile way, this new medal links the legacies of Georgeann Robinson and Philip Simmons to our present-day NEA National Heritage Fellows, and reminds us all of our links to community, as well as to the past, present, and future.
Cheryl Schiele is a folk and traditional arts specialist at the National Endowment for the Arts. This post originally appeared on the NEA's Art Works Blog.