Txotx! A Basque Ciderhouse Experience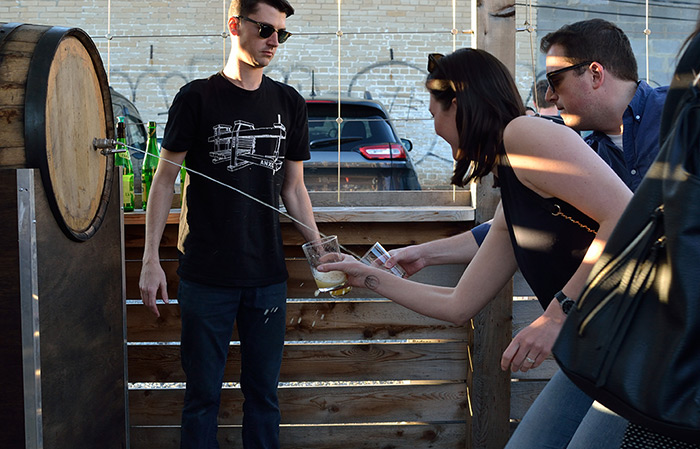 "Alright, everybody! Txotx!"
With this exclamation, Tim Prendergast (beverage director at ANXO Cidery & Pintxos Bar) flips a lever on a large oak cask, and a spout of fresh apple cider comes streaming out of the tap. Guests line up and, one by one, stoop to catch the jet of frothy cider in their glasses.
"Once the txotx starts," Tim explains, "the goal is you don't want to let the cider touch the ground." As guests fill their glasses, the cider undergoes a natural carbonation process through the aeration that results from shooting through the air.
This txotx (pronounced chōch) tradition originates from the Basque Country, featured in the 2016 Folklife Festival. Leading up to the summer, this spring we are presenting a series of events called Txotx! A Basque Ciderhouse Experience at Colony Club in Petworth. We have partnered with ANXO and the Euskal Etxea (Basque Club) of Washington D.C. to create the social and musical atmosphere of a sagardotegi (ciderhouse), which is a central element of Basque culture combining agriculture, community, and rural life.
Basque cider is not to be confused with the generic beer-bottle "hard cider" common in most grocery stores. Traditionally, apples are harvested each season, juiced, and fermented in wooden barrels. The cider is not augmented with artificial carbonation or flavors, nor sweetened above its natural sugar content. In Basque Country, the tapping of the cider casks draws the local community together to refresh friendships and celebrate the fruits of labor.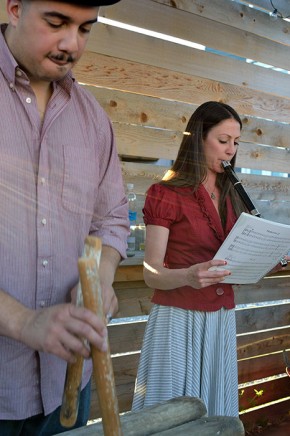 Today across the United States, cideries such as ANXO are rejuvenating traditional cider, once a staple beverage in Colonial America. They want to bring the sour, slightly pungent, and refreshing taste back in vogue for Americans to enjoy.
They certainly seemed to enjoy it at the second Txotx! in April. As guests filtered through the cider line in Colony Club's back patio, Dan Robinson and Mike Young rapped out a beat on Dan's homemade txalaparta, a xylophone-like instrument assembled from leftover cider-making parts. Folklife Festival staff member Bernadette Leonis embellished the rhythm with a flourish of the txistu flute.
Bernadette, a recent transplant from Elko, Nevada, said it's reassuring to find these familiar "Basque things" in a new place, and she sees the Txotx! series as a perfect fusion of Basque food, cider, music, and socializing.
But if there's one thing to improve, Bernadette says, "the cider cask could be bigger."
If you've missed the first two Txotx! events in March and April, join us for the third and final installment on Sunday, May 22, at Colony Club.
Greyson Harris is the community engagement coordinator for the Basque American diaspora at the 2016 Folklife Festival.