The Shape of Environment in Art: An Interview with Jesus Maria Lazkano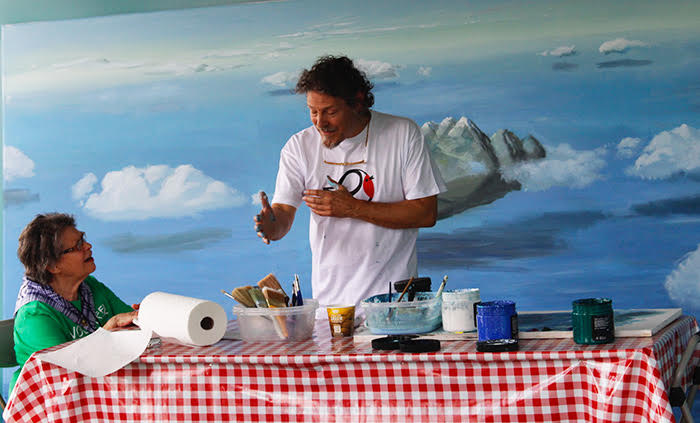 The shapes and colors of Jesus Maria Lazkano's landscape paintings are familiar, but his mountains float, his water falls in squares, and his icebergs hang in mid-air.
Lazkano is a world-renowned Basque painter, particularly famous for paintings that depict the interplay of architecture and landscape, man and nature. His slightly surreal take on landscape provokes and engages the viewer. His mastery of the craft is evident in the speed with which he is able to create these masterpieces. During the first two days of the Folklife Festival, spending only three hours combined, he filled two sixteen-by-five-foot canvases.
As a painter—and person—he practically vibrates with energy while speaking. He locks into whoever is speaking with him, seemingly overjoyed by whomever is in his company. Lazkano is inspiring to watch, listen to, as well as speak with. In this interview, he speaks on his inspirations, childhood, and experience painting on the National Mall.
When did you start painting?
Well, I don't remember when I started, no! My family said that I have always been doing something with pen with pencil, something like this. What I do know is that the oldest painting that I have is from when I was six years old.
Six years old! Wow! What is it of?
It is of landscape! It was a traditional farm in Basque country, with a traditional forest around it. It was a bad painting, but it was the first!
How did you come to focus on architecture and landscape?
Many years ago, I was very interested in architecture, in cities, and city landscapes. I painted New York, Chicago, and Rome. But about four or five years ago, I decided to change my focus. I started to focus on the landscape. From a young age, I was always very close to nature. My parents were hikers, mountain climbers, and sailors on the sea.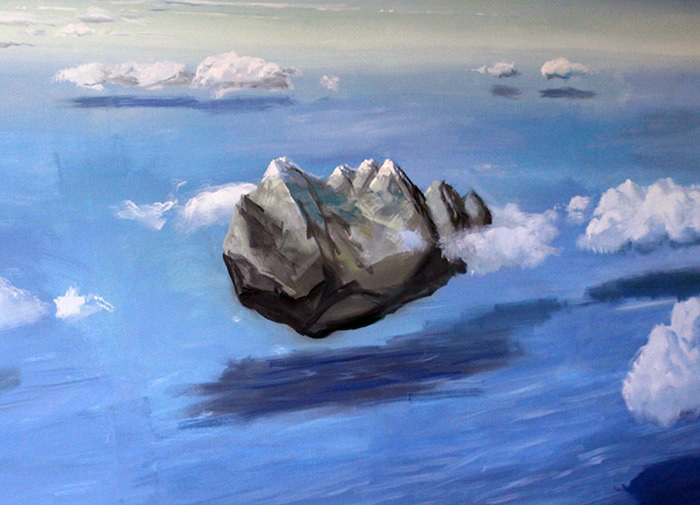 For me it important to take this experience of the real landscape, that you can touch and see and feel to make it something new, to combine it with something different, strange, and something rare. I aim to create something mysterious by keeping the beautiful landscape but combining it with something new to provoke the visitor to engage with it in a different way.
Do you consider yourself an environmentalist?
Yes, I do! I am very concerned about global warming. If we destroy the landscape, we destroy ourselves. We rely so much on the environment. I feel like our tradition relies on landscape. In Basque country, the skies, the wind, the land—they are all very important to our culture.
Have you enjoyed painting on the National Mall?
Yes, I really love it! When I start the painting, the people are very excited. "What will happen, what will be next?" That is a very nice moment. I love receiving feedback from them and interacting with the American people.
Has Washington, D.C., been inspiring you as well?
Yes, of course! And not just this moment right now. I know Washington from many years ago, and I think this is the third time I have come to the city. I love the architecture, but I especially love the museums. They have great collections. I love the Hudson River School from New York, especially Thomas Moran and Albert Bierstadt. They have great examples of their work. I feel so close and comfortable in this city.
Visit the Folklife Festival to see Jesus Maria Lazkano at work. Prints of his landscape and seascape paintings are available in the Festival Marketplace.
SarahVictoria Rosemann is the Folklife Festival media intern. She has a degree in ethnomusicology, with a focus in Tibetology, and grew up in Reno, Nevada.